Selena Quintanilla was a legend in every aspect. The Mexican-American singer made history with through her music, humanitarian ways, style, and beauty. 
MORE: #LatinaStyleWars: Selena Quintanilla Edition
Though the Tejana icon was a trailblazer in the music industry, her alluring beauty continues to inspire many celebrities' makeup looks today.
Fast forward 23 years later, and even OITNB's actress, Diane Guerrero is channeling one of the late Queen of Technocumbia's iconic styles.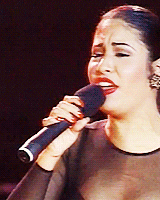 Naturally, the in the name of Saint Selena, the 29-year-old actress rocked her signature go-to makeup which included a bold red lip with a smokey eye finish. Fenty Beauty Ambassador & Celebrity MUA, Priscilla Ona was responsible for the Mexican-American's Selena transformation. 
Did the Fenty Beauty Ambassador use one of Rihanna's latest Stunna Lip Paint ($24)?
Only time will tell but until confirmation, get ready to be blown away by this glam up. 
To pay homage to the late Mexican-American diva, Guerrero's hairstylist, Glen Coco Oropeza recreated the sleek ballerina bun to finish the look.  & Let's just say, the Jane the Virgin star and her glam squad NAILED IT! 
PLUS: The Best Selena Quintanilla Makeup Tutorials
Gurrero captioned the photo with "My best Selena lewk..." and all we can say is WERK!
Because who doesn't love a gorgeous red-lipstick? Pretty much everyone right?! Want to recreate the Como La Flor icon's legendary cherry-inspired lip?
Try Mehron Makeup's L.I.P. Liner Pencil in Pomegranate,$12.95 paired with Mehron Makeup L.I.P Cream in Velvet Rose, $7.95 to give the look a test-drive. 
Fun fact, according to color psychology, the red hue boosts confidence and most associated with passion, action, and energy. 
So put your best red-lip on and play your favorite Selena track!