Representation! Representation! That's all actor, Jaime Camil and Latinos in Hollywood want, yet executives are still unclear what inclusivity and diversity look like when it comes to nominating Hispanics for award shows. 
MORE: Gina Rodriguez Slams Hollywood for Lack of Representation at 2018 SAG Awards
Recently the Mexican-born actor who plays Rogelio in the hit CW series, 'Jane the Virgin' got real around the lack of Latino inclusivity during an interview with Slate magazine.  While speaking with the publication, Camil did not hold his tongue on how Latinos in Hollywood tend to be ignored in mainstream media.
"Gina Rodriguez and everybody at the show, were outraged about the fact that SAG-AFTRA and other award shows didn't nominate one single Latino in their shows," said the Mexican actor.
He continued with," It is not that we want to get an award for free, like, Oh, the poor Latinos, throw them a little bone. Throw them a little award just for them not to feel ignored. No, no, no. Fuck you. It's not about that." Adding facts to the important topic, the former telenovela star even mentioned co-star Gina Rodriguez earning a Golden Globe in 2015, proving there are many talented and capable Latinx actors out there who deserve recognition as well. 
Remember Rodriguez's epic speech and how you felt during that moment?
When the Puerto Rican actress got on stage she blew us away and the Latina community cried tears of joy since it was an -- Ah finally moment.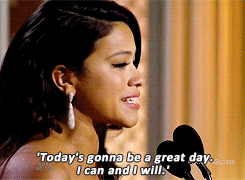 But Camil wasn't messing around as he slammed Hollywood for its blindside and repetitive nomination with 'Modern Family' starring Colombian actress, Sofia Vergara. "I mean, Modern Family, again, for the 12th year, same nominations? Really? Can't we move on," questioned Camil.
No shade to the 'Modern Family' team, but hey Hollywood, have you seen --- Netflix's  'One Day at a Time' with Justina Machado and the iconic Academy Award actress, Rita Moreno? The reboot features a Cuban-American family with an LBGT daughter, a single mother veteran with mental health issues, and an outrageously funny yet relatable abuelita.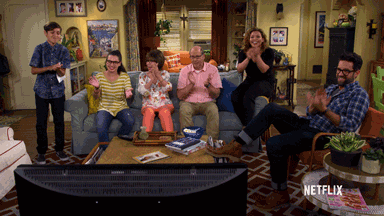 No means is this a jab at the Latinx actors and actresses who have received Emmys, Oscars, Golden Globes and more. We're simply shedding light on the reality of the situation that Latinos are acting, producing, directing, and creating some of the best content out there, yet we are still under the radar or unseen during award show season. 
Did you know, Latino actors and actresses have been nominated less than 20 times in 90 years of Oscar history, and only six have won? According to The Huffington Post, "it's been six years since a Latino actor has even been nominated for an Oscar." 
This isn't the first time, Latinx in Hollywood are using their platform to speak out on the lack of diversity and we couldn't be prouder.
Lesson of the day: Keep showing up, and keep speaking up! Si Se Puede!
Follow me: @ashestogoodvibes
Listen to the full interview with Slate Magazine here.