There were many powerful moments at last night's Golden Globes, including all of the celebrities like Salma Hayek, America Ferrera, Viola Davis and Ashley Judd wearing black to stand in solidarity with the women and men who have been silenced by harassment, abuse, and discrimination.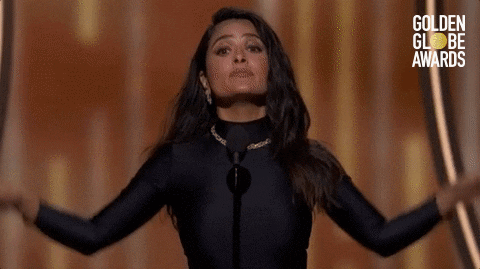 MORE: Latinas Dominated The Golden Globes—In All The Ways That Matter
The highlight of the night, according to everyone's social media timelines and every media outlet, was Auntie Oprah's moving acceptance speech of the 2018 Cecil B. DeMille Award, which is an honorary Golden Globe given by the Hollywood Foreign Press Association for outstanding contributions in the world of entertainment. (She's the first black woman to receive this trophy.) The speech was a call to arms to end discrimination. The crowd stood up when the beloved mogul repeated the movement's rally cry: "Times up." 
There were the usual glitz and glam and poignant speeches about ending sexual harassment and misconduct—and killer jabs. Did you catch Natalie Portman's shade? She pointed out that there weren't any women nominated in the Best Director, Motion Picture category. And host Seth Meyers' monologue tackled the overdue downfall of Harvey Weinstein and Kevin Spacey.
The New York Times participated in the evening during a commercial break. Their #MeToo-inspired "The Truth Has a Voice" TV ad made an important appearance. (The ad debuted one day ahead of the Golden Globes.) According to an NYT press release, this 30-second visual is part of The Gray Lady's brand campaign. It follows their "The Truth is Hard" spot that debuted during the 2017 Academy Awards.
RELATED: Salma Hayek At the Golden Globes: 'Times Up.'
The text-only ad is a reminder that simplicity is powerful, as the phrase "He said. She Said" is seen, followed by, "She Said," which is repeated until the screen fills up. It ends with this message: "The truth has power. The truth has a voice." (We hope that Donald Trump a.k.a. Mr. Grab 'Em by the Pussy heard the  clock ticking on his "very stable genius" presidency with that one.)
Last year, the NYT covered the allegations of sexual misconduct against Harvey and funny man Louis C.K. Check out the paper's ad below.