The holiday season is a time for gathering with our family, friends, and communities. As we get together with new and familiar faces, LATINA spoke with the creators of six card games built to create new relationships, deepen existing bonds, connect to our Latino cultures, and have fun. Over the past five years, these seven entrepreneurs have led the growth of the Latino card game category, selling hundreds of thousands of games and helping people feel closer to their roots. We spoke with the founders of Yo Sabo, Millennial Loteria, Tragos, Get Loud, Preguntas and Amigas Circle Conversation Cards to learn more about how they created their games and the impact they have seen as a result.
Jessica Rosales and Carlos Torres: Yo Sabo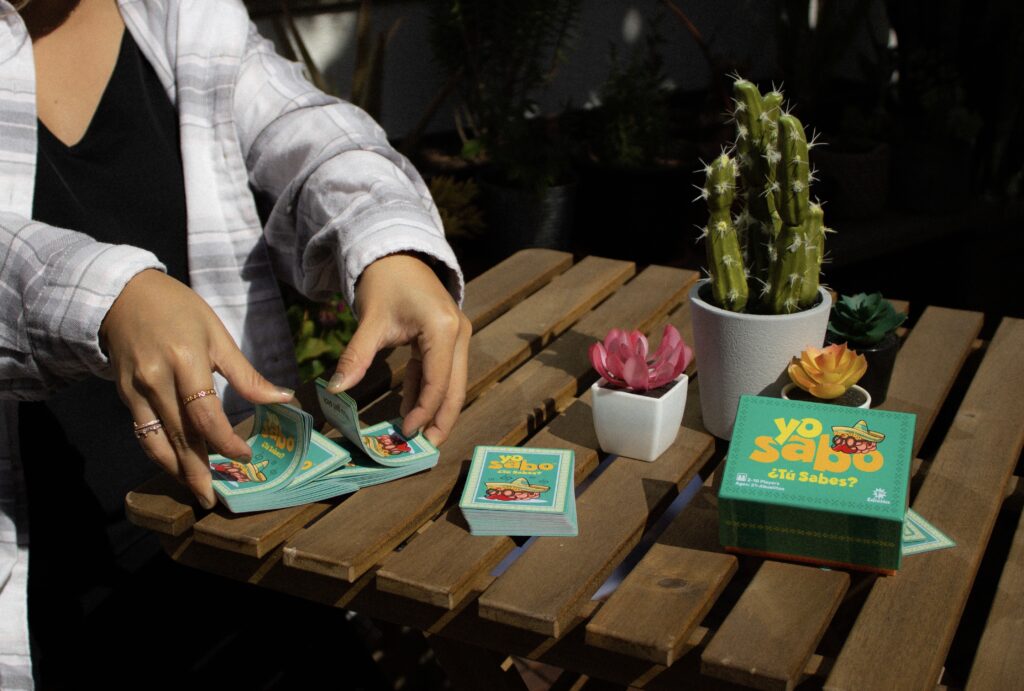 When Jessica Rosales and Carlos Torres met 13 years ago at the University of California, Riverside, the main thing they had in common was their overlapping scheduling of STEM-related classes. They soon discovered more mutual experiences: they were both children of families who immigrated from Mexico, they were both the oldest among their siblings, and they had a shared interest in becoming more in tune with their Mexican roots.
In growing closer to Rosales' grandmother and parents, who speak predominantly Spanish, the couple felt a need to broaden their Spanish vocabulary. They wanted a way to learn more Spanish that would be more entertaining than simple flashcards. Thus, Yo Sabo was born.
"On social media, we see 'no sabo' used so negatively and for teasing. [Speaking] Spanish has always been tied to whether or not someone is considered a 'real' Latino. Yo Sabo is a word play on 'no sabo.' 'Yo se' is the correct way to say it, but we wanted that playful twist to reclaim 'no sabo' into something more positive," Rosales said.
"We want this game to be a safe space to practice your Spanish with your family and friends,' Rosales added, describing the bilingual nature of the cards. "It's time we remove that negative connotation that 'no sabo' has behind it."
Yo Sabo can be purchased at yosabothegame.com.
Mike Alfaro: Millennial Lotería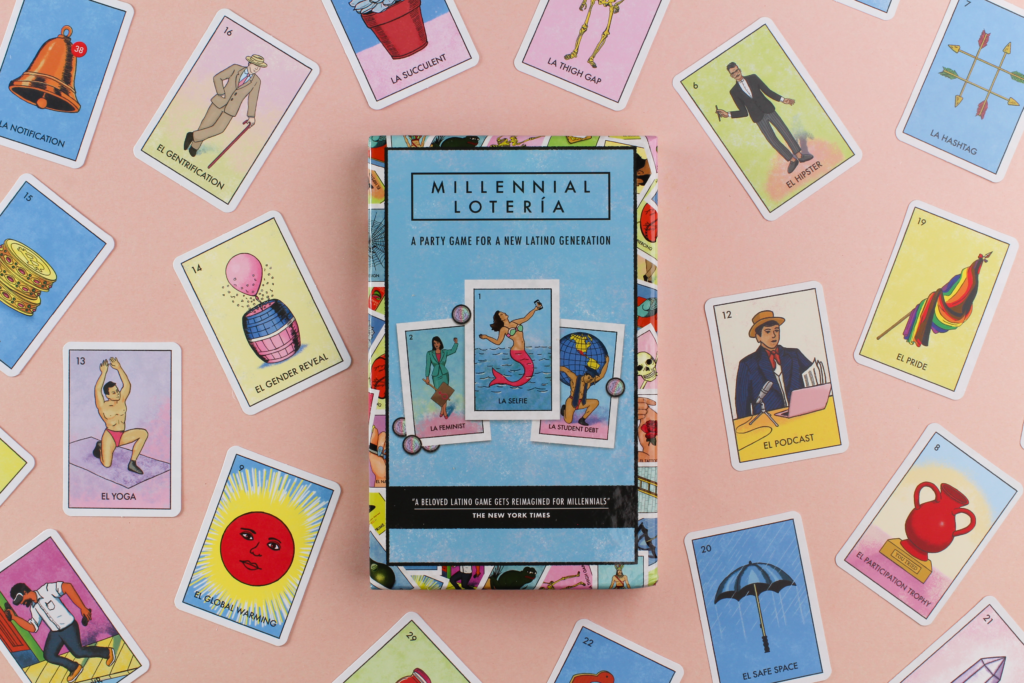 In 2006, an 18-year-old Mike Alfaro moved to California by himself on a student visa to attend college. On a visit home to Guatemala, the writer and creative director came across his copy of Lotería. It's a game similar to bingo in that the first player to match a consecutive row of figures on their game board wins, except Lotería uses a specially designed deck of cards instead of numbers.
With his Lotería cards nearby, Alfaro opened up Photoshop and redesigned what his Lotería deck would look like if it had been created with a millennial twist.
In 2017, Alfaro's designs went viral on Instagram and garnered messages from people asking where they could buy the Lotería cards. With nearly $20,000 in savings, Alfaro invested in creating the first 1,000 copies of Millennial Lotería. They sold out in less than a week. To scale the business, he joined forces with the publisher Blue Star Press. To date, Alfaro has collaborated with many brands and organizations such as Disney, McDonalds, and the National Partnership for New Americans.
"Millennial Lotería reflects all parts of being a millennial Latino. There are cards about student debt, love, the border wall, immigration, feminism, and pride. These are issues that are deeper than just a game. It's not just the fun stuff, but it's also the struggles of being a Latino, being a millennial, being a business owner, and a father," Alfaro shared.
Millennial Lotería and its expansion packs can be found at Target, Walmart and Amazon.
Patty Delgado: Preguntas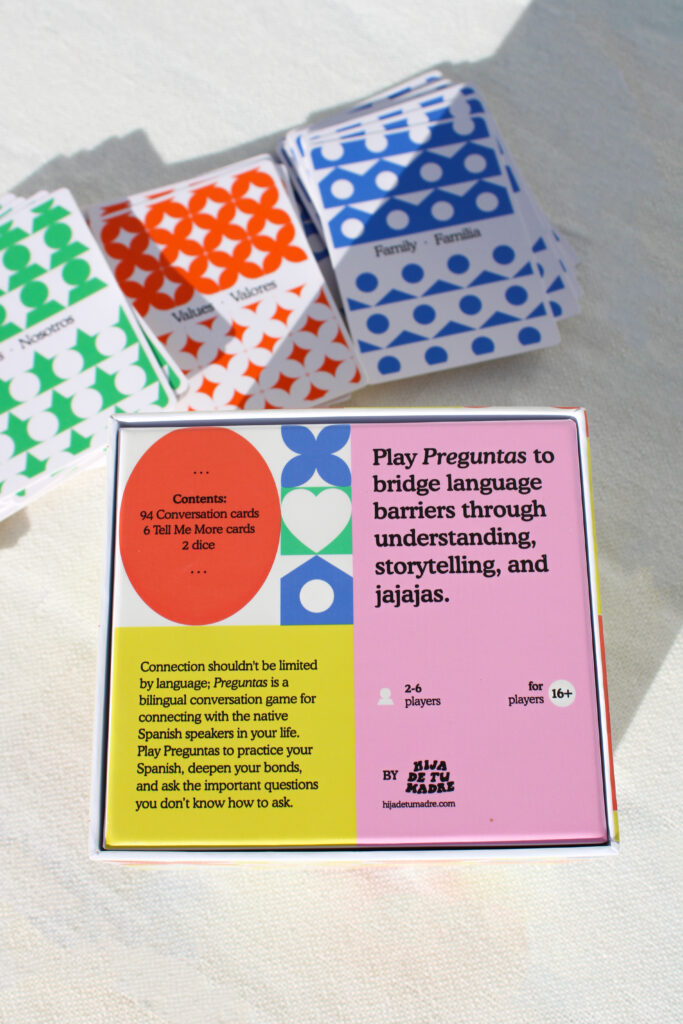 Patty Delgado is a self-proclaimed "no sabo kid." She was born and raised in Los Angeles, and to help keep their cultural traditions alive, her parents would take her to their hometown in Jalisco, Mexico every summer to spend time with family. Despite their best efforts, Delgado and her brothers mostly spoke English.
Now in her 30s, Delgado still cares about improving her Spanish, bridging language barriers, and building connections with her Spanish-speaking family. To help her and others reach these goals, she created Preguntas, a bilingual card game aimed at deepening bonds by asking questions about values, emotions, family and self-reflection.
"I can hold my own when speaking Spanish, but as far as communicating deep emotions and opinions, that's definitely a challenge for me," Delgado said. "I wanted to make sure Preguntas was family and generationally friendly, but also that anyone could play this game to connect better with their friends and loved ones, regardless if they are Latino or come from Spanish-speaking backgrounds."
Preguntas is available at hijadetumadre.com.
Carolina Acosta: Tragos and Get Loud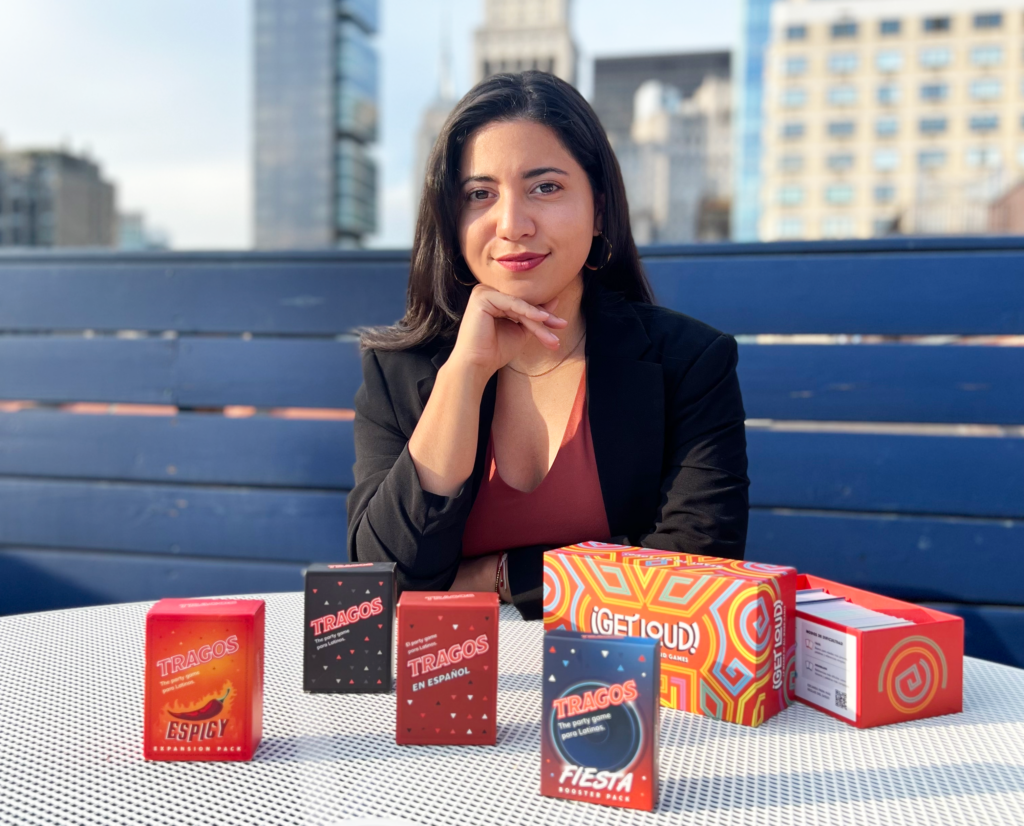 Carolina Acosta was born and raised in Jackson Heights, Queens to Colombian and Dominican parents. She grew up surrounded by a diverse Latin American community, but having mostly spoken English at home and not forming strong ties to her parents' cultures, she felt American more than anything else. When she went to South America for the first time, Acosta developed a newfound connection to her family's roots and identities. Upon returning to the U.S. without a job, Acosta took on freelance design work and began her own side project: a Latino drinking card game based on fun cultural trivia.
"I wanted to make a game that was in English and Spanglish for people who wanted to connect to their culture without having to feel like they were the picture-perfect representation of who a Latino or Latina is," Acosta said.
In 2019, Acosta created the game with $500 from her savings, designed the visuals, and developed the game prompts with input from Latinos from numerous Latin American countries. Upon launch, the game went viral on social media and generated over a million dollars in revenue in just two years.
Acosta earned a spot on the Forbes 30 Under 30 list in 2021, and that same year launched Get Loud, a competitive family-friendly bilingual guessing game aimed at practicing English and Spanish vocabulary. This year, Acosta reached a new milestone when both Tragos and Get Loud launched in Target stores nationwide as the first fully bilingual party games on Target's shelves.
Tragos and Get Loud are available at Target, Amazon, and Walmart.
Ana Flores and Vanessa Santos: Amigas Circle Conversation Card Game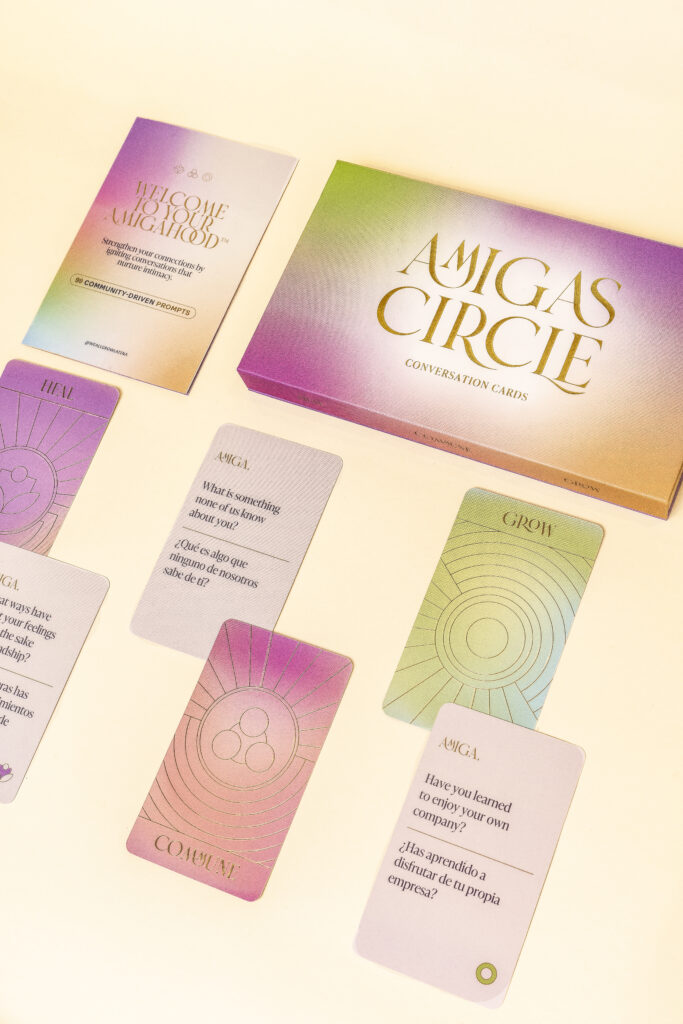 #WeAllGrow Latina Co-CEOs Ana Flores and Vanessa Santos are known for their online and in-person community building events for Latinas and femme Latines. Boasting over 350,000 supporters across social media and their online Amigahood network, Flores and Santos sought a new way to continue building safe spaces for open and honest conversations in person. They just launched their first-ever card game: the Amigas Circle Conversation Cards. The game comprises 99 bilingual English-Spanish prompt cards split into three themes: Heal, Commune, and Grow. For Flores and Santos, their goal is for game players to learn about one another's stories, build sisterhood, and bear witness to each other's tears, laughter, and dreams.
"As soul-driven entrepreneurs, we navigate our journey led by intuition, understanding that in today's fast-paced and digitally driven world, there's an earnest need for genuine human connections. The birth of the Amigas Circle Conversation Cards was inspired by this very notion, with our Latinx and femme Latine community in our hearts," Vanessa Santos tells LATINA. "At #WeAllGrow our mission has always been to help our community heal, commune, and grow, and we wanted to offer something to the market that made healing accessible to the masses. We all yearn for honest and human connection, and we know that you'll be able to connect more deeply with your cherished ones and even yourself too."
The Amigas Circle Conversation Card Game is available on shop.weallgrowlatina.com
---
Zameena Mejia is a New York City-based writer whose work has appeared in Forbes, CNBC, Remezcla, Refinery29 Somos and more.