Barranquilla, Colombia native Silvia Tcherassi is a Florida-based, fashion designer and hotelier that designs with flair. Tcherassi's atelier is located in Miami and her designs have been presented during the official calendars of Paris and Milan fashion weeks. Moreover, her collections can be found across the Americas and Europe at any one of her namesake boutiques. She is also carried by premier luxury fashion boutiques and is recognized by her peers for clothing that is elegant, comfortable, and that tells unique stories. Furthermore, this Colombian fashion designer has partnered with spirit brand Don Julio to celebrate their shared passion for craft. After NYFW 2021, Latina's Alissa Lopez Serfozo connected with Tcherassi to discuss the designer's new collection, Latino heritage brands, and if there is such a thing as "Latino" or "Colombian" fashion. This interview has been edited for clarity.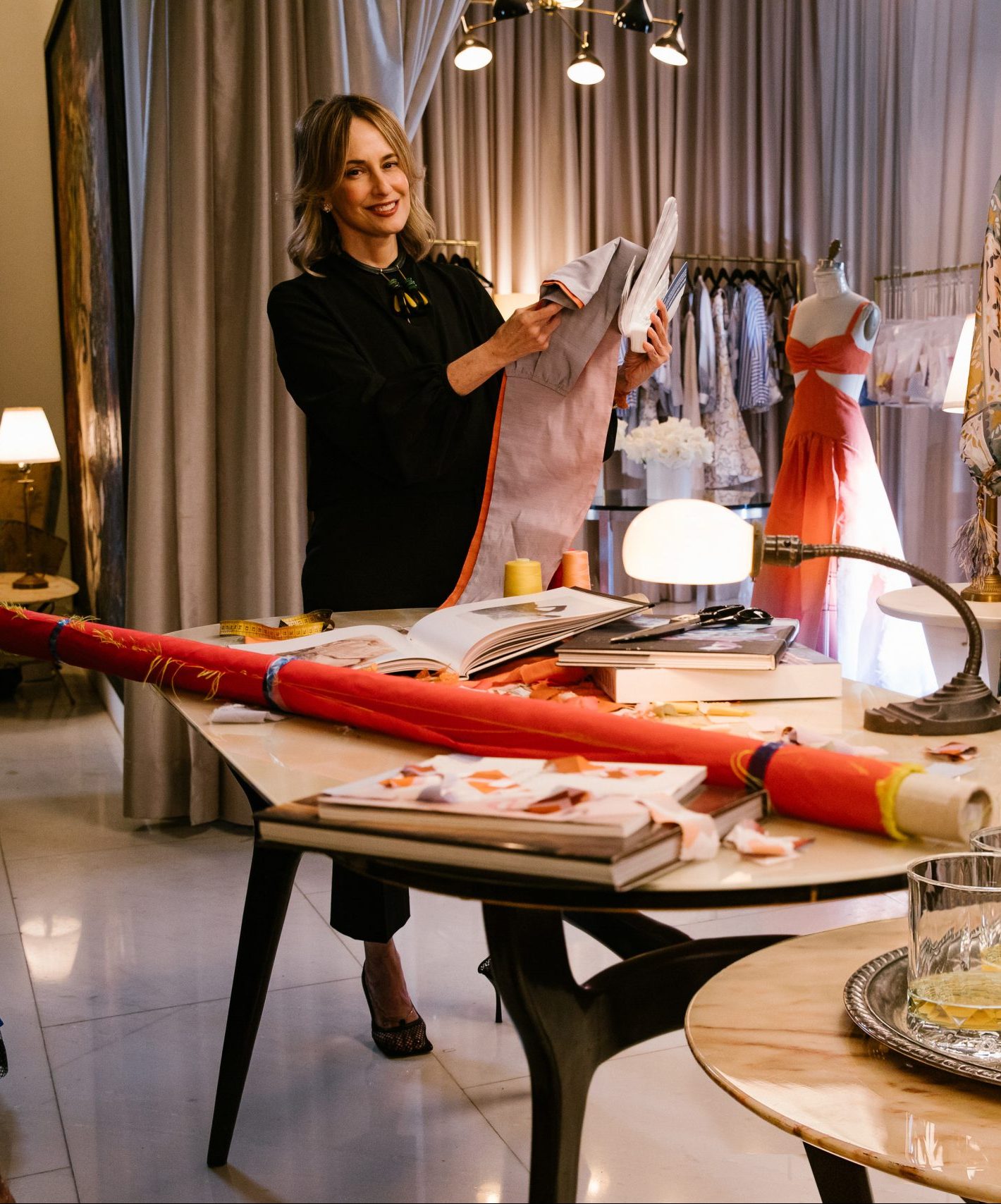 Alissa Lopez Serfozo 
Silvia Tcherassi 
Walk me through your Spring 2022 collection. What are the inspirations and references at play?  
Spring 2022 is inspired by the work of architect Morris Lapidus, a pioneer of the Postmodernism movement and one of the most influential figures of Mimo (Miami Modernism). This time around, the inspiration was very close to home, as the entire collection was conceived and developed in our headquarters in Coral Gables, Florida, in a building that was designed by Lapidus in the sixties. I wanted to capture the eclecticism, tasteful flamboyance, and exuberance that was imbued in all of his creations.  
Looking back, what are some collections that stand out to you?  
There are three collections that I deem especially significant to me, the first, In The Woods, was my debut in Milan Fashion week and Mosaique, during Paris Fashion Week. In both cases, I was the first Latin American designer to be invited by organizers to present a collection on the official calendar. More recently, I inspired a collection of the female characters and the unforgettable landscapes present in García Márquez' novels.  
Are there any pieces you are especially proud of conceiving/constructing?  
I feel proud every time I share creativity with the world, especially when I work on pieces that allow me to explore and experiment. However, I feel even more proud of my work when a woman wears one of my pieces and puts her personal touch on it. I love seeing women like Jennifer Lopez, Queen Rania of Jordan or Amal Clooney effortlessly and stylishly incorporate my pieces. 
Let's talk about materials. Are there any innovative materials you would like to implement into your collections?  
As I mentioned earlier, experimentation is an important aspect of my process, and in my case, materials are always the jumping point of my creative journey, which is why I love to intervene a fabric's appearance, texture, and sometimes its color—it makes it even more special and unique. In the past, I've worked with latex, laser-cut fabrics, and high-tech laces, but now, my priority is on sustainable materials. The fashion industry must be more diverse, inclusive, and sustainable every day. 
Going into NYFW 2021, what were some of the stakes at the forefront of your mind?  
This collection marked the first time in a year and a half that I would have a physical presentation—the four previous ones were held virtually. I was set on capturing the current sentiment and identifying expectations, as previous fashion weeks have adequately reflected the times we are living.  
Now looking back on NYFW 2021, were there any unexpected or poignant lessons/takeaways?  
I feel the industry is trying to adapt to a new reality with a whole new set of demands: People want to continue dressing comfortably, but they also want to celebrate and feel special. Our challenge as designers is to respond to this duality.   
How has the pandemic affected how you produce clothing?  
Pandemic-driven change has been quite marked for the brand. As I stated earlier, we had to lean on technology to present our collections to buyers and editors, but also to supervise the entire production process. My fabrics are crafted in Italy especially for me, and it was a tremendous challenge to take those very personal interactions to digital screens. Simultaneously, the country was undergoing terrible moments while I was developing my Resort collection. The whole design process, sample approvals, and quality control all happened virtually and for the first time in 30 years, I was unable to personally supervise my production. However, as in all unexpected situations, lessons were learned and innovation allowed us to apply mechanisms that made us stronger and will help us in the future.  
What do you anticipate will be the pandemic's long-term impacts on the fashion industry?  
At the beginning of the pandemic, there was a lot of talk about industry reinvention, even a new fashion calendar. I advocated for these initiatives, and yet we are exactly in the same place as before. Not to sound pessimistic, but I do feel there was an opportunity for positive change in the industry and it unfortunately writhed away. We are currently in a period of adaptation and uncertainty: the retail crisis has exacerbated, robust digital platforms are crucial, fashion must tell a story and be deeply personal.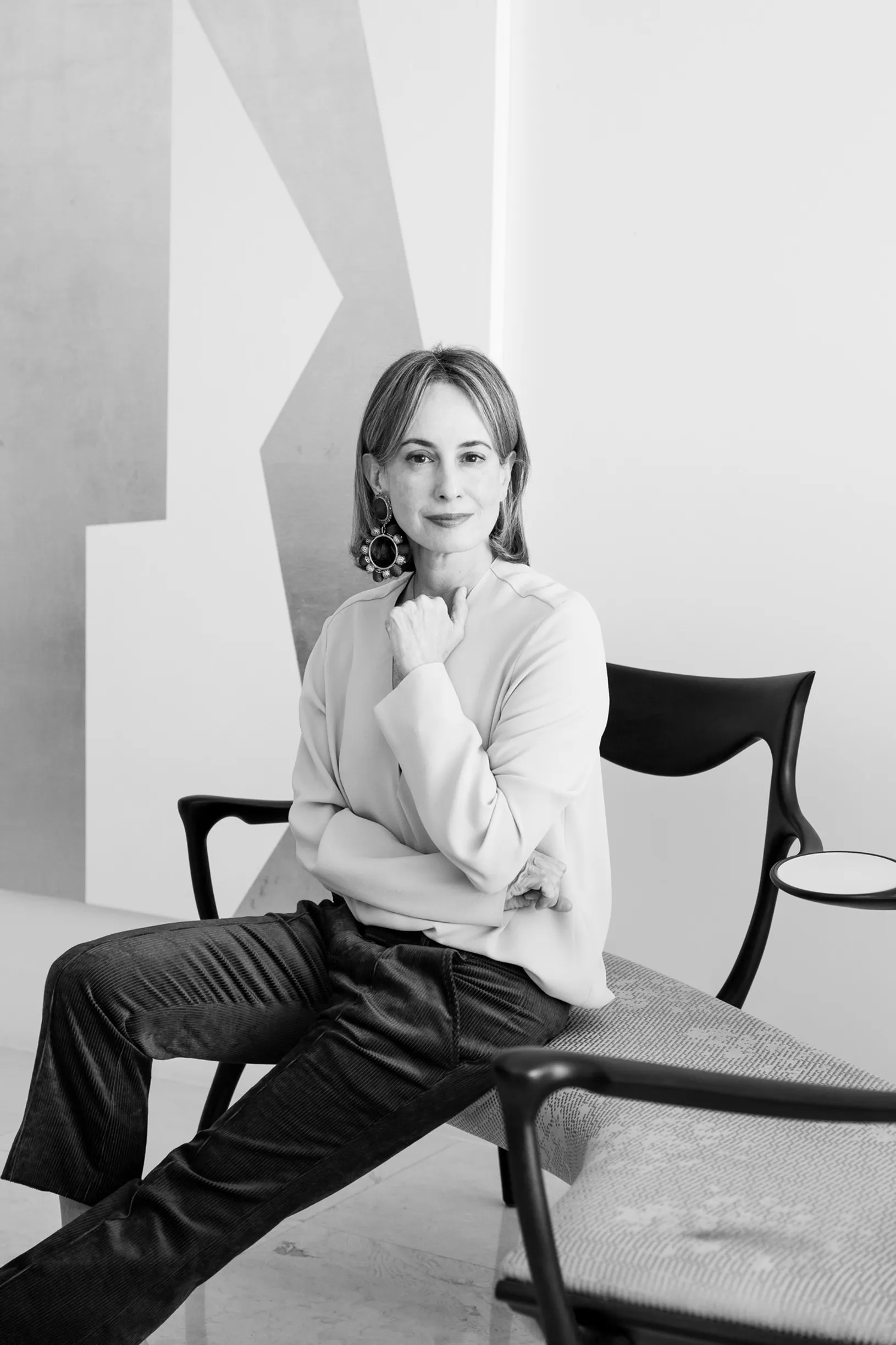 Which designers do you have your eye on?  
I am in awe of the recent collaborations between top designers like Dries van Noten and Christian Lacroix as well as the partnership between Miuccia Prada and Raf Simmons. I was also excited to see the Balenciaga takeover at Gucci and cannot wait for Phoebe Philo's anticipated new venture.  
Before you entered the fashion industry, were there any designers that made you think you too could rise to their position?  
When I first started my career in the eighties, Armani was a highly important agent in the industry—I think a lot of people don't realize just how influential he was on garment construction and color use, but also on the branding and business front. As a Latina woman, the rise of Carolina Herrera and Oscar de la Renta served as a great force behind the idea that it was possible to have a spot in the industry. That being said, they were both based in New York while I was in Latin America, and so my greatest challenge was to create a luxury brand from there.  
Do you believe that there is such a thing as "Latino Fashion?" What about "Latino Style?"  
I have always said that fashion knows no age or nationality. Perhaps Latino designers have a certain appreciation for things given our upbringings and surroundings, but our culture is so diverse that it can't possibly fit under a single label or concept. Take Gabriela Hearst, Fernando García, Lázaro Hernández and myself for example, we are linked by a common culture, but our work could not be more different from one another. The Latino Flair trend has been attributed to me, and yet I don't particularly perceive it as a trend, rather something I have been creating for years—that particular look is just one facet from a diverse creative proposal.   
Is there such a thing as "Colombian Fashion?" What about "Colombian Style?"  
I think labels can be complicated and even misleading at times. I like to center the conversation on origin, and on that front, I can assure you there is great fashion and design that is Made in Colombia, and not just in the ready-to-wear category, but also in the accessories and jewelry categories with talent like Edgardo Osorio (Aquazurra). Colombia has always had a strong textile and confection tradition, but I feel very proud that my international recognition in fashion has given credibility to national design. When I debuted my designs on the Milan and Paris runways, I knew that I not only represented my brand, but an entire country during a particularly complicated period in our history—it served as a sort of escape, a source of pride and a reminder of our potential.   
What are your thoughts on Hispanic Heritage Month? How do you relate to HHM?  
I think it's the time to highlight the great contributions Latinos have made to this country from various fields like arts and sciences, sports and businesses. Role models are key because they serve as inspiration and motivation, which is exactly what we need right now. It's important to show the possibility of success and this month, I am working on a number of initiatives that do just that.  
Tequila Don Julio is an example of an iconic Latino heritage brand. Why is it important for you to connect with such a brand?  
Personally, I always have been very familiar with Tequila Don Julio because my husband Mauricio is the ultimate tequila aficionado. Professionally, I relate closely to the brand's late founder – Don Julio González – who led a life devoted to tequila making and ultimately revolutionized the tequila category, as I too have dedicated my life to design and have worked tirelessly to be a leading figure in fashion, opening doors for the new generation of designers.  
What do you believe spirit brands like Tequila Don Julio have in common with fashion houses?  
A lot, including the passion for craft, the compromise to create something unique and special and the Latino heritage we share. We both value the devotion required to achieve the perfect finished product that is meant to be enjoyed during those unforgettable moments of celebration because both brands, Tequila Don Julio and mine, appeal to memories, to emotions.  
Are there any other heritage brands on your radar?  
Again, I think these labels often limit certain concepts. There are a number of brands, including the newer ones, that might not necessarily qualify as heritage brands from a marketing standpoint. I like to think instead of brands with heritage, those that are not born from a generic business plan or an academic thesis, but rather out of passion, a strong sense of history and a powerful transcendental resolve—what could be a better definition for heritage?  
What's next for you in 2021? What about 2022?  
At the moment, I am focused on my Pre-Fall 2022 collection. My priority continues to be brand expansion and the development of new projects, some that go beyond the fashion world.