Becky G is an award-winning singer, actress, podcaster, and activist. Now, the 24-year-old Chicana artist has officially gained a new title: beauty entrepreneur.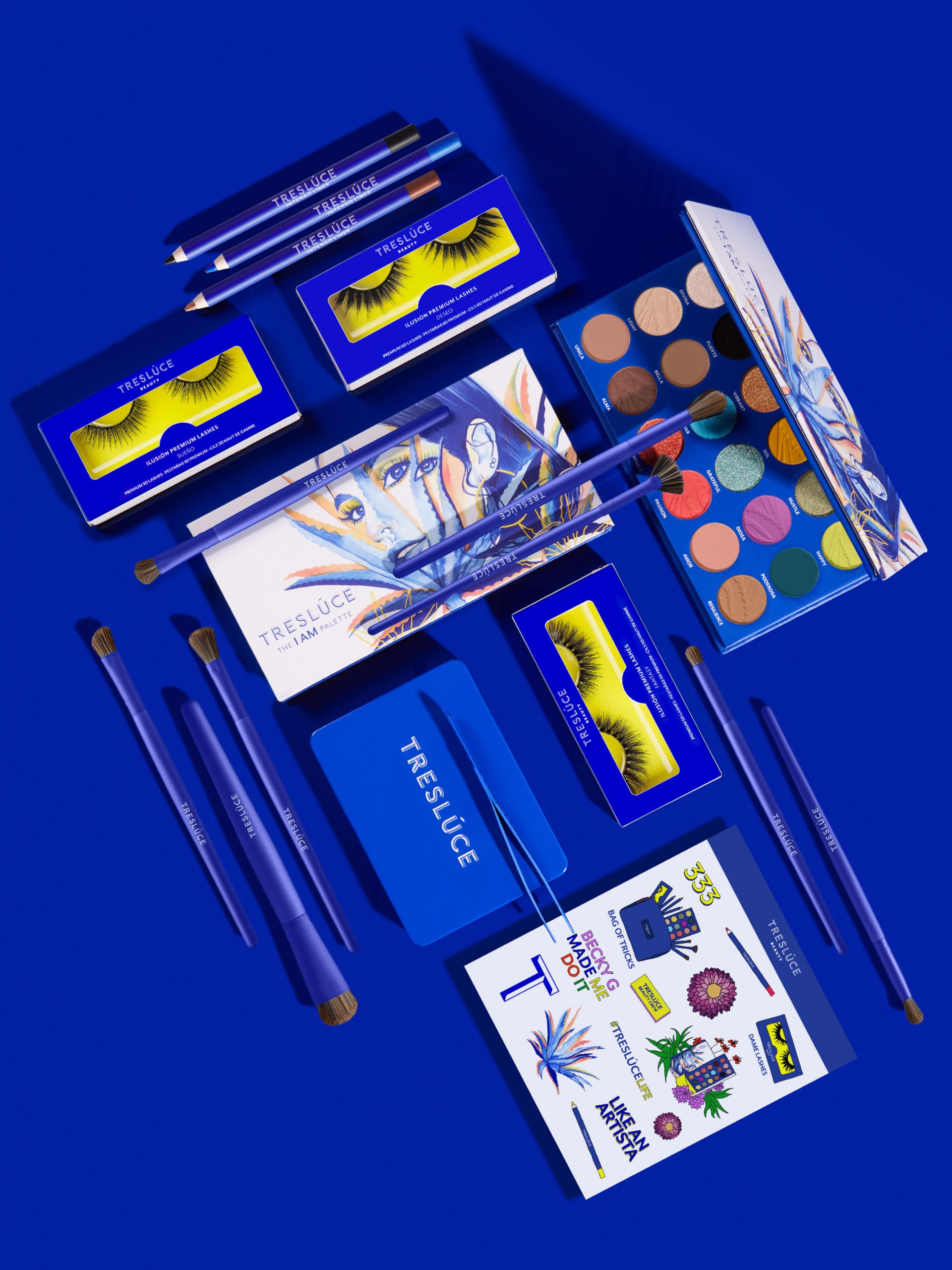 Treslúce Beauty is Becky G's new cruelty-free makeup brand celebrating her Latinx culture. The makeup line's first launch consists of an eyeshadow palette infused with sustainably sourced blue agave, 15 long-wearing gel color liners, an 8-piece vegan brush set, three reusable lash styles, a lash applicator and storage case.
View this post on Instagram
Becky tells Latina, "This brand is a love letter to my heritage. Not just to those who've come before me, but also to those who walk alongside me and for those to come." In an interview with Latina, Becky spoke on her new foray into entrepreneurship. 
This interview has been edited for length and clarity.
What's your advice for other Latinx entrepreneurs who might be sitting on their dream venture?
Patience in every aspect: not just with the world, but with yourself. I started working when I was nine years old. I thought I was a woman by 16; in fact, I'm 24 and just scratching the surface. Know that you're on your own time. Only you can walk this path. We are our own greatest competition, not each other. 
Founding Treslúce led me to embark on a journey of self-discovery. In the past, I've fixated on being accomplished: continuously responding to the pressure I've felt to be greater, better, smarter and so on. I've discovered it's vital to practice empathy and demonstrate curiosity. We can learn from one another.
View this post on Instagram
What's it like to be one of the very few Latina-owned beauty brands to break into the mainstream beauty space?
It's bittersweet. I may be the first, but I don't want to be the last. I'm committed to making this brand a platform for other artists, and even other makeup brands. While there are a few Latinx entrepreneurs that have broken into the mainstream space, I also want to bring attention to the many homegrown brands that are starting in cities throughout the US. I'd like to create a platform that demonstrates how to make room for many voices. [Treslúce] wasn't named Becky G Cosmetics for that reason: it's bigger than me and I'm humbled by that. 
View this post on Instagram

Latinidad is embedded into the brand with the shade names and the product concepts. Why have your Latina roots represented in your brand? 
Latinidad's something that I think we've all been challenging more than ever. I live my life simultaneously in two worlds, straddling between being too American for the Mexicans and too Mexican for the Americans, Where do I belong? I hear, ella solamente es Latina cuando le conviene. How is that fair? I know what I do for my community and how much I love my culture. It's embedded in everything that I've ever done since I was a young girl, down to my pocha Spanish.
I'm fully committed to representing all Latinx people. Additionally, I'd like to bring attention to the difference between ethnicity and race, even within the Latinx community. While this is a conversation that goes beyond just the beauty space, it's important for me to prioritize because I'm a light-skinned Latina. While I sometimes struggle to find certain foundations that match my skin, it's undeniably unequal to the struggles of my Black and Afro-Latina sisters.