For Claudia and Richard Berroa, owners of the Michelin-rated Claudy's Kitchen, there is a concise motto that sums up their culinary success: "Hacemos comida que es buena, bonita, y barata." A small Latino-owned take-out restaurant located on the upper boundary of the Bronx, where the 1 train ends and Westchester nearly begins, Claudy's Kitchen has triumphantly reached universal acclaim. 
The Michelin Guide has described their food as "a truly unique culinary retreat." Furthermore, Eater has called Claudy's Kitchen one of "NYC's Finest Empanada" establishments, where one can find empanadas with "a crust that's about as light as a wonton wrapper." For their patrons, Claudy's Kitchen is a locale that consistently serves comforting Peruvian food estilo casero. Their rotating menu is not only impressive for its wide range of offerings, but also for the simultaneously traditional and spontaneous cooking practices of Chef Claudia Berroa, which she inherited from her grandmother. For fans of comida buena, Claudy's Kitchen coalesces Latino culinary dynamism with an authentic adherence to clean eating. Claudia maintains a dedicated concern for wholesome ingredients: all are naturally sourced, without byproducts, containing absolutely zero preservatives. That makes for wonderfully rich yet nuanced food. 
Remarkably, Claudia and Richard Berroa's success has been unlikely and hard-earned. Theirs is a story of a casino meet-cute that quickly led to a six-day courtship, resulting in a decisive (and fun!) Las Vegas elopement. Once the two married, Claudia, originally from Peru, moved to New York City with her new husband, at the time a paramedic, to start their family. Fast forward a few years and, by 2008, Claudia had become pregnant with her daughter, quitting her job as a retail store manager and experimenting in her kitchen as a new pastime. 
While she had never thought of herself as much of a cook, she turned to the diverse recipes her grandmother had passed down to see what she could stir up. With Iron Chef reruns as a guide, Claudia picked up cooking techniques and learned how to perfect the complex art of making great sauces. She implemented this new knowledge and crafted a delicious Ají de Gallina, her grandmother's favorite recipe. Abuela had also shared her particularly stunning flan recipe, which Claudia expertly recreated and shared with her friends and family. With the ongoing and enthusiastic approval of her close loved ones, Claudia's network of taste-testers insisted that she think big. Despite her lack of formal culinary experience, she began to reflect: What if I shared my flan with strangers? What if I started selling my flan?
Soon after, Claudia and Richard began approaching local New York bodegas, grocery markets and food vendors to pitch Claudia's stirring flan. Buyers loved Claudia's product and, to her surprise, they quickly signed on to distribute Claudy's Kitchen flans. (Before the pandemic, their products could be found in 36 vendor points across New York.) Ergo, Claudia's flan operation evolved too. What had started as a micro-scale domestic operation continued to grow and necessitated more and more kitchen space, eventually prompting them to rent production space from restaurant and industrial kitchens. Likewise, their offerings expanded. Alongside their fan-favorite flans, the duo began to distribute delicious empanadas at vendors like Zabar's and Union Market to positive response. Naturally, Claudia and Richard began to consider new production options and the possibility of further expansion. In late 2018, the couple agreed that they would open their own take-out restaurant.

During months of planning and securing funding for their new culinary venture, the duo scoured Manhattan for the right space to establish new roots. In 2019, they encountered a Fieldston listing, formerly occupied by a barbecue restaurant, that already included a quality build-out with preserved restaurant equipment and a functioning gas installation. This was precisely what they had been searching for. The vacant space was also uniquely well-located: directly under the 1 train, which made it perfect for commuters, and without any Peruvian restaurants in a 10-mile radius, making it a strategically sound site for the couple. However, after signing the lease on this space in late 2019, paralyzing problems arose — first a large gas leak, and then a global pandemic — delaying the opening date of the restaurant by nine months, to June 12, 2020.
As has been the case for countless small businesses, opening and maintaining a family-owned establishment amid a global pandemic has presented myriad challenges for Claudia and Richard: self-doubt, financial insecurity, variable healthy and safety protocols, and resource shifts to prioritize takeout and delivery. However, the difficult premise also provided some unexpected silver linings: specifically, a special connection with the surrounding community. The couple planned the opening within three weeks and kept their expectations low. "We didn't expect a lot of people," Claudia said. "So I cried when I saw so many people outside and felt a lot of emotions on our opening day." A thoughtful feature in the Riverdale Press also helped generate buzz for opening day. "It was beautiful to see so many people from the community come out and support us," Claudia said.
Even with Michelin and Eater bonafides and an impressive turn out on opening day, in the months that followed, Claudy's Kitchen struggled throughout the pandemic much like thousands of small Latino-owned businesses across the U.S. "A lot of people still did not want to come out and eat," Claudia said. According to a Stanford University survey, as a result of the Covid-19 pandemic, 86 percent of Hispanic small business owners reported significant negative impacts, including for many complete closure, and were only half as likely as their white counterparts to receive Paycheck Protection Program (PPP) loans. Likewise, Claudy's Kitchen faced a set of mounting problems.
In August 2021, in the wake of the pandemic's debilitating impacts on Hispanic-owned businesses across the U.S., PepsiCo launched a $50 million Juntos Crecemos Platform. PepsiCo's multifaceted platform was initiated to support Hispanic small businesses — specifically restaurants, bodegas and carnicerías (meat markets) — by providing access to capital, addressing foundational business challenges and supporting growth over the next five years. As part of this overall initiative, PepsiCo launched the IMPACTO Hispanic Business Accelerator, providing $10 million in funding to 500 small Hispanic food and beverage business owners in 13 cities across the U.S. Claudy's Kitchen was one recipient of the IMPACTO Fund.
Claudia describes this as a vital lifeline, "The Pepsico grant has been crucial help for us," Claudia said. "We were able to buy a large format dough machine to increase our production." This investment allowed them to shift priorities amid the pandemic's volatile impacts on restaurant consumption and remain open for off-premises food service. Additionally, by ramping up output and fulfilling more takeout and delivery orders, Claudy's Kitchen has also created a foundation for eventual expansion into national empanada and flan distribution. 
The story of Claudy's Kitchen amid the pandemic points to evolving practices that are likely here to stay. According to a National Restaurant Association report from November 2020, "consumers increased their usage of takeout and delivery during the pandemic, and this trend will likely continue during the winter months [of 2020]." A March 2021 follow-up study by the National Restaurant Association corroborated their November 2020 hypothesis: "On-premises dinner frequency remains dampened across all age groups. Consumers' usage of takeout and delivery for [lunch and] dinner was elevated across all age groups, compared to pre-pandemic levels." 
That Claudy's Kitchen has survived through the pandemic owes to a combination of resilience, luck and faith in their community. After all, the odds have been stacked against them. As the Small Business Majority reported in January 2021: "Nearly six in 10 (57 percent of) Latino small business owners say the COVID-19 pandemic has had a negative effect overall on their business."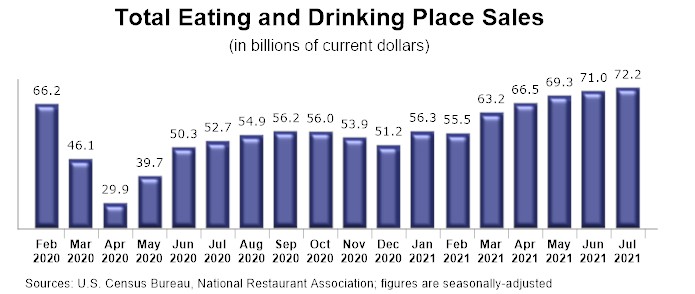 Challenges persist for Claudy's Kitchen, such as publicizing their business and restoring their employee headcount to pre-pandemic levels. "Although we are number one for selling empanadas in New York City, it's still difficult for people to know about us," Richard said. For months they have put out hiring notices for chefs, cashiers and cooks, but they have been largely unsuccessful. They are not the only ones. Many small businesses are suffering from labor shortage. A July 2021 Forbes report summarized these difficult stakes: "Over 60 percent of business owners report a shortage of labor, over 20 percent characterizing the shortage as 'critical' to business operations. Over 80% reported a loss of sales due to the labor shortage, [and] 19% experienced serious losses."
While it has taken them a lot of time to adapt through the pandemic, Claudia and Richard remain optimistic about their future as a small business."We know we have to keep going," Claudia said. The couple has put everything into Claudy's Kitchen, investing all their savings and time, alongside the emotional and personal toll placed on their family. "This is everything we have, and so we need to keep the business going," Claudia said. "The way I see it, we keep going by working hard to bring delicious food to my customers."
In terms of next steps, the couple do not intend to expand their already sweeping Peruvian food menu. Instead, they are interested in opening another location perhaps in Westchester, Westport, New Rochelle, or even the West Village. Another goal is to put their new, industrial-scale dough sheeter to maximum use and ship their flans and frozen empanadas across the U.S. For small business owners everywhere, the future will continue to pose new and unpredictable challenges. But Claudia and Richard will keep putting up a fight.