Soy quien la gente ve rara, La que rompe con la caja … 
La bruja, guerrera, la que siente que no encaja … 
Monterrey-raised Niña Dioz has a knack for standing out. Pale with diminutive features and fiercely masc energy, Niña Dioz is a gay rapper in Mexico's machista hip-hop scene. She carries herself with a swagger that feels simultaneously good-natured and alluring, lending to a sound and image that is refreshingly original. Whether she is singing about resembling a gabacho despite being from the rancho, or facing criticism for lacking humility — and in turn, asserting she will not cower her chingona joie de vivre — Niña Dioz conjures a bravado that distorts patriarchal binaries of femininity and masculinity. Rather than conform to singular notions of identity, Dioz begs us to consider if she can be all at once, and thus represents a type of freedom that resonates with fans and audiences across gender, sexual, and racial backgrounds.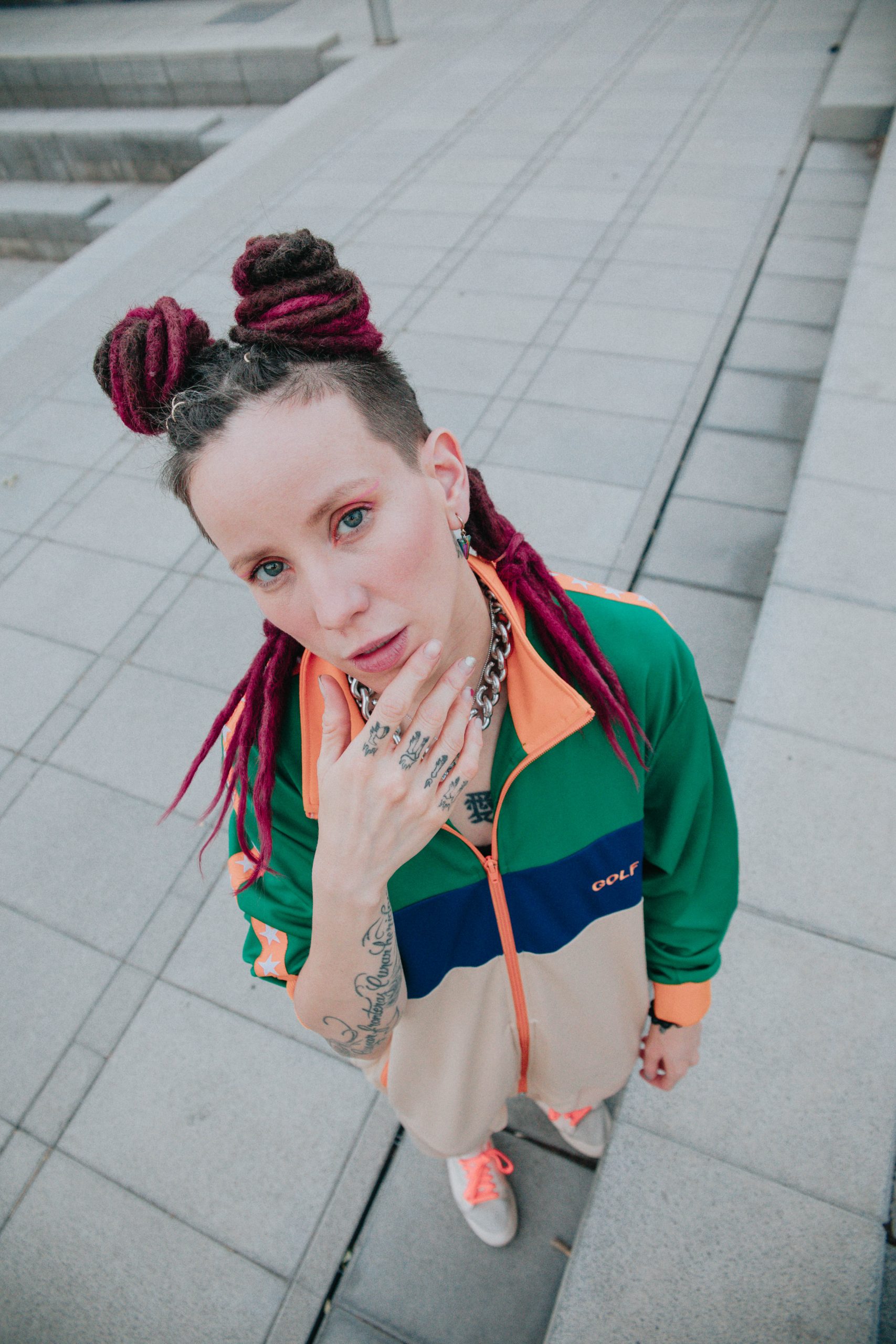 Niña Dioz sings mostly in Spanish and imbues her lyrics with heavy doses of Mexican slang, but her energy demonstrates a universal appeal that extends the runaway international success of reggaeton to include her genre of Mexican rap. Her strong desire to disentangle machista expectations begins with her upbringing in Northern Mexico — one riddled with restrictions on how women could dress, act, and look. "It's those things you see as a kid, and you don't understand," she shared. Niña Dioz recalled wanting to play futbol with the boys, but getting scolded for wanting to do so. Breaking down notions of machismo, she demands her place in a music industry that does not see her as an obvious heir. Perhaps Niña Dioz  represents an idea of the everyday person of the digital age: one eager to leave their mark and unafraid to agitate detractors whose cynicism reflects more about their own tastes than hers.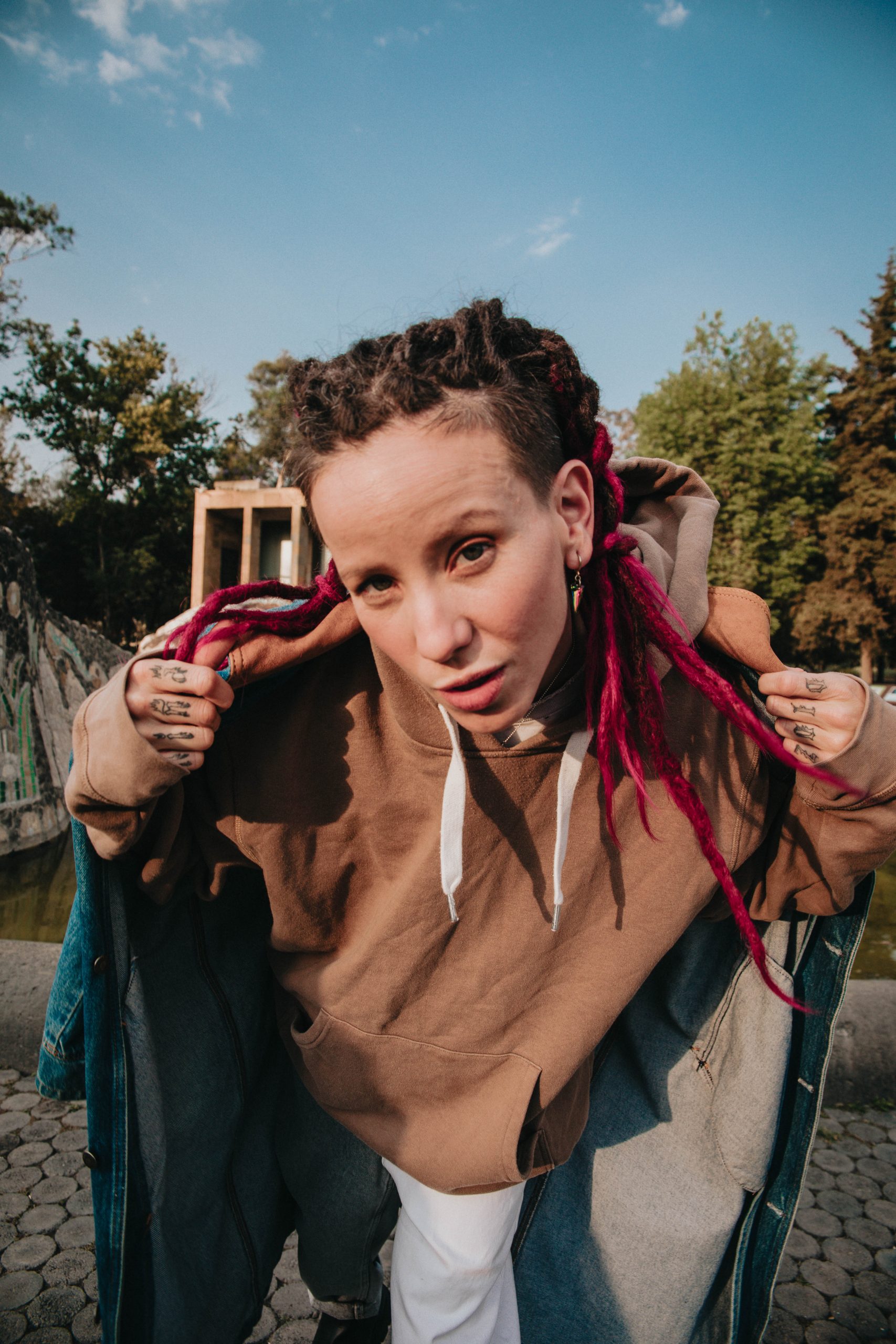 The subversive and exuberant Nina Dioz joined Culture Editor Alissa Lopez Serfozo (she/her, queer, cis-femme) in early June for the second in our Conversaciones on Queerness: un universo de identidades y expresiones, Latina's 2021 Pride conversation series that demonstrates the diversity of the Queer Latinx community while also relishing the celebratory spirit of Pride Month. During their conversation the two broach machismo in Mexico, secondhand Tommy Hilfiger, upcoming female and queer artists, and the evolution of Monterrey's queer community.
View this post on Instagram
Conversaciones on Queerness: un universo de identidades y expresiones
Pride Month is a time when millions of people come together in support of the LGBTQ+ community. For many within the queer community, Pride signals a period of visibility  that brings marginalized identities to the forefront, while also ushering in a month of celebration and joy. Pride is a time to dress fearlessly, hug chosen family unabashedly, love radically, but it also presents an opportunity to reflect on what it means to be queer today.
Pride Month is a reminder that the queer community is breathtakingly diverse — there is no such thing as one LGBTQ+ monolith. For many, queerness represents a complex interplay of identity, sex, gender presentation and sexuality. Amidst the celebratory spirit that characterizes Pride Month, it is also vital to shed light on the voices that continue to go unheard, and the individuals who still feel invisible. 
Latina aims to be a space for the entire Latinx community. Driven by a team of young Latinx creatives, Latina is a platform for the intersection of culture, politics, and entertainment. Dedicated to celebrating and amplifying Latinx voices, Latina's Pride 2021 series Conversaciones on Queerness seeks to approach queerness through a Latin lens and provide a platform for the individuals creatively expanding these multifaceted conversations.