LATINA has teamed up with TUMBAO as their official media partner to highlight rising talent in fashion and art from Latin America. Through the duration of the pop-up, we'll be featuring its founder and collaborators, curating a holiday gift guide, and spotlighting a few standout designers from TUMBAO's lineup.
TUMBAO, the pop-up retail, performance, and event hybrid, was founded on the principle of giving outstanding Latin designers a platform in the early stages of their career. The TUMBAO universe, curated by founder Valentina Pozo, showcases work of all backgrounds and genres — many focused on sustainability, craft, and some projecting contemporary spins on ancestral practices like weaving and jewelry making. These works come from all around Latin America, representing talent from Mexico, Ecuador, Colombia, and El Salvador, and more.
We spoke to five emerging designers from TUMBAO's roster about their brands, their processes, and how their Latin American identities are represented in their work.
---


Nicolete Quintanar, MAISON QUINTANAR NICOLETE (@maisonquintanarnicolete)
Type of brand: Clothing
Country Represented: Mexico
Brief personal bio: My name is Nicole Quintanar, I'm a designer and model from northwest Mexico currently living and creating in Mexico City.
Materials: Metal hinges, bedsheets, old buttons, lace, acrylic paint. I usually work with deadstock, I find the idea of only having a certain amount of material thrilling, so I have to make it work, it just makes each piece more special since there's only a few. I recently started to make upcycled pieces from my partner's old shirts.
Description of brand, values/mission, special info:
To dress
To inspire
To share
To create
To help
To be
Describe your practice. How do you create your pieces, what is your production like, and where do you draw inspiration from?
It is very random, I love draping on a mannequin and on myself, I really need to try everything on. Sometimes I need to feel the texture of a fabric and I'll know what I want to do with it, sometimes it's just people walking in the street, a book of interiors (I'm obsessed with interiors), pictures of my family in the 90's and just objects, [and] little details.
My production is also very random cause I don't really plan ahead.. I do have to get more structured at some point but that's what I love about drops, you don't have to make a huge collection, I can just really focus on a few garments and make them really beautiful.
How is your practice informed by or representative of your Latinidad?
MQN was born inspired by my cultural heritage, what it meant to be Mexican in a small town in Sonora very close to the border to the U.S., [specifically] in the 90's and all the cultural exchange there was between the countries. During this time people in my hometown would dress in a very flamboyant way, their homes had a very peculiar decoration , and all that was thanks to the cultural exchange of their travels and contact with the U.S. When I was little we would go grocery shopping in the U.S. and then we'd go back to Mexico that same day. There's this weird thing that happens on borders where you feel pretty much at home in both places.
But it wasn't until I came to live in Mexico City that I noticed all this, being Mexican here was very different than it was on the border. It comes to mind that maybe the whole thing is about me figuring out what my Latinidad means.
Share a career milestone
Definitely having Sky Ferreira like my IG pictures
When did you get involved with TUMBAO and how did that partnership come about?
I first got involved with TUMBAO about a year ago. Valentina sent me an email inviting me to be part of last year's pop-up, we had a zoom meeting and that was it! She was amazing! [I] felt very comfortable and aligned with her vision. It makes me happy to be part of such a beautiful project and community.
Do you have any upcoming projects we should keep an eye out for?
Maybe a permanent MQN shop/studio in Mexico City next year!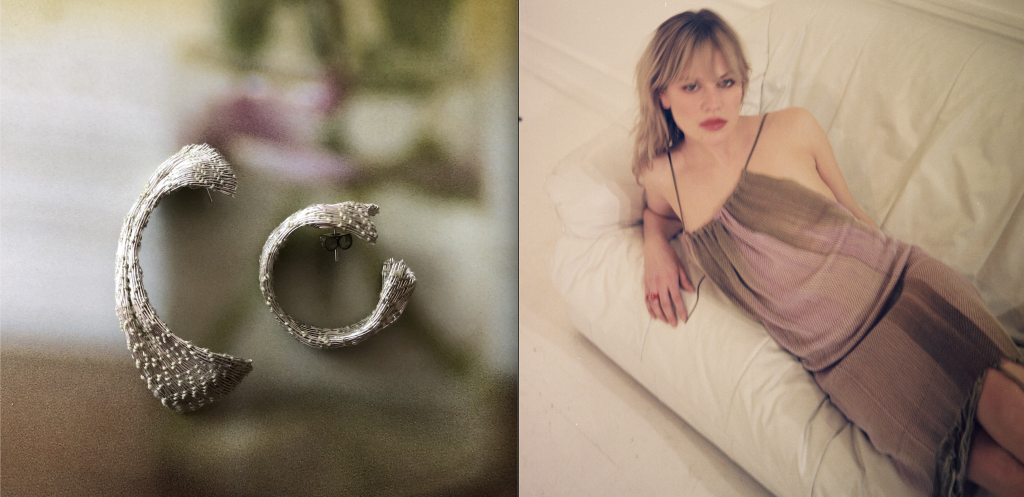 Gabriela Sacconi, ÉLOPE (@elope.studio)
Type of brand: Hand woven pieces of jewelry and clothing.
Country Represented: Colombia
Brief personal bio: I grew up between Mexico and Colombia. From a really early age I loved making art, and I was naturally curious about the process of creating objects. After studying and working in New York I moved back to Colombia, and I was full of curiosity about the crafts and cultural richness that we have. I was looking at the things that had surrounded me my whole life with completely different eyes. I started learning how to weave on the side while I was working different assistant designer jobs. Eventually I decided to dedicate all the time that I could into creating my brand, and making art.
Materials: Hand dyed cotton threads for our clothing pieces, and copper threads for our jewelry pieces.
Description of brand, values/mission, special info
ÉLOPE is a brand that creates objects that are wearable works of art. I want the pieces to feel precious and special so that they become a treasure to the person wearing them. Every piece is unique, and made with intention.
The name ÉLOPE comes from the literature character Penélope from Homer's Odyssey. In the story, she had to get married even though she didn't want to. She decided to weave a tapestry, and when she was done with it, she would choose someone to marry. She decided to weave during the day, and undo what she had woven during the night. From the beginning I wanted this story to inspire the brand's mission, which was for the brand to become a vehicle to help women become self-sufficient through their craft. Right now we work with a group of women that make the finishing pieces for the jewelry, and sew our packaging. As we grow, we want to work and collaborate with women in such a way that it allows them to become independent while they express themselves creatively.
Describe your practice. How do you create your pieces and where do you draw inspiration from?
Since we are a small brand, I create every piece by myself at my studio. I have a parallel artistic practice where I make more conceptual art pieces. Whenever I am working on a piece for ÉLOPE I try to make it so it becomes an extension of this conceptual art practice.
The process for creating pieces for ÉLOPE is extremely time consuming. For each piece, I have to prepare and measure the threads, then I dye them by hand. For my color palettes I like to draw inspiration from local photographers, such as Carmen Triana. I then have to thread the loom to be able to start weaving the pieces thread by thread. For the jewelry pieces, I use copper thread, and after I take them off the loom I have to shape them by hand. After that I take the pieces to a group of local artisans that make the finishes in silver. The process of weaving is very repetitive and can become tedious, but I have learned to use it as a meditative practice.
As for the future of the brand, I want to spend some time traveling to different parts of the country, learning techniques and getting to know people that I can later collaborate with.
How is your practice informed by or representative of your Latinidad?
When I started living in the US, I had a really different aesthetic and approach to art. I felt that I had to create more minimalist pieces in order to be taken seriously, but every time that I came to Colombia to visit I was full of inspiration that I felt I needed to somehow incorporate into my work. Latin America is full of visually stimulating places and imagery, but I also found inspiration in the people, the beliefs we grew up with, and the little things that only when I lived abroad I realized were so special and unique. My desire is to somehow translate these small quirks and details that make me feel connected to my Latin identity, and let the pieces tell these stories for me.
Share a career milestone
About a year ago I decided to quit my job and concentrate on my practice. Taking this leap was huge for me, and it allowed me to spend some months traveling and gathering inspiration. This year I traveled to Iceland and Portugal to participate in artist residencies, where I was able to learn other textile techniques. Some of the pieces in TUMBAO were actually made during this trip.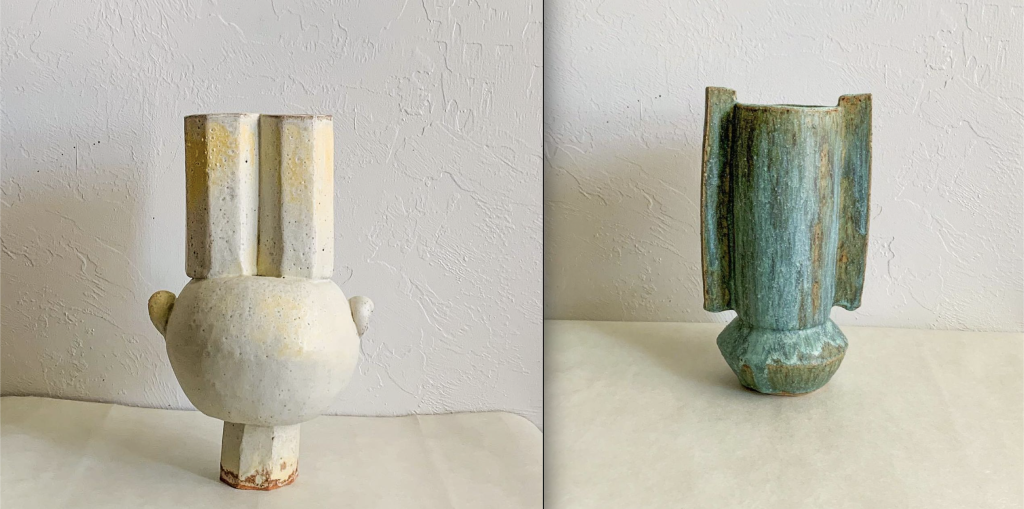 Isaac Diaz, UOQAUS (@uoqaus)
Type of brand: Ceramics/art
Country Represented: El Salvador/ United States
Brief personal bio:. My name is Isaac Diaz. I currently live in Oklahoma City. My dad is Salvadoran and my mom is white-American. My first time in El Salvador was when I was 13. That trip forever changed my interests. Since then I have made it my life goal to continue the exploration of Salvadoran and Latin American culture. I started working with clay in 2019 while attending the University of Oklahoma.
Materials: Clay, but often I create installations that combine my ceramic pieces with found objects such as stones, beeswax, paper, and florals.
Description of brand, values/mission, special info
My pieces speak on both Pre-Columbian history and the history post-conquest. El Salvador's indigenous population of Nahua-Pipils have struggled to keep their language and traditions alive. My grandmother is Pipil and I see my work as a way to continue with the traditions that are constantly being challenged by time.
Describe your practice. How do you create your pieces and where do you draw inspiration from?
I often start with mood boards and sketching. I often have an emotion I'm feeling that drives my pieces. I look to the ancient, yet alive, cultures across Latin America. But I do have interests in exploring my place in the world, why I'm here and why I feel what I feel.
How is your practice informed by / represent your Latinidad?
Definitely by my family and experiences in Latin America.
Share a career milestone
In August 2022 I had an art installation-pop-up with several designers in Mexico City. The pop-up was hosted by Crudo Caan. This was the first time my work was shown in another county.
How did you get involved with TUMBAO?
I got involved with TUMBAO through a friend of mine, Bobby. He purchased one of my pieces, and I told him about TUMBAO and how it would be cool to have my work there. Then he told me he's friends with Valentina, and then I got in contact with her about TUMBAO. The world can be small sometimes.
Do you have any upcoming projects we should look out for?
Yes! I have begun my own sort of Latinx inspired pop-up concept called Naranjo Naranjo. It's a way to show that Latina America's creativity is rooted in tradition yet innovated by the current day.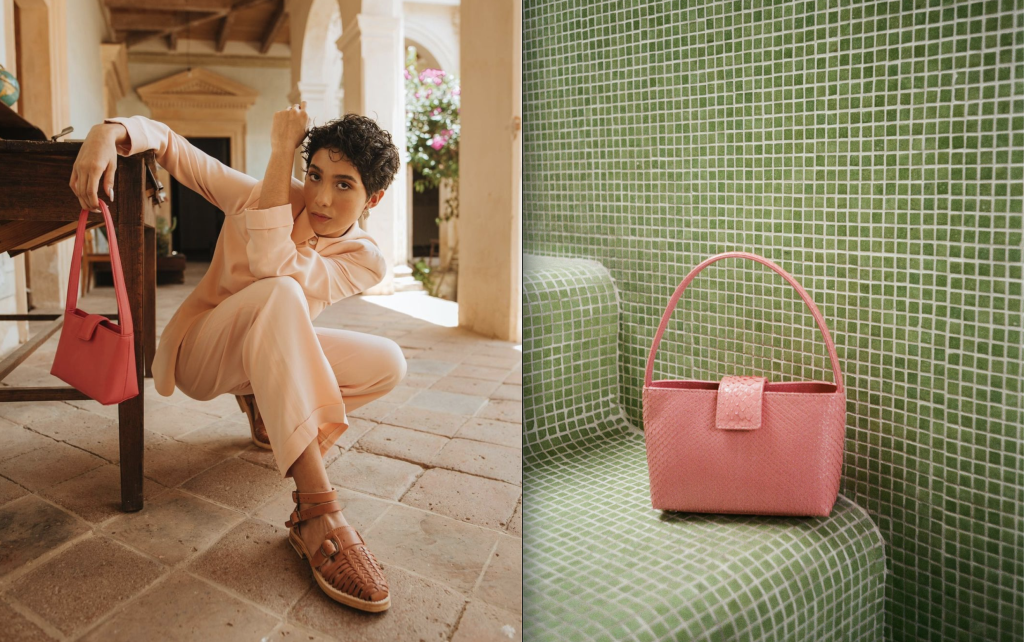 Genoveva Pedrero, de María (@demaria_nyc)
Type of brand: Ethical Accessories, footwear and handbags
Country Represented: Mexico
Brief personal bio: I was born in Mexico and lived there until I was 4. Post Zapatista revolution, my family moved to San Diego and I lived there for 10 years and then [moved] back to Chiapas for high school. It really took leaving for me to realize how rich my culture is. I've been working in the fashion industry since 2013; in showrooms, visual merchandising, styling, pr, production, wholesale. I've worn a lot of hats until I found the right fit. In 2017, I started my masters in design at Parsons in Strategic Design and Management while also working at Brother Vellies. I launched de María in September 2021 with my co-founder, Daniela Novelo.
Materials: We work with leather for two reasons. Leather is a material we know can last generations when properly cared for and we want our pieces to become future heirlooms. The second is that while we debated working with vegan leather alternatives before launching, we decided that leather is the most sustainable option due to its biodegradable qualities. We also make everything in very, very small batches and use either deadstock leather or locally sourced leather to reduce our carbon footprint.
Description of brand, values/mission, special info
De María is an ethical accessories line celebrating the power of design collaboration beyond borders. The brand works with artisan workshops in Mexico to co-create unique pieces using local materials. We believe in ethical manufacturing, fair wages, long lasting design, creative collaboration, and celebrating traditional design techniques.
Describe your practice. How do you create your pieces, what is your production like, and where do you draw inspiration from?
I draw inspiration from my roots, the golden age of Mexican cinema, María Felix, Luis Barragan and Ricardo Legorreta. I mainly work with two workshops in Mexico; One is in Sahuayo, Michoacan, which is where the original huarache was born and is still made using local materials. The boots are made in Leon Guanajuato which is one of the most important shoemaking cities in the world. We produce everything handmade in teeny, tiny batches so our pieces are truly one of a kind.
How is your practice informed by / represent your Latinidad?
My Latinidad has been something I grapple with because I've spent periods of my life on both sides of the border. When I'm in Mexico, I'm too 'gringa' and when I'm abroad, I feel the most Latina. Mexico can be very malinchista, which means we prefer foreign things or traditions over our own so growing up I never really valued Mexican made products. I had to reframe my way of thinking about luxury to understand how truly valuable Mexican artisan work is. When we laid down the foundation for de María, one of my absolutes was that everything we make has to be made in Mexico or by Mexicans and above fair wages must be paid. This isn't just about de María thriving – it's about how everyone who joins us on our journey can thrive too.
Share a career milestone
A full circle moment for me was when de María was featured in Vogue Mexico's September issue in print — 8 years ago I had gotten to work with the fashion director, Sarah Gore Reeves, to shoot Joan Smalls for the September 2015 issue cover.
When did you get involved with TUMBAO and how did that partnership come about?
My first time with TUMBAO was at the pop-up at The Break, and then we were a part of A Chamber A Chambear in Mexico City, earlier this year. This partnership was somewhat serendipitous. We originally had wanted to be at a different space and it fell through so we had both pretty much given up hope on hosting any sort of pop up for the month of December. Valentina and I are both the kind of people that don't take no for an answer easily, so we reconnected, strategized and found something that could work for both of us. After our first conversation, we only had 3 weeks to figure out logistics and details so we just sprinted into the pop up. Que Se Hace Con Tanto Amor really was a labor of love.
Do you have any upcoming events or projects we should look out for?
We are hoping to host an intimate dinner in February 2023 during NYFW. I would love to join TUMBAO in Mexico City again and hopefully Los Angeles soon. My personal goal is to see de María in a showroom in Paris by Fall 2023. European fashion has colonized us for long enough, why not see Latin American fashion take on Europe?
Isabel Pérez, HERA (@_hera_studio)
Type of brand: Clothing
Country Represented: Ecuador
Brief personal bio: 3 years ago I founded HERA, an ethical and sustainable clothing brand from Ecuador. I started this brand without having any knowledge of fashion, sales or marketing, the only thing I was sure of was my passion for fashion and the positive impact it can have on people's lives. Because clothes are not just clothes, they are a reflection of our personality. It is for me one of the most powerful artistic expressions that exist in the world.
Materials: We use natural fibers such as hemp, wool, linen, and organic cotton — materials that when decomposed will be biodegradable. We also create garments with vintage textiles that tell stories from the past created to live in this era. We source textiles from the 40's, 50's, 60's and 70's that are in perfect conditions.
We naturally dye some of our garments with cochineal, turmeric, logwood, annatto seeds and avocado seeds. We are always experimenting and exploring new dyes that are not toxic to the planet. For us the colors of nature are the most beautiful.
I studied architecture and art history in university and after working as an architect for 4 years I decided that what I really wanted was to create my own fashion brand. For me, color is the most important part of our collections that are very inspired in art, architecture and music.
Description of brand, values/mission, special info
HERA was born from the desire to create more authentic fashion, one that has a positive impact on the planet and in which aesthetics and consciousness coexist in a balanced way. It seeks to create garments that tell a story through the materials, the silhouettes and the people that created them. We want to create cool, unique statement pieces that reflect the ethos of this new era. Ethical practices are at the core of everything we do that's, which is why everything is made in Quito, Ecuador. We know personally every tailor and dressmaker that makes each of our garments, we want to preserve their craft.
Describe your practice: How do you create your pieces, what is your production like, and where do you draw inspiration from?
We first create a moodboard that includes art, architecture, music and photography. Sometimes the collection is inspired by a music album or an architectural building or in a work of art we've seen in the museum. We produce small quantities of each garment to ensure we don't overproduce. When that stock is sold we will produce more and that is the kind of production that works best for us to ensure we don't overproduce and create more unnecessary waste.
How is your practice informed by or representative of your Latinidad?
I think that my Latinidad comes through with the use of color in each collection. We love intense colors and contrasting them to create clothing. We have always felt that color is one of the most important parts of life and design and we have realized that nowadays the use of vibrant colors is less common. Colors are disappearing from homes, cars and clothes. Colors can change how we feel, how we manifest to the world and most importantly colors make us happy. Colors create culture, dopamine and most importantly through clothing and color you can tell the world who you are.
Share a career milestone
We were chosen among the best emerging designers of the world to represent Ecuador in the greatest fashion show to date, The Qatar Fashion United by CR Runway in Doha, Qatar. Also, in collaboration with the brand Off-White for their fashion show, we redesigned a soccer jersey with jaguar embroidery. Our brand has been featured in Vogue Mexico, Teen Vogue, in Death to Stock's TikTok, and in several local magazines and newspapers in Ecuador.
How did you first get involved with TUMBAO?
I have known Valentina for quite some time. I think that she has such a great eye for fashion and art, she herself being an incredible artist knows exactly how to showcase Latin American design in a contemporary context. TUMBAO events are always incredible, from the brands she selects to the interior design that is always on point. Definitely the best pop-up I've seen in my life has been created by Valentina for TUMBAO, I know she is just getting started and so much more incredible things will happen for TUMBAO.
Do you have any upcoming projects or events we should look out for?
We are designing our new collection, planning to launch our first home decor pieces and also our first one of a kind pieces created with unique fabrics we found on our recent trip to Japan. We are also planning to showcase our brand in other parts of the world like Europe.
---
TUMBAO is currently happening in New York City through December 23rd. You can visit the work of these designers and more at the pop-up every day from 12-7pm at 20 Orchard St.