Ride the elevator to the 11th floor of Brooklyn's trendy new hotel Penny and you'll find a high-end restaurant serving more than just Instagrammable city views and inventive martinis. In a cozy plant-filled dining room, beaming with natural light and whimsical sculptures, elNico showcases the multicultural heritage of its team with imaginative Mexican cuisine and Latin American-inspired drinks.
After paying her dues in some of the most respected kitchens in the world from New York's Cosme to Mexico's Pujol, Chef Fernanda Serrano is now leading the charge at the highly-anticipated restaurant from the Sydell Group, elNico. Her new venture, which opened this past spring, offers a glimpse into her dynamic culinary palette. She playfully blends nostalgic flavors from her childhood, spent just outside Mexico City in Pachuca, with the tastes she has encountered during her travels. Her artistic lens is evident in every dish she creates.
The 30-year-old executive chef wishes she could say her abuela's cooking inspired her to break into the restaurant industry, but the truth is an animated film about a pesky rodent sparked Serrano's interest in a food career. "After watching "Ratatouille," I was like, 'oh my God, that looks so fun,'" she tells LATINA, on a Sunday afternoon, as the restaurant prepares to start seating tables for the night. "I was into painting, but in the end I decided to study [cooking]."
elNico is Serrano's attempt to honor tradition while turning what might be considered low-brow snacks on their head. Her pillow-soft sopes topped with crème fraîche and salsa cruda melt in your mouth, followed by an umami burst of osetra caviar. Or take the eye-popping pulpo pibil, which is inspired by Serrano's younger self who loved smashing potato chips into sandwiches, and is an ode to her mom's favorite protein. The dish arrives with a massive spiralized tentacle at its centerpiece, pre-chopped and ready to be stuffed into toasty tortillas, sprinkled with paper-thin house-made lime chips, doused in tangy xnipec salsa, and coated with a creamy garlic Lebanese-style toum sauce.
"I want to [showcase] street foods that are not so well known in American culture," Serrano says. "This small bite or this street food thing can be upscale."
Serrano's dishes are complemented with colorful cocktails, like tomato margaritas and cantaloupe palomas. Formerly the executive sous chef at the NoMad Hotel London, another hotel hotspot from the owners of Penny, Serrano teamed up with fellow NoMad alumni, beverage director Leo Robitschek and bar director Cristhian Rodriguez, to create a dining experience that spotlights the Latin American diaspora.
"Dinner is so important for Latin families because it's when everyone is at home, sharing their day and a meal," Serrano says. "We wanted our guests to experience that warmness."
With Robitschek hailing from Venezuela, and Rodriguez from Peru, the trio's shared cultural reverence for the moments that occur around meals is the project's glue. A spirit of collaboration among the team has also promoted more sustainable practices in the restaurant's kitchen, where local produce is sourced from urban farms. The pastel-pink sauce in the scallop aguachile, for example, inspired by a Thai galangal coconut milk, came about after Serrano tried a lacto-fermented gooseberry that Robitschek was about to discard after squeezing out its juice.
"From his side [of the bar] or from my side [of the kitchen], we're like, okay, maybe I can create something with this ingredient, or maybe we can try to see if we can co-create something," Serano says.
Although she traded her paintbrushes for paring knives, Serrano notes that introducing new recipes doesn't feel that different from debuting a piece of art. Discovering the work of restaurateurs like Massimo Bottura, who's known for channeling a love of music and art into the dishes at Milan's Osteria Francescana, expanded her perspective to view food as another artistic medium.
"I can express that side of me on my platings," Serrano says. "I love painting, but that doesn't mean that painting only has to be done on a piece of paper, I can do that on my dishes too."
Her appreciation of color shines throughout elNico's menu, from a neon-green sikil pak cabbage with notes of tarragon and bits of sourdough, to the tangy pink sesame-based mole that embraces the complex gradient of beets. Serrano's vegetarian interpretation of mole borrows inspiration from a beet tahini salad she tried in Greece that reminded her of the consistency of the Mexican staple. A fall take on the traditional sauce is in the works to celebrate white pipian, a pumpkin seed mole, and the changing of the seasons. "But mine is sunflower seed paste," she says. "And I grabbed butternut squash, and roasted it so it's a little darker. I use fresh squash, it's a little brighter, and I use the same seeds. It's kind of [like] the shades of the leaves during the fall."
Before pouring all of her creative energy into launching elNico, Serrano took a hiatus from cooking to recharge. After seeing some peers leave the industry, she wasn't sure she'd return, and worried about how her hiatus might be perceived.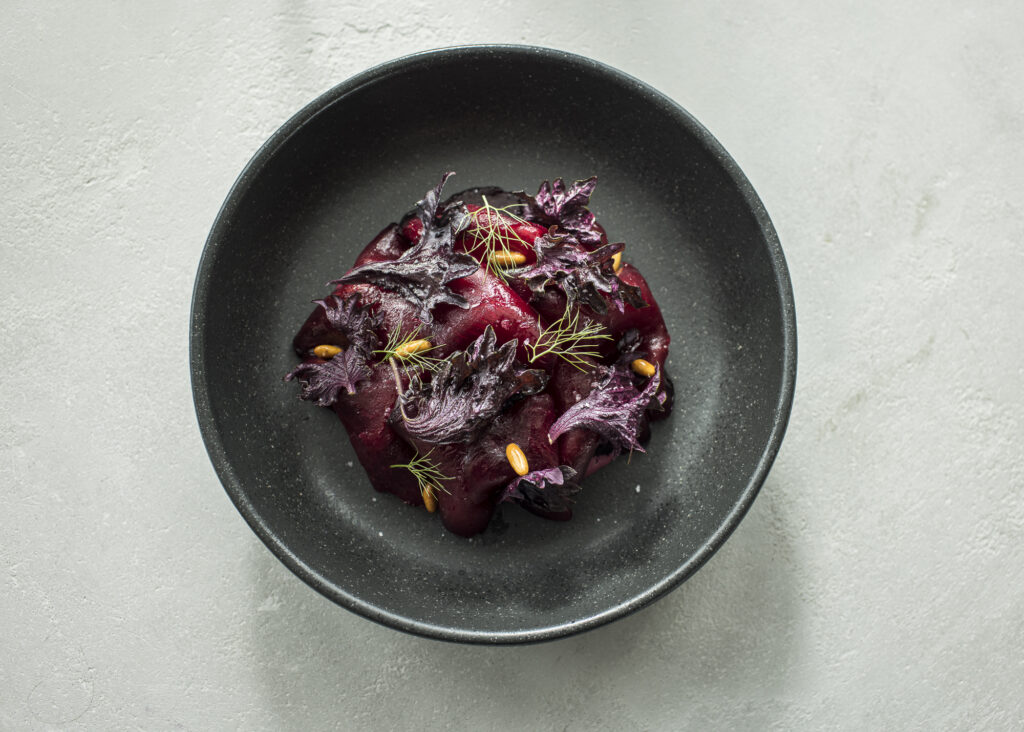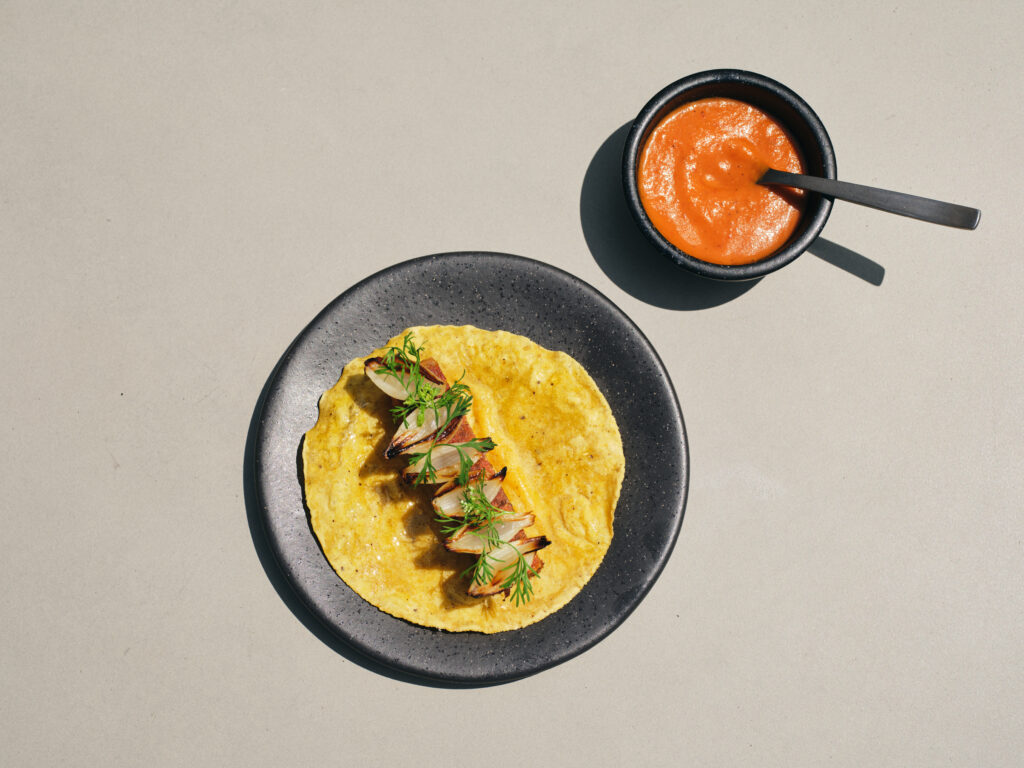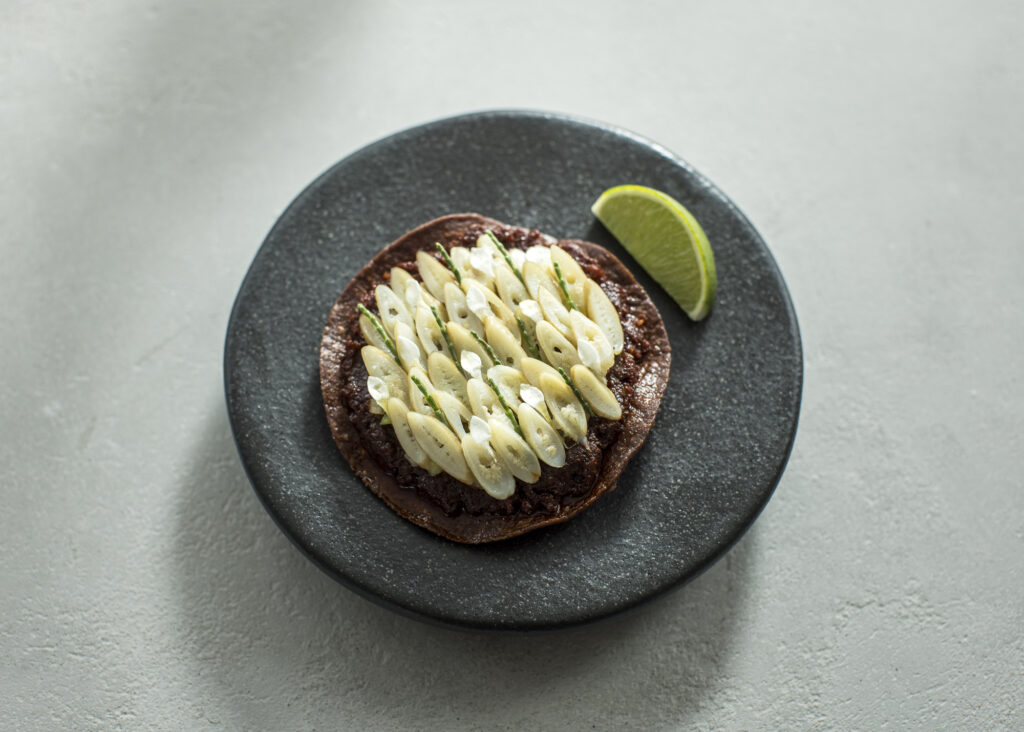 "I took a year-long break from cooking because I was feeling burnt out, and I was feeling so sad," she says. "I was just like, 'how are people gonna see [me]? What are people going to think of [me]?'"
"The Bear," an unfiltered television portrayal of the unglamorous reality of restaurants, resonates with Serrano. The hit show was an early bonding moment for her and her boyfriend when they met while working at the NoMad, and helped her family of mostly lawyers finally grasp why she'd often come home exhausted and covered in burns.
It didn't take long for Serrano to bounce back, and this period of rest reinvigorated her dedication to the craft. "I discovered that this is my true passion. I enjoy every single minute I spend in the kitchen," she says.
After witnessing and finessing the art of perfection in fine dining environments, Serrano is uplifting Mexican cuisine on her own terms. She credits acclaimed chef Daniela Soto-Ineess, a mentor and friend, for both inspiring her and loosening her up while they worked together at Cosme. "She basically grabbed me and said 'don't be so stiff.'"
Soto-Ineess helped raise the bar for Mexican food in the city, and Tex-Mex is no longer the standard, according to Serano. "Now people don't really think that Mexican food is cheap," she says, adding that there's a broader frame of reference and appreciation for the cuisine. "People know more about masa now. It was so hard for people to [understand] how a tortilla was made."
---
Leah Rodriguez is a writer living in New York City covering food, culture and women's rights.