Hilachas, a Guatemalan Shredded Beef Stew
Hilachas are a Guatemalan shredded beef stew made with flank steak and a deliciously thickened broth mainly consisting of tomatoes, tomatillos, chiles guajillo, chile ancho, onion and garlic.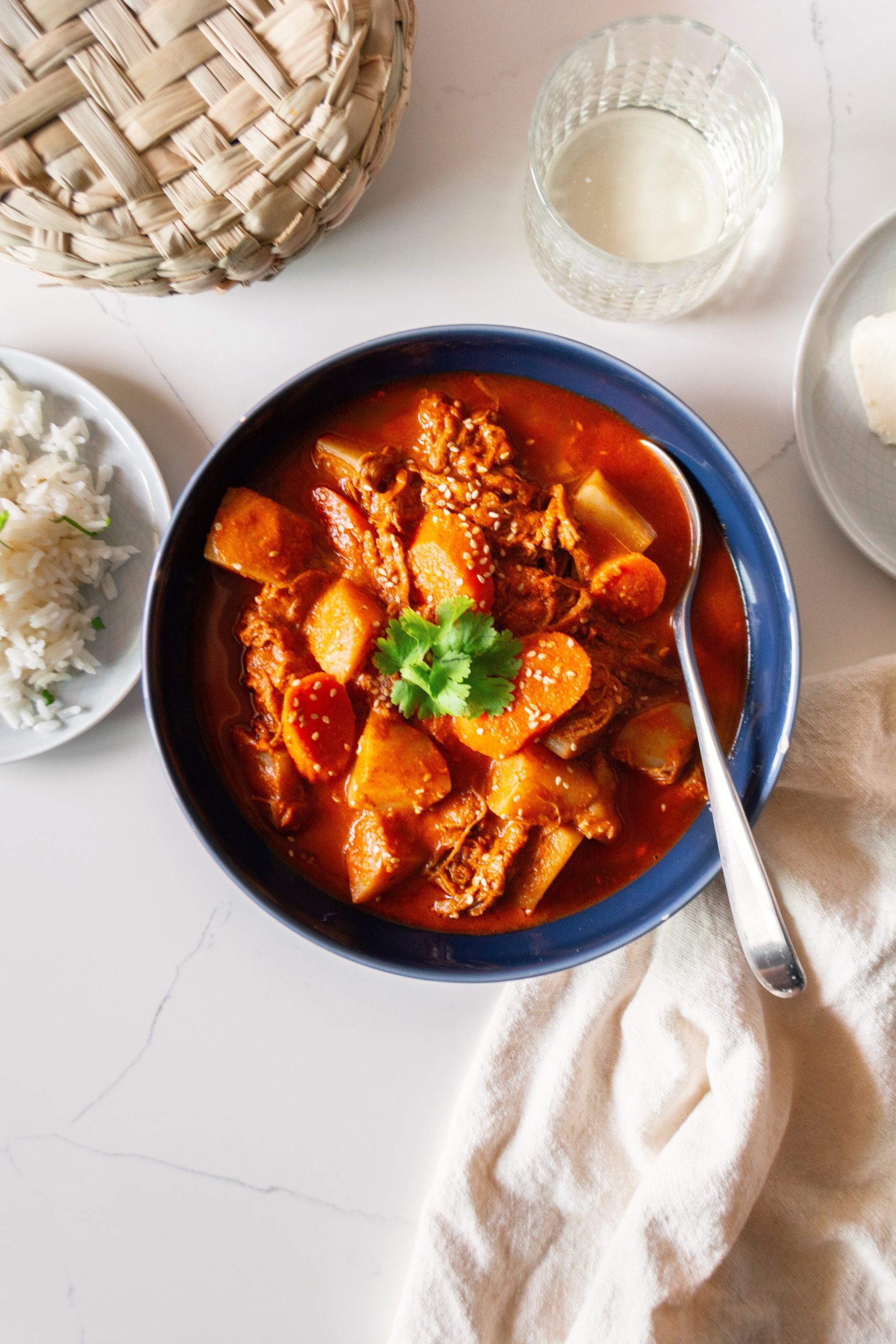 6 Servings
2 lbs flank steak
18 cups of water
3 bay leaves
1 tbsp toasted sesame seeds
1 tbsp toasted pumpkin seeds
1 dried chile ancho or pasilla
2 dried chile guajillo
4 tomatoes, whole
2 tomatillos, whole
1/2 medium yellow or white onion
4 cloves of garlic
1/4 tsp of cumin
1 1/2 tsp salt
1/4 tsp freshly ground pepper
2-3 russet potato, peeled and chopped
2-3 carrots, peeled and chopped
In a large pot, boil the flank steak in about 12 cups of water with 1 tsp of salt and 2 bay leaves for 2 hours. Ensure that the meat remains entirely submerged in the water. If a lot of the water evaporates within the 2 hours, add the remaining 6 cups of water. Remove the scum that rises to the top of the water as it boils.

Remove the steak from the pot and allow it to rest. Also, reserve the remaining cooking water.

Add the tomatillos, tomatoes, garlic, onion, sesame seeds, pumpkin seeds, dried chilies, and 1 cup of the reserved cooking water to a blender and blend until completely smooth, working in batches if needed.

Add the blended mixture, along with 2-2.5 cups of the additional reserved cooking water, to the large pot over medium heat and allow it to come to a simmer.

Shred the meat into medium-sized shreds (if you shred the meat too fine, it will become tangled in the stew) and add it to the pot along with the cumin, salt, pepper, and remaining bay leaf. Allow this to simmer for about 10 minutes (you'll notice that the broth will begin to deepen in color).

Add the chopped potatoes and carrots, and simmer for an additional 12-15 minutes on medium heat, or until the potatoes and carrots are fork-tender.

Check for seasoning before serving with rice, beans, and fresh tortillas.
About the Chef
Stephanie Alvarado is a Los Angeles-based, first-generation Salvadoran/Guatemalan-American creator and a home cook with a passion for experimenting in the kitchen. Alvarado started her blog This is Avocado in November 2020 as a creative outlet for expressing her love for all things food. Fast-forward to now, Alvarado runs the blog and social media accounts full-time and has had the great honor of working with some of her forever favorite brands.
Alvarado's love for cooking started as a kid – she often helped her mom whip up staple Salvadoran, Guatemalan and Mexican dishes. But it wasn't until she moved out of her parent's house at the age of 18 that Alvarado had to fend for herself in the kitchen. That is when she learned how to get creative in the kitchen. Alvarado's blog and recipes are all a reflection of her favorite foods growing up, the scrappy creations she made as a young adult, and all the new cuisines and dishes she has fallen in love with along the way.