When it comes to her hair, Anissa E. Salazar is a minimalist. She prefers natural, efficient products that won't damage her scalp over flashy multi-ingredient ones. When we meet over Zoom on a February morning, Salazar admits proudly that she brushed her hair before our interview. She's been busy–styling the iconic Jennifer Cooldige's gravity-defying hairdo on W Mag's latest cover, planning her wedding, and running her sustainable haircare brand, Tecuane, all while trying to remember to eat breakfast and take care of herself. For now, remembering to brush her hair will do.
For fans of Everything Everywhere All At Once, the Oscar-nominated and award season darling starring Michelle Yeoh and Jamie Lee Curtis, Salazar's personal style may come as a surprise compared to the ornate looks she crafted for the film's characters and their rapidly changing worlds. We sat down with Salazar to discuss her inspiration behind the highly stylized looks in the film, her early days sweeping hair off the floor at her abuela's southern California hair salon, and how her haircare brand, Tecuane, honors her abuela's legacy with its ingredients.
This conversation has been edited for length and clarity.
---
When did you first start styling hair?
I grew up in the salon like my Nina [grandmother] Mirna. She worked at a salon most of her adult life. I grew up sweeping hair, listening to the chisme, and handing over brushes. In community college, I studied stage makeup which reignited my creativity, and in 2009 and 2010, I went to Paul Mitchell School in Santa Barbara. I already knew that I wanted to work behind the scenes in film but didn't know how. I found myself on Craigslist looking for student films and anything I could do to get my start. Once I got into the [workers] Union, I met so many amazing talented makeup people and other hairdressers, and dove into it. I was in a salon briefly, for maybe under a year, and then started working on sets full time.
How did you meet the Daniels?
I met the Daniels around 2014/2015, through a producer who called me in to do an interview. I had already read their script for Swiss Army Man, [and had found it] life changing. I was working on a Fox Studios show [at the time] and I was like, "Okay, well, I'm leaving now." I pitched [the Daniels] a couple of my ideas and that's what began the journey with them.
What were some of your first thoughts when you got the script for Everything Everywhere All At Once. Did you immediately have hairstyle ideas?
I got the script and I had to read it like five times. I didn't understand any of it! I was so confused until we had our first concept meeting and then they're like, "So long story short, this movie is about a woman who can't finish her taxes," and that was all they told us. I thought, "Okay, well that sounds easy. Come-as-you-are hair, you know." I didn't really think anything of it. Then we started dissecting each universe in each world, and they became more complex as we went, but it was really a collaborative effort.
The script gave very little description of what Michelle Yeoh's character would look like, or what Deidre, Jamie Lee Curtis' character, would look like. Once we started involving different departments, you really got to know these characters through how they dress and then that gave us an idea of their personalities and state of mind. "Okay, Evelyn is tired, she's distressed. She cares about everybody around her except for herself, so she's not going to get her roots done every three weeks, four months, she's letting that just roll."
It was really a collaborative effort between hair, makeup, and costume [departments], [as well as] the actors of course.
How much did traditional Chinese hair form a part of that? How did the bagel hairstyle come about?
The bagel was something I completely pulled out of left field. Through the small description in the script, I understood that the theme and environment of that bagel universe would be very celestial, very goddess-like, with white fog, almost heavenly. And I knew [Stephanie Hsu's character] would be wearing different textiles, pearls and this latex costume. I already knew that she came off like a villain. So I thought, how can we keep it authentic to that character while having a super complex updo?
I started playing with shapes and I thought a bagel would be so on brand. I made seven different types of textures of braids, and then started hot gluing and burned all my fingers off just to make the centerpiece. I remember when we were trying it on her it was kind of flipping as we walked in, and I thought "Oh my god, how's this gonna work?" There I was, strapping everything down, and it was really just trial and error.
What are your favorite looks from the film? Were there any style inspirations from culture or from moments in history and fashion that you wanted to bring?
I think my favorite hairstyle was Michelle Yeoh's traditional Chinese opera hairstyle. I watched so many YouTube videos of Chinese performers.They would use tree sap to get those beautiful, sleek, waves on their foreheads, temples, and jaws. I tried to mimic that effect with different gels and hairspray on extension pieces. I didn't have the luxury of having professional wigs and multiple backups. A lot of these wigs were based off of what I saw, and [I would] say a little prayer and hope that it worked on the day before because there was no time for any resets. I really got to learn about how these [Asian] cultures keep their traditions alive.
As far as Jobu, she had so many looks to choose from but I think my favorite is the hodgepodge look where she's emotionally distressed. Her makeup is all over the place. She's kind of like a Picasso art work, wearing those expressions and emotions on her face. When I saw [Hsu's] costume would be a jumble of different textiles, I immediately thought of Vivienne Westwood in the early 90s, and I'm a big fan of Cindy Sherman, I've always thought it was so cool that she's not only the model, she's the photographer, she's the hair, she's the makeup.
Coming from a lack of resources, I used recycled wigs I had been using and just tried to mimic a cotton candy type of texture at the end. I wanted it to be a little bit high fashion, so I thought that disconnected fringe could be stunning and also hide the fact that it was a very cheap hard front wig.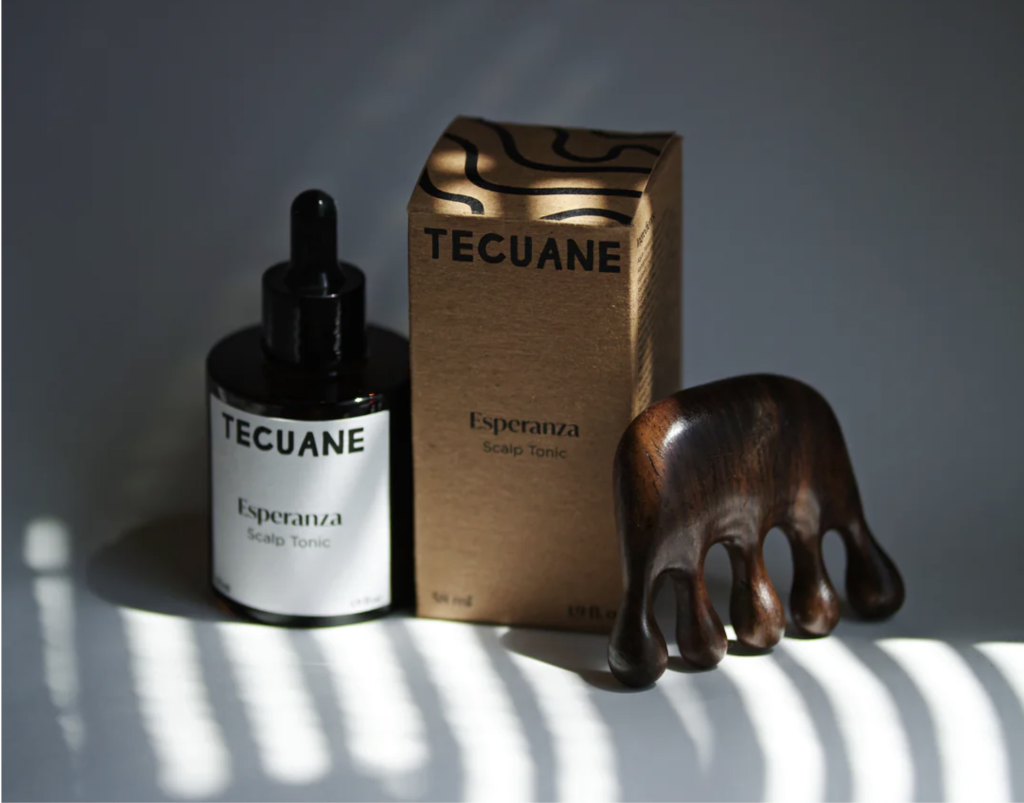 Can you tell me about your haircare line, Tecuane, and what your goal is?
Right before filming Everything Everywhere, I had already started making samples for my brand. I wanted it to be something that I could never find in the market. It is really important to me to always keep the integrity of someone's hair healthy. When the pandemic began, that was my opportunity to focus and dial in on Tecuane, a luxury clean haircare brand that honors our Mexican culture and [celebrates] gender fluidity. Tecuane is also inspired by my grandmother, who passed away in 2018, just before I started Everything Everywhere. I chose to incorporate ingredients that I used growing up with her, such as manzanilla, nopales, and rosemary, that I know you can use in a mindful haircare practice. I wanted to create something unique that honors my culture, my family and that you can use every day while not feeling greasy or using harmful chemicals. My goal was to create a clean alternative for any generation,any gender identity, and any hair texture.
[My grandmother] was a big fan of manzanilla, she used that for her hair, she made it as a tea [for] stomach cramps. She also used nopal. She grew up on a farm in Mexico and she went through different stages of stress in her life as a single woman who was raising nine kids while in an abusive relationship with her husband who was never there. It was hard. She had a lot of hair loss. I remember some of her stories where she would talk about mixing cow manure and manzanilla and nopales to make these concoctions and put them on with a little bandana. Stress can do a lot to our body, it starts internally and then you start seeing it manifest on the external.
The first place we see that stress is in the scalp, so I always knew I wanted to develop something 100% for the scalp. After trial and error and testing on myself and friends – who were my guinea pigs throughout the pandemic – I've seen customers come back with incredible feedback.
How does preparing your own hair factor into your day?
I am a very minimal person, especially because I'm always on the go. I don't really use heat unless it's absolutely necessary. Creating Tecuane was a little selfish [in the sense of] asking myself, "well, what do I need daily?" I wanted to make sure that my scalp is hydrated above anything else. So if I could just have one hair product that I use in my hair ritual routine then I'm good. I'm really into the less is more kind of style [while still being] put together. Grandma raised me to make sure you look good and to show up for the job that you want. So here I am.
---
Alexandra Martinez is a Cuban-American writer and Senior Reporter for Prism.