Kali Uchis released another bilingual hit earlier this month with "No Hay Ley," which translates to "There Are No Laws" – an anthem for a love without limits, and an ode to Latin House music inspired by her Childhood in Colombia. During a live on Instagram, she shared the song "is not usually what fans would expect [of her]" and speaks to her commitment to "experimenting" with her music. The single, which came along with a Y2K inspired music video, is a taste of the range of melodies her fans can expect from her. Though Uchis has already finished her third and fourth coming albums, one being in Spanish and the other in English, a release date has yet to be announced and the anticipation is certainly high. Despite keeping her fans waiting, the timing of this single came perfectly after this summer saw the release of house inspired albums by Drake and Beyonce — it was only right that we'd see a "Latin" Spin to it as well.
To celebrate the success of her new song that saw its highest support from platforms including Apple, Spotify, and Youtube, Kali Uchis did what she knows how to do best; she threw her fans a party in "90's Latina, untz-untz" style. The event, which was marketed solely on Instagram, came with a vintage rave-like flyer, with Uchi's front and center, posing like she's been "untz-untzing" the night away. The party didn't start until 10pm but fans had already been waiting in line hours before.
"The party sold out within 30 minutes" said Francisco Jimenez (21), a fan and partygoer who'd turned on notifications for Kali Uchis and managed to snag a ticket within minutes of the musician dropping the RSVP. Jimenez along with his friends, Genesis Perez (21), and Adriana Rodriguez (22), were first in line and had been waiting for 6 hours for the chance to party with the "No Hay Ley" singer. The group, who was all of Latinx decent, said their fandom — and that of the 400+ people who were waiting in line covering blocks upon blocks of the Sunset strip — reflect a generation that wants to define themselves on their own terms. "She's different, she's not afraid, and we feel represented by her. She doesn't try to fit in and yet embraces her culture and shows us that you don't have to give up your heritage." A sentiment largely felt by a generation that is challenging traditional notions of Latinidad in music and beyond and the procession of people waiting for the night to begin truly embodied that energy of being young, wild, and free—fans dressed in leather vests, chunky platform shoes, disco pants, chain belts, and plenty of BodiedByUchis including booty shorts, boot cut jeans, and denim bucket hats—worn by people of all backgrounds, genders, and sizes.
The wait for the event and chance to see the star of the night was surely worth it. Uchis stuck to her "house" theme in the basement of the Edition Hotel. The venue was filled with disco balls, both throughout the venue as well as on the dance floor, which saw at least 50 hanging disco balls on one wall. On another wall, scrolling marquee signs recited the lyrics to her song like "No importa lo que digan" which translates to "It doesn't matter what they say" and "Deja que nos miren si quieren" or "Let them look if they want." Fans also had plenty of Instagram-able moments, including a photo booth to commemorate the event, mini vintage TV's playing her music video, and goodies to take home like beaded bracelets with the words "Kali" and "No Hay ley" spelled out, and Mac Cosmetics lip liners and lip glosses in the shades Love Nectar, Whirl, and Dervish to keep the gurlz looking good throughout the night.
Fans enjoyed DJ sets by Black and Brown DJ's including DJ Tech Girl (@tech.grl), as well as DJ Monte Christo (@iammontechristo), and DJ Chrysalis (@chrys4lis_) who played everything from Latin house, Merengue, Dembow, and Brazilian Funk – once again showcasing the expansiveness of Latinx identity. Classics from RuPaul, like "A Shade Shady," also played — a reminder that Black people of the LGBTQIA+ community have been central to the creation of disco and house music. In fact, ballroom culture – which was created by African American and Latinx gay, queer, and trans communities, was very alive as well. At one point the DJ asked fans to "clear the room" so those who were ready to vogue could do what they needed to do, and they did.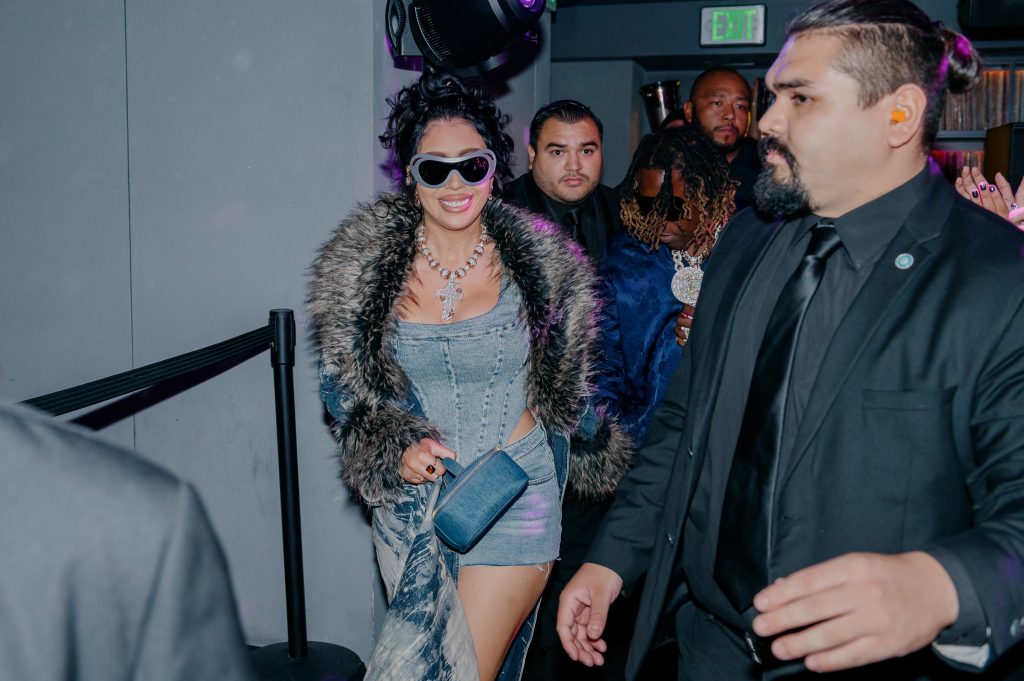 Uchis shortly made her entrance with hip-hop star and boyfriend, Don Toliver, dressed in an all-denim ensemble including a corset, a matching mini skirt, denim boots, and of course a long denim coat with fur trim a-la Y2k, and completed the look with a 90's inspired up-do. Uchis and her boyfriend danced the night away as fans cheered them, and each other on. It was truly a scene that felt reminiscent of many subcultures that have created a safe space for Latinx and Black queer, trans, gay, and people of all backgrounds to feel truly, free.