After shaping the sound of Latin pop music as a co-writer for stars like Christina Aguilera and Shakira, GALE is ready to break the mold with her debut album. In Lo Que No Te Dije, the Puerto Rican singer-songwriter blends her Caribbean roots with elements of pop, dance, and punk music. With her most visceral and vulnerable lyrics yet, GALE is ready to make her mark as the next Latin pop provocateur.
"I'm so excited and grateful," GALE tells LATINA about releasing her first LP. "I feel great and amazing. It's a very magical process of how everything happened."
Before becoming the singer that she always dreamed of being, she started out as a songwriter for other artists, including Anitta, Cardi B, and Thalia. While working on Aguilera's self-titled Spanish album, the pop icon commented that she loved GALE's voice on the demo of "Santo." "Inside, my 9-year-old self was screaming," GALE exclaims.
Gale also developed a bond with Shakira as they wrote songs together."I have a great relationship with her, and I admire her so much," GALE says. "We have a lot of little things in common. 'll never forget how she told me to trust my instincts and intuition with everything. I always apply that."
[id="attachment_7993″ align="aligncenter" width="1707″]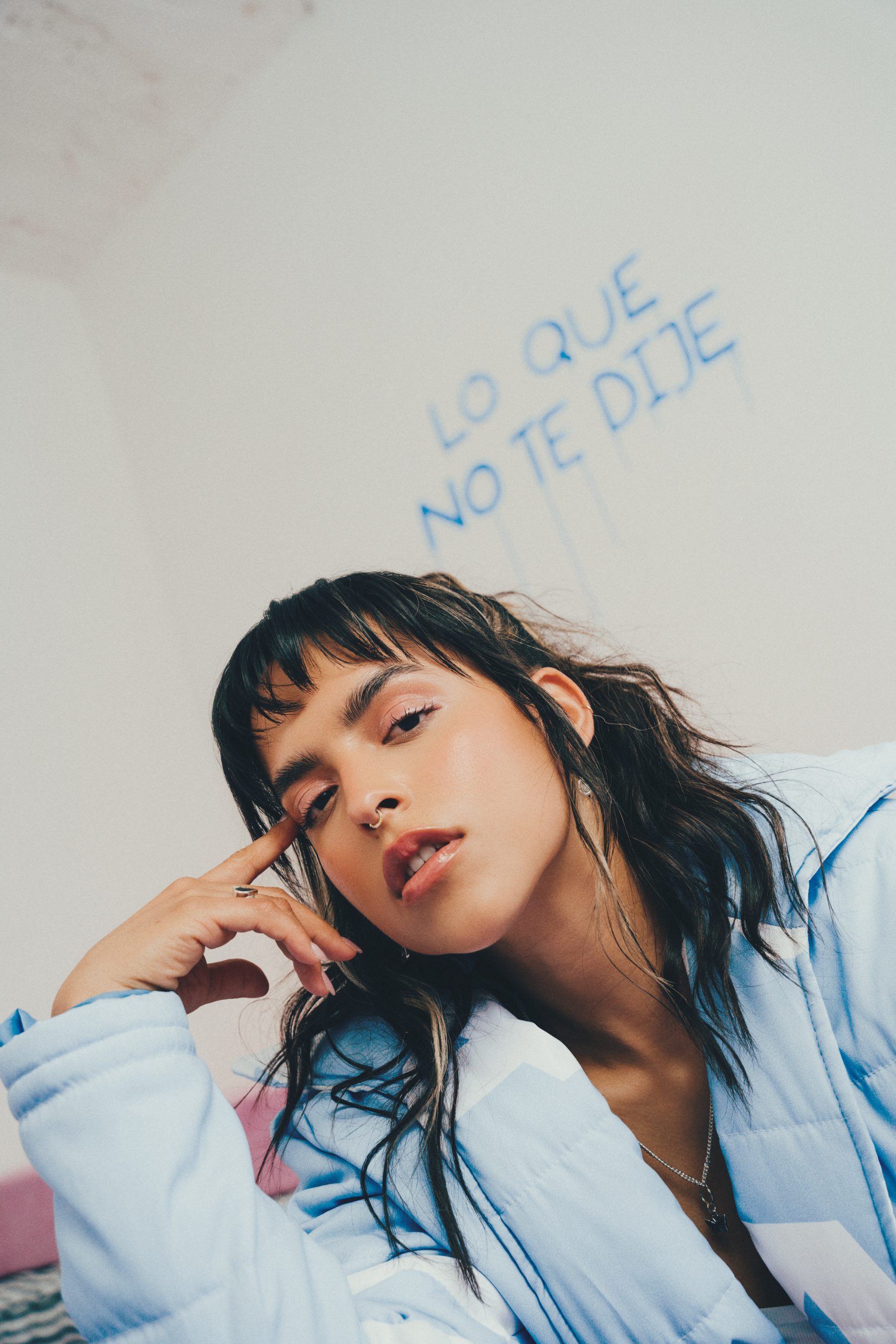 After signing a record contract with Sony Music Latin, GALE kick started her solo music career last year with the angst-driven "Inmadura," which blended reggaeton dembow with an alternative edge. She followed that with punk-infused "Problemas," which was another testament of her genre-bending sound. GALE cites Avril Lavigne and Alanis Morissette as inspirations.
"There's this thing of me being from Puerto Rico, and there's this swag I have," she says. "There's also pop, which is my favorite thing in the world, but there's also this grunge. This is who I am right now as an artist."
The singles were a preview of GALE's recent breakup album Lo Que No Te Dije. After she found the strength to end a toxic relationship, she found her voice in writing songs for herself. "Some songs are like a f**k you, some songs are like, 'I'm grateful because I learned,' and some songs are me putting myself first," she says. "I love all those feelings."
GALE is also not afraid to push buttons with her music. She speaks up for women who receive unsolicited nude photos from men in the raucous "D Pic." After growing tired of that happening to her and her friends, she vented her frustrations by writing the song.
"That's a responsibility that I'm willing to take," GALE says. "I'm so happy to stand up for these things. I had that feeling in my throat that I needed to say it. That song was written in 20 minutes because I was mad about this fact."
GALE covers another hot topic in her dreamy song "Nubes." In a sea of synth-pop, she sings about the pleasures of women loving themselves in the most intimate way. Cyndi Lauper covered the subject in "She Bop," Britney Spears flirted with it in "Touch of My Hand," and now GALE is putting her spin on it in Spanish.
'"Nubes' is this song about female pleasure, and I feel that's a very taboo subject, especially in Latin America," GALE says. "It shouldn't be. It's something that is beautiful and wonderful, and the lyrics that I chose are very elegant yet bold."
In addition to empowering women, GALE is also an advocate for the LGBTQ+ community. Last month, she performed songs from her album at Miami Beach Pride. GALE's bravery in not being afraid to express who she is and what she stands for in her music is inspiring for queer people who are still fighting for acceptance in society.
[id="attachment_7992″ align="aligncenter" width="1707″]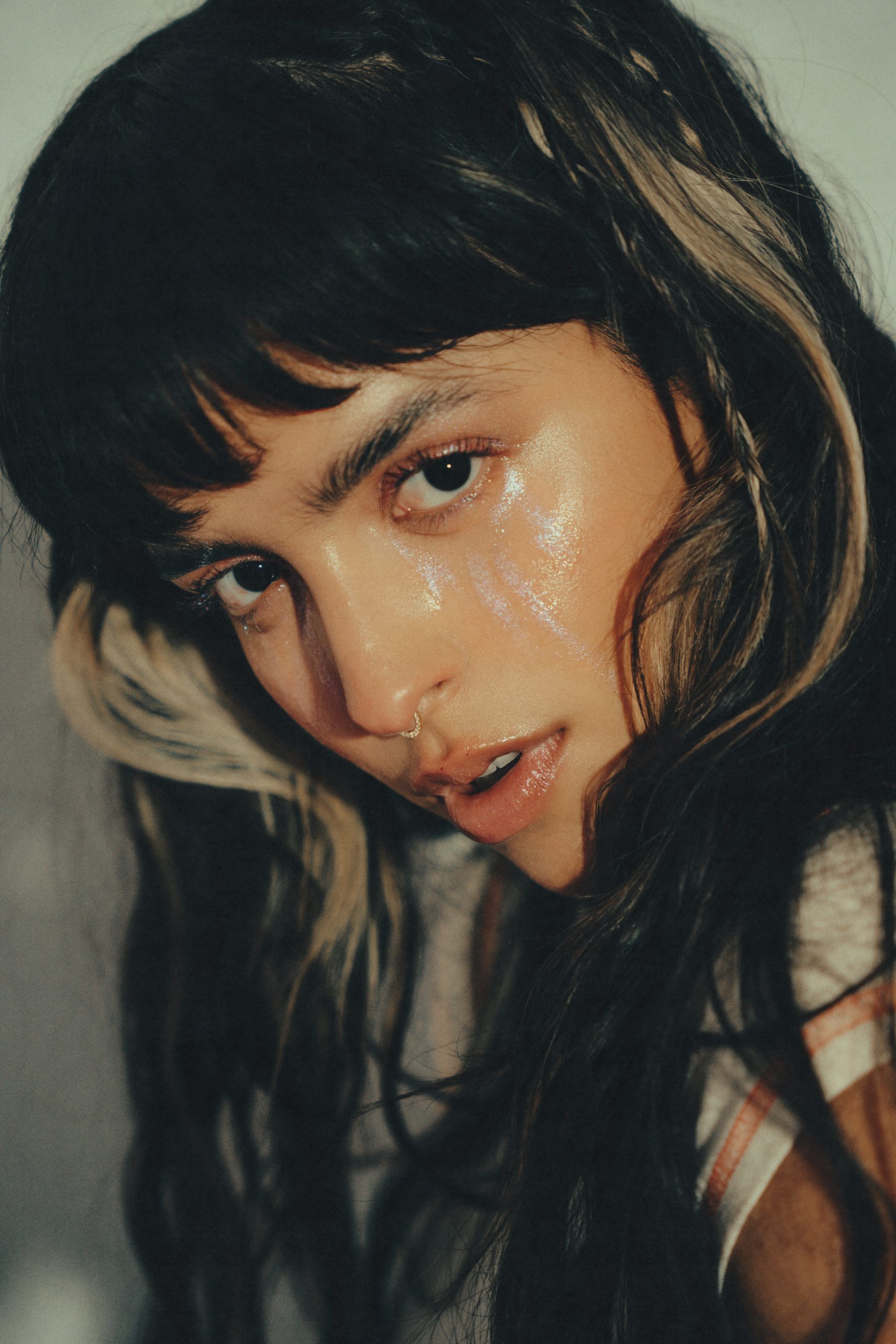 "I feel so connected to the LGBTQ+ community and I'm grateful that they've embraced my songs and my project." Gale says, "I couldn't be more proud to support them and to also fight for their rights. I'll always stand with them."
With Lo Que No Te Dije, GALE is rewriting the Latin pop rules while blazing her own trail. She is not bound to any genre except the sound of her heart, which comes through in her raw and riveting lyrics.
"I want my album to be a safe space," GALE says. "I want people to feel everything. All the feels. I also want them to feel empowered and that it's okay to let go of things that are holding you back, even though it feels scary sometimes. Just let that go and choose yourself."
---
Lucas Villa is a freelance music contributor for LATINA. His work is also featured in Rolling Stone, Billboard, Teen Vogue, MTV News, and W Magazine.