Angelina Cubero was diagnosed with multiple sclerosis (MS) in 2020, but had been experiencing symptoms for almost a decade prior. "Now, I'm able to look back and piece it together and be like, 'maybe it started here' or 'maybe it started then,' and it can go as far back to when I was 11," Cubero told LATINA. "One of my legs wasn't working properly so I was hospitalized, but they just couldn't figure out why and they didn't really do further testing. And then shortly after, I got miraculously better. And they [were] like, okay, well, you can go."
According to the National Multiple Sclerosis Society, nearly 1 million people in the United States live with this neurological condition – with most people getting diagnosed between the ages of 20 and 50 years old. However, many patients go undiagnosed and untreated for years, often because their symptoms are attributed to some other condition. This is especially true for people of color like Cubero, who is a New York native of Puerto Rican descent.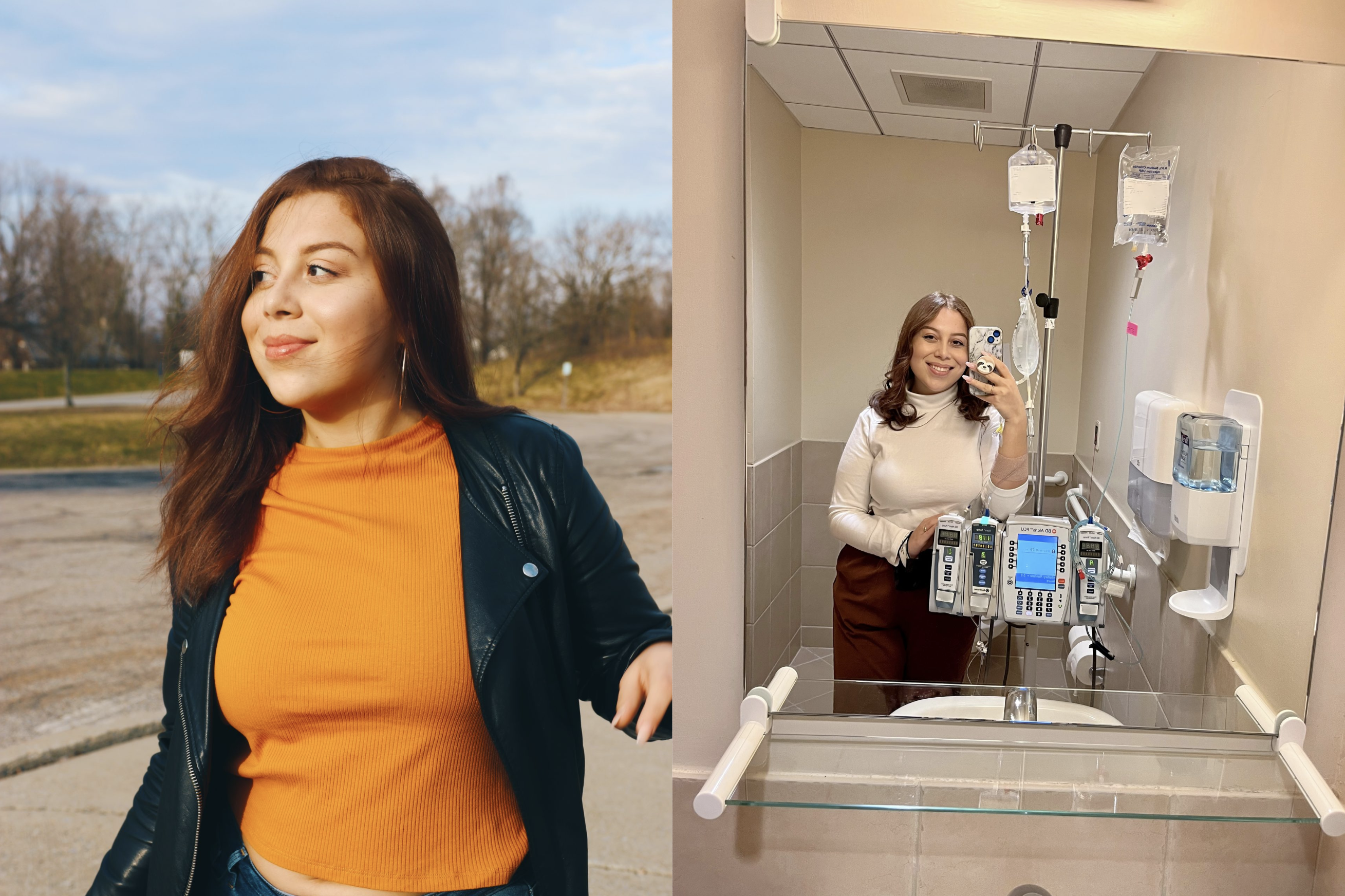 Studies indicate that 6 percent of Hispanic/Latinos in the U.S. have a family history of MS but this population accounts for less than 1 percent of all MS studies. "For decades there's been a common misconception that MS is a young, white woman's disease but on the contrary some studies suggest that Hispanic/Latinx people living with MS may develop the disease earlier and experience greater disability compared to white people with MS," neurologist and MS expert Dr. Mitzi Joi Williams told LATINA. "This community has also historically been underdiagnosed and undertreated."
Dr. Williams is currently working with Genentech on the first-ever Phase IV CHIMES study focused on Black and Latino individuals with MS to increase awareness within the medical community of how MS impacts these demographics. "Research points to complex health inequities tied to cultural differences, social determinants of health, and gaps in cultural competency in the healthcare workforce as potential roadblocks for Hispanic/Latinx people with MS accessing appropriate care and treatment in a timely manner," Dr. Williams said. "To overcome these challenges, it's so important for Hispanic/Latinx people living with MS to advocate for themselves and their health. Be open and honest with your healthcare team so you can get the care you need."
For Cubero, one of the barriers to receiving a diagnosis was navigating the insurance system. "I think one of the hardest things for me was understanding my insurance and where I can get coverage. I was born and raised in the Lower East Side and I thought the only place I could go would be the [clinic] near me," she said.
MS can manifest in many different ways, depending on the type, but symptoms may include fatigue, limb numbness, and mood changes. Cubero has relapsing remitting MS which means that her symptoms come and go, and with every episode the damage to her nervous system can get worse. Because of demand, Cubero would wait months to get a medical appointment to address often debilitating flare-ups. By the time she would finally be seen, her symptoms would have subsided, and doctors would dismiss her ailments. "To be dismissed, like, no, you're fine, or not do further testing to really see [what was going on], was a big struggle for me."
Cubero describes her MS journey as "all over the place" but every single one of those experiences empowered her to share her story on social media under the name Lina Light. "I was diagnosed in 2020, but I was searching for answers for years, so I had a story to tell. And I like to connect with other people who live at MS to support each other," she said.
On top of sharing resources, Cubero makes music inspired by her experience with MS – something she started in college as part of a spoken word and poetry collective for people of color. One of her first songs was about MS lesions, which she says was "an interesting, cool way to educate people." Her music was part of Genentech's social media campaign #MSVisibility: Breaking Barriers / Rompiendo Barreras to highlight the unique experiences of Latinos with MS.
Music soon became a creative outlet for Cubero, helping her cope with MS and the mental struggles that come with living with an "invisible illness." "Just by looking at someone you may not know they have MS or what they're struggling with. I've heard so many times, 'you don't look sick!' even from the doctors themselves," Cubero said. "I've been told for many years that what I was experiencing was anxiety, and while I was diagnosed with anxiety as well, I also had MS and just didn't know. It's not always so simple. There can be a lot going on with a person. They could have multiple illnesses, they can have multiple things going on in their life, period."
She is now happy to use art and creativity to spread awareness about MS, but she also aims to increase visibility of how this condition affects the Latino community, specifically. Cubero encourages Latinos with MS to participate in research studies. "If you're able to and you're interested, look online for clinical trials or just research studies — some are as simple as a survey — so that there's more Latinos in the demographic of the studies."
---
Alejandra Arevalo is a Peruvian multimedia journalist based in New York covering the music industry at Chartmetric.