Ludmilla is the uncontested princess of the Brazilian music genre pagode, a subgenre of samba. Akin to western R&B music but drenched in Latin culture, Ludmilla thrives in the world of pagode. The 27-year-old spent her childhood and teenage years in Rio De Janeiro's Duque de Caxias suburb. At eight years old, spoiled by her mother and grandmother's cooking and unconditional love, she would sing to the heavens and fantasize of one day becoming an on-stage singer. Today, she's weaving the essence of the graffiti-covered neighborhoods where she grew up, full of Afro-Brazilian dreamers and street musicians, into the traditional cloth of pagode. Ludmilla's 2014 breakout single "Sem Querer" embraced Latin club pop and, to this day, her proven talent is for performing infectious funk that activates the hips with the resplendent tunes of samba.
Now a fixture in Brazil's club scene, Ludmilla has made her name known throughout Rio, from the street to the city's famed stages. The artist's 2022 Salvador music fest performance sold out to a sea of fans. Her pop-up concerts, full of thousands of concertgoers, are no different. The star continuously leaves every corner of Rio De Janeiro paraded and jam-packed with ebullient fans who know her discography in full. The uncontrollable delirium from the thousands of fans herded together at every one of her shows marks Ludmilla as Brazil's latest pop-phenom.
Prior to Ludmilla's fame, she used to perform as MC Beyoncé, inspired by the Houston-bred superstar. Today, Ludmilla has transcended icon-status in her home country, made apparent by her Carnaval performance with Beija-Flor. Her 2023 bloccos (Carnaval block afterparties) broke the record for most attendees with over 1.5 million fans parading the streets. Daniel Caesar even stepped out with a live special duet rendition of "Get You." And Ludmilla's latest single, the trap-samba-pop "Sou Má" featuring Tasha & Tracie, credits Beyoncé, Jay-Z, and Pharrell Williams as composers. For the Brazilian performer, the astronomical trajectory of her musical career is orbiting closer and closer to where stars are born.
In 2022, Ludmilla took home her first Latin Grammy for Numanice #2, a neo-samba album overflowing with the sweeping sounds of Rio. Tamborims, snare couplet drums, synced trumpets, shakers, and more share the euphonic foreground for Ludmilla's sweet-toned voice to melodize with the modern band. She is also the first Black Latin artist to reach over one billion streams on Spotify. Ludmilla spoke to LATINA before Rio De Janeiro's week-long Carnaval celebration to reflect on her childhood dreams, releasing music in English, and a new album that is set to release in March.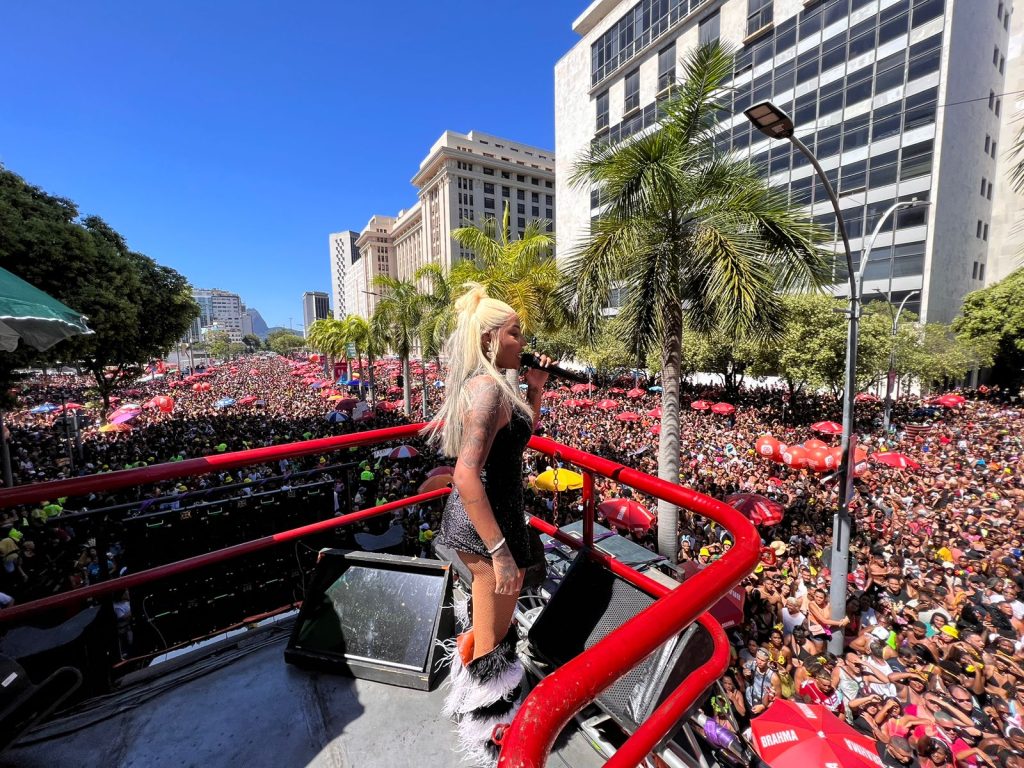 This conversation has been edited for length and clarity.
---
You are currently touring South America and have recently come off of some amazing performances. Recalling your musical journey, what was it like at the very beginning versus where you are today?
I started singing when I was eight years old and I realized I was creating natural pagode rhythms that were familiar to Brazil. Pagode is very similar to R&B in the West. I would always sing with my family in Rio and it's becoming very popular here again.
Nowadays, my career has gotten really big, bigger than I could ever dream of as an Afro-Brazilian female artist. I began to break a lot of records. I just can't believe most of my music is in Spotify's Top 50 and remains there. But at eight [years old], I had first heard about Beyoncé and was like: "Who's that girl? She's so free. She is super emotional like me and the crowd loves her. I need to be like her one day." My first stage name was MC Beyonce and I had all these outfits, the hair… I wanted to be just like her. I would never expect that I would become a recognized Black female singer in Latin America this fast. The journey was really hard. A lot of people tried to take me down but their attempts failed, and now I feel free to sing pop, funk, or trap music. The success I have now allows me to be able to do what I want. I am not inside a box anymore, they are.
How was growing up in the suburbs of Rio?
All my family was so supportive of me. We just lived our lives, opposite from what people may think of me, or the ideas they try to push onto me because I am Afro-Brazilian in this music space. I had the opportunity to study and to live all the stages of my life before fame. Growing up in Rio was really good. I feel lucky.
What are some of your earliest childhood memories?
When I was 15, I used to throw so many parties. They would be at my house without my mom knowing. One day at the beauty salon, my mom was getting her nails and hair done. A kid from my neighborhood came over to my mom and asked for tickets to my party at our family's house. My mom was so angry when she found out, she left the salon immediately with her hair curlers and confronted me.
I was at the computer selling more tickets for another party I was hosting. Then she saw the bag of money I was making from charging friends. My mom got interested and we started creating parties together with her permission. They used to always sell out and she would help with the catering. She was always so supportive of me and I think these parties helped with me getting comfortable on stage and in front of crowds of hundreds. Now, in Brazil, I am known as the Queen of selling out [venues] and I never knew this would be the same for my own concerts.
Do you have any Brazilian artists that have mentored you or inspired you?
Marilia Mendocha created great art. She was on top and was always super nice to me. Other Brazilian artists like Belo have been by my side and continue to show love.
What music do you play when dancing with your family and friends to celebrate?
[It] depends on if I am in São Paulo or Rio De Janeiro, I just want to please people and make sure everyone is present at the parties when it's more with my family. We will play some samba, traditional music, Funk, and just let go. If I am in Sao Paulo, I will play more Rosalia and modern artists.
With the success of your Grammy-winning album, Numanice #2, what is it like to see the influence of your music in Brazil?
I was super happy because this project humanized me. "Numanice #2" wasn't a project that the record label wanted to release. There was a certain instinct that was telling me that I needed to do this. I feel super touched when I see people singing all the songs at the concerts and I get so emotional. People are screaming my name and I finally see pagode music becoming more popular in Brazil. I knew the genre wasn't gone and you can hear the music everywhere today.
When you are not creating music or singing, what do you love to do in your off time?
When I am not in a creative mood, I love to spend time with my wife. We will just relax together and be normal people. Away from the spotlight, media, and everything.
Let's talk about the way you blend R&B, samba, bossa, pop, and trap. I know this album was made a year after Numanice. Share a bit about your process of creating this album.
I was working so hard on this album for two years. I would listen to the songs and do everything over again if I wasn't pleased with it. I brought a lot of references from R&B music. I sang in rhythms that people usually don't consume a lot in Brazil, but I wanted to do something that I really believed in.
How are you celebrating Carnaval this month?
I am super excited because I am coming back this year with another parade. Last year, I confirmed that more than a million and a half people were on the streets during my presentation. At last year's parade, thousands were just singing my songs. The theme for this year's parade float is villains so we will all be dressed up as characters from movies, tv, cartoons. We are expecting more people this year too.
What are your goals for 2023?
I am going to release an album in March. This album is especially elevated and more eclectic, at the moment.
---
Malik Peay is a music, travel, film, and fashion journalist. @MalikPeay