Paulina Rubio plays in the background, "Pa que te fijes en mí y entonces me quieras," as Ana, wearing a wine-colored silk robe and jumbo hair rollers, applies blush on Greta's cheeks before she's off to her crush's party. This precious moment between Ana and her queer niece is a scene from Genera+ion, an HBO Max series released earlier this year that centers on an eclectic group of Orange County, California high school students exploring their sexualities and the complexities of dating in today's world. Ana, the light-hearted and supportive tia we all wish we had, is played by Mexican American trans actor, producer, director and writer Nava Mau. 
"I have had many Anas in my life," Mau tells Latina "I have two aunts in Mexico and one aunt in the United States that were mother figures to me, that embraced me with love and showed me what it looks like to live with courage and independence." 
In the series, Mau's character Ana must fill in as Greta and her unnamed younger brother's guardian after their mother is deported to Mexico. Beyond cooking and parenting, Ana provides a safe space for Greta and her friends to openly be themselves. 
"I definitely took pieces from different relationships as part of crafting my performance as Ana," says Mau. While developing this character, she thought back to a group of people she knew in college—mostly folks from Southern California. She felt that Ana had to be very SoCal, and wanted to be very specific about that. 
Mau adds that she also thought about a group of trans Latina immigrant women that she met in the Bay because they reminded her of Ana's experience as an immigrant. She wanted to make sure that was felt in her presence. Giggling, she admits she also drew inspiration from TikTok. 
But the LA-based multihyphenate didn't always see acting or writing, let alone directing as a career option. Mau was raised in Mexico City and San Antonio, Texas, and later moved to Oakland as a young adult. Although she recalls doing theater as a kid and creating characters with her sister up to their teen years—something she credits as her acting foundation—it was not until later in life that she would find a career in media.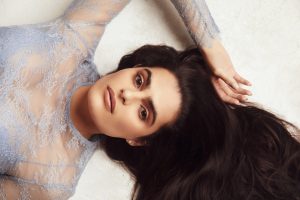 Mau began doing community-based work in high school. As a self-proclaimed nerd, she was in 10 different clubs that ranged from environmentalism to LGBTQ+ rights, and continued doing that kind of work in college. It was then that Mau started working for a queer resource center. 
"I gravitated towards this queer community center because it provided safety for me in my day-to-day, but it also allowed me to feel safe at work." That's when she began doing ally training, microaggressions training, and facilitated discussions about identity, community relations, and politics. Mau says she enjoyed creating space for conversation.
Mau realized at a young age, from a program called Voices for Choices that taught sex education through theater, that creative work could be used as a means to educate and bring awareness to issues that mattered to her. 
"When I was in middle school, I was just really drawn to these kinds of community spaces and finding ways to bridge the political and the creative. I saw the magic when I found that people actually learned about sexual health, through theater," she explains. 
"And so that was ingrained in me that it's possible to have this kind of impact on people through performance and storytelling."
After eight years of community work, Mau realized her desire to bridge her cultural work and her creative work.
It just wasn't an option for someone like me," she explains."It took a long time before I could not keep running away from it…  before the world changed enough, and trans people and people of color made enough strides in the entertainment industry, that it felt like there was a path for me."
Mau's time finally came in 2019. With the help of her community, a successful crowd fundraiser, and a dream team that included Aja Pop and Sowj Kudva, Mau wrote, starred, directed, and produced her first short film, "Waking Hour." The film is very much her story as it is other trans women's stories. With hardly any directing experience, Mau took on the challenge and received immense support. And she is only getting started. She has also produced two other short films, "Sam's Town" and "Lovebites," which premiered on the "Issa Rae Presents" YouTube channel in 2020. 
As a production fellow for Sam Feder's Netflix documentary Disclosure, which features an all-trans cast and crew, Mau not only received technical training but was also part of a trailblazing model for film production. She describes the opportunities that will surge from this model of production that values and respects trans folks, creating jobs that pay well and celebrating those pursuing careers in entertainment . 
"I want to see trans people in rom coms. I want to see trans people in sci-fi. I also want to see trans people in prestige dramas," Mau says excitedly, "The experience of being a trans person, being part of a trans community and all the communities that can come by extension lends itself to such wisdom and such rich storytelling."
"I really hope that we are going to continue to get opportunities to showcase more parts of our humanity than we've been able to throughout most of the history of television."