In celebration of Latino Heritage Month, Nike just dropped its 2023 "Familia" collection. The collection features footwear and apparel brought to life by a Latino-led team, celebrating young Latinas shaping our culture. Nike's classic sneakers, including Air Max 1 and Pegasus 40, now feature vibrant colors and textures inspired by Carnival celebrations across Latin America.
The "Familia" collection is a collaboration between Latino designers across the Nike brand including Nico Rodríguez Bagué, Rachel Denti, Angela Sevilla Lugo, Daniela Triana-Mayorga, and Juan Carlos Huerta. In the past, Nike has released subsequent sneaker drops during Hispanic Heritage Month, so we might see the "Familia" sneaker collection grow later this month.
Maria Solis Belizaire, founder of the global running communities Latinos Run and Latinas Run, is among the first to hit the pavement for a run with the new Nike Pegasus 40 running shoe.
"I started Latinas Run because when I first started running, I didn't find anybody who looked like me. I initially started Latinos Run, which is our mixed group, and from there, I found a lot of Latinas who wanted their own safe space for women to connect," Solis Belizaire shared in a SNKRS app news update.
Other notable past Latino collaborators with Nike include J Balvin – who in 2020 became the first Latino artist to have an official collaboration with the Jordan Brand – as well as Fat Joe and Daniel Buezo's Kids of Immigrants.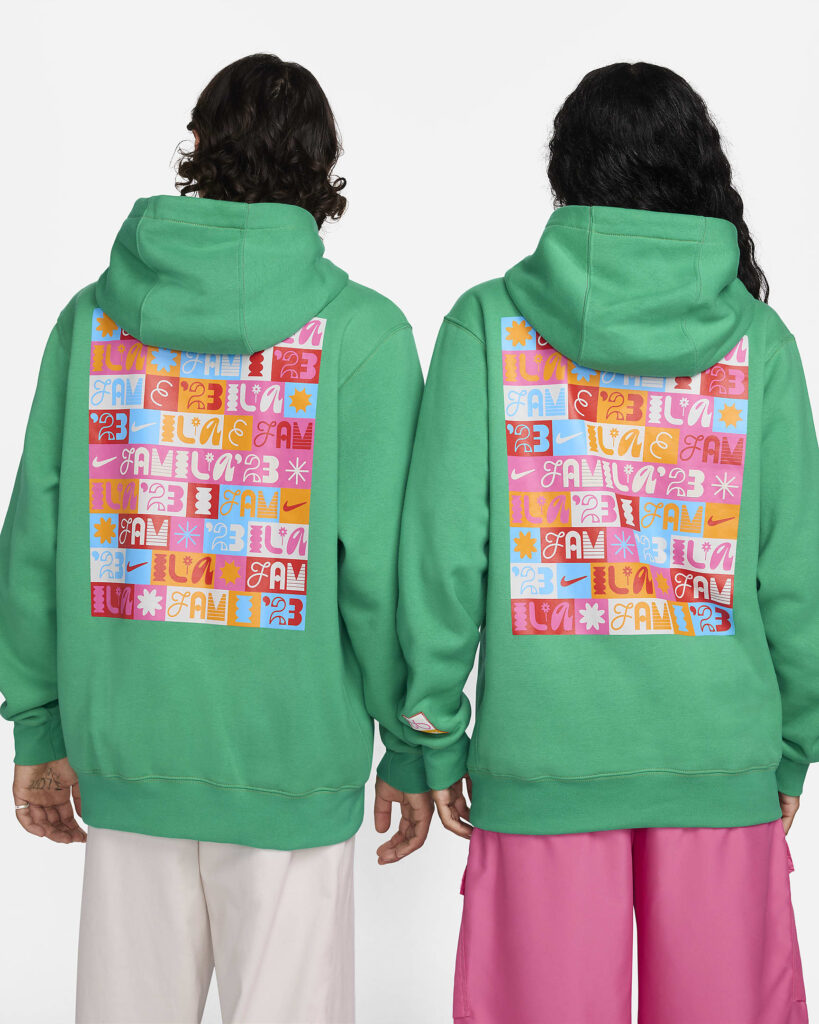 Designers Triana-Mayorga, Sevilla Lugo, and Denti discussed the similarities between their Brazilian, Mexican, and Colombian cultures to identify how they could bring the theme of "honoring your rhythm" to life.
"We had this really great moment where we were seeing a bird's eye view of one of the carnivals and [were] like, 'Oh, what if we could represent that in a shoe in an abstract way?'" said Triana-Mayorga on the SNKRS app, explaining the process behind designing the new collection.
The collection's two silhouettes sneakers prominently feature a vibrant shade of pink that emulates Bougainvillea flowers native to Central and South America. On the Air Max 1, the Nike Swoosh resembles a feathery texture similar to feathers used in traditional Carnival costumes.
"I'm very proud to be sitting here in Portland, Oregon with two other badass girls from Latin America who moved here, immigrated here, and are able to share this [design] with the world," Denti added.
The 2023 "Familia" Air Max 1, Pegasus 40, and apparel collection was released on September 27, 2023.
---
Zameena Mejia is a New York City-based writer whose work has appeared in Forbes, CNBC, Remezcla, Refinery29 Somos and more.