The Food as Art dinner series, hosted on the rooftop of The Aster, invites world-renowned chefs to craft a temporary pop-up tasting menu. One of Food as Art's featured chefs, Alvaro Clavijo, head chef of Bogota's El Chato, currently ranked the 33rd best restaurant in the world, experimented with the limits of Colombian cuisine during his two-day residency at the series. Global in approach and borrowing from many culinary traditions, including Sri Lankan, Jamaican, and Spanish, Clavijo's dishes are a dizzying fusion: yucca leaves were fermented like kimchi to garnish a Maine lobster, and his bearnaise was made with hormiga culona (literally, a big-ass ant). The more you considered any one dish, the more traces of the entire world you could find, and national distinctions eroded.
Working alongside these eminent chefs throughout the series, Brett Wyman, a brand ambassador for the single-malt scotch Mortlach, created cocktails that riff on their playful tasting menus. For example, Clavijo brought his house-made blackberry butter to Los Angeles, which inspired Wyman to mix drinks with blackberry simple syrup, akin to a cheong. At Food as Art, scotch is not merely taken neat and sipped slowly alongside gratuitous puffs from a hefty cigar, but given a dynamism. Purists may turn away petrified, but these cocktails, in response to each chef's experiments, are usually riffs on bourbon drinks – for example, transforming the Boulevardier by replacing bourbon with scotch and infusing Campari with red beets to lessen its medicinal quality. Mortlach's innovative and peatless scotch makes this drink function: aged in ex-bourbon casks charred to re-caramelize its sugar, their scotch is undeniably sweet, with a heavy influence of caramel notes and a fruity brightness.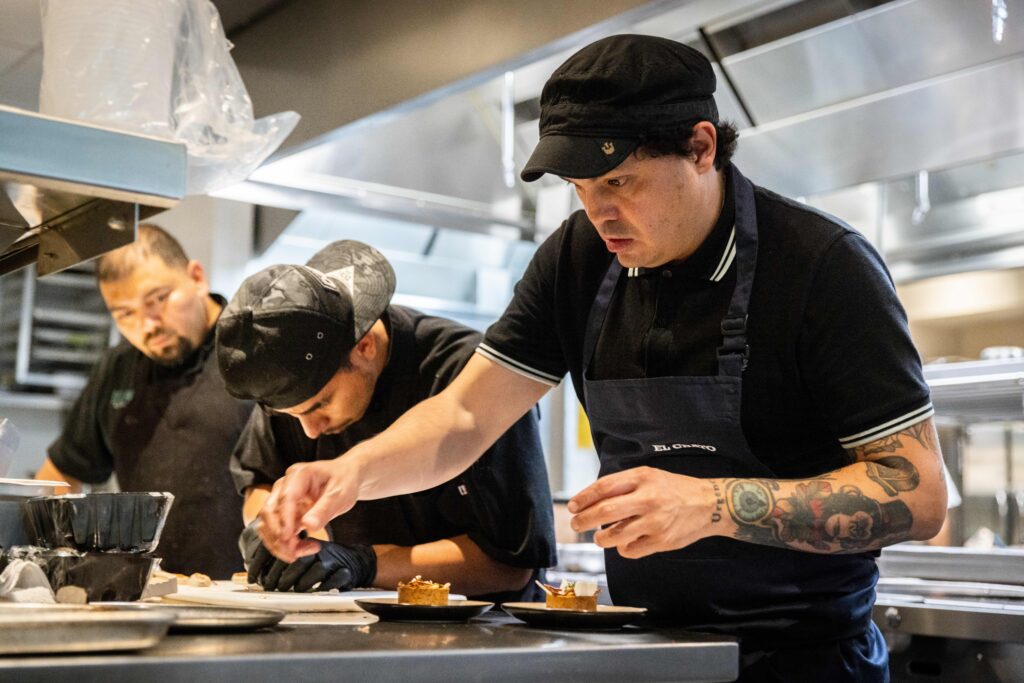 Relative to most pop-ups, Food as Art operates at a rapid pace and a condensed timeline, hosting only a two-day series every few months. Even Wyman, who previously curated the drinks for New York restaurateur Danny Meyer's rotating pop-up, Intersect by Lexus, found the chaos before opening to be exceptional. Chefs fly in and quickly have to learn what is in season, rapidly develop relationships with farmers and fishermen, and begin experimenting. Research can only go so far: in Los Angeles, the season of certain vegetables may be delayed due to unfavorable weather conditions, and the chef must find a new assortment of fresh produce. The menu is created there, on the spot, not from afar.
And yet, despite the whirlwind pace and difficulty of research, the resulting dishes can only be considered art. For example, Moroccan chef Najat Kaanache boldly elevated zaalouk, a cooked eggplant and tomato salad, with monkfish and red caviar, salmon roe's saltier and more complex counterpart. Chef Clavijo served a beautiful Colombian-inspired dessert, a ganache with lemongrass and mambe, a powder made from coca leaves commonly consumed by Northwest Amazonian tribes. Food is transformed from sustenance to experience – dishes are so ornately presented, with pops of contrasting colors and textures, that you almost feel guilty eating them.
What does it mean – for food to be art? Is food a performance, an experience, or mere sustenance? Perhaps it defies such distinction: the goal of these nights, after all, is to create an unforgettable moment, at once ephemeral but immortalized in sensory memory. During chef Kaanache's pop-up, diners wrote down wishes for the chef to bless. The dinner attempted to rekindle magic, to make food mystical, and to inspire wonder again.
Food as Art's next event will take place this December when Jaime Pesaque of Lima's Mayta comes to Hollywood. His work can only be described as boundary-pushing and obsessive: an onion tart with a touch of peanut, delicate preparations of the 10-foot-long paiche fish, and house-distilled liqueurs. On the horizon is Elena Reygadas, head chef of Mexico City's Rosetta and Panadería Rosetta. Known for her guava and ricotta rolls, her food already resides at the intersection between Mexican and Italian cuisine, with dishes such as al pastor steak tartare or fresh tagliolini with epazote and serrano chiles on her menus. There's no telling how far she will continue to push the boundaries of this synthesis while maintaining a profound respect for Mexican ingredients. Watch this space, daring culinary explorations await us.
---
Narciso Novogratz is a freelance writer currently living in New York.