Salvadoran-born Johnny Valencia is the proprietor of Pechuga Vintage, an artfully curated high-end vintage store based in LA to shop "for when you are ready to show up to the family Asado (or Parilla) feeling like Selena and Marie Antoinette's baby." Valencia, profiled during our May 2021 re-launch, knows and loves talking archival fashions, from the year a piece was made to the collection it's from to the masterful construction of a particular garment. We coined the term Tejano Versailles to describe his unique eye for vintage and creative direction.
Valencia joined forces with Banda singer and songwriter Victoria La Mala for a collaborative  photoshoot coalescing their individual styles in one experimental format. Valencia styled La Mala  using a selection of pieces from his Pechuga Vintage archives. Afterwards, the vintage proprietor sat down with La Mala to talk all things personal style, Paisa Glam, and Y2K fashion.
Their conversation has been edited for length and clarity.
Johnny Valencia:
What I love the most about you is how you describe yourself: "If Selena and Tupac had a baby." My question is, what does that baby wear?
Victoria La Mala:
In my mind, Selena and Tupac's daughter would wear sexy iconic "Paisa Glam." She would wear Mexican traditional shapes with tight streetwear clothes. I love mixing it up. I'm one of those girls that one day will create an intricate look with hair, eyelashes, makeup, and a crazy little crop top with rhinestones. The next day, you might find me wearing joggers or baggy pants with a flannel and t-shirt, but, of course, with makeup. That's exactly what Selena and Tupac's baby would wear. Always changing it up depending on how she feels.
I love Paisa Glam. I've never heard that before.
Well, I love traditional Mexican oversized cowboy belts with big buckles, rhinestones, and cowboy hats.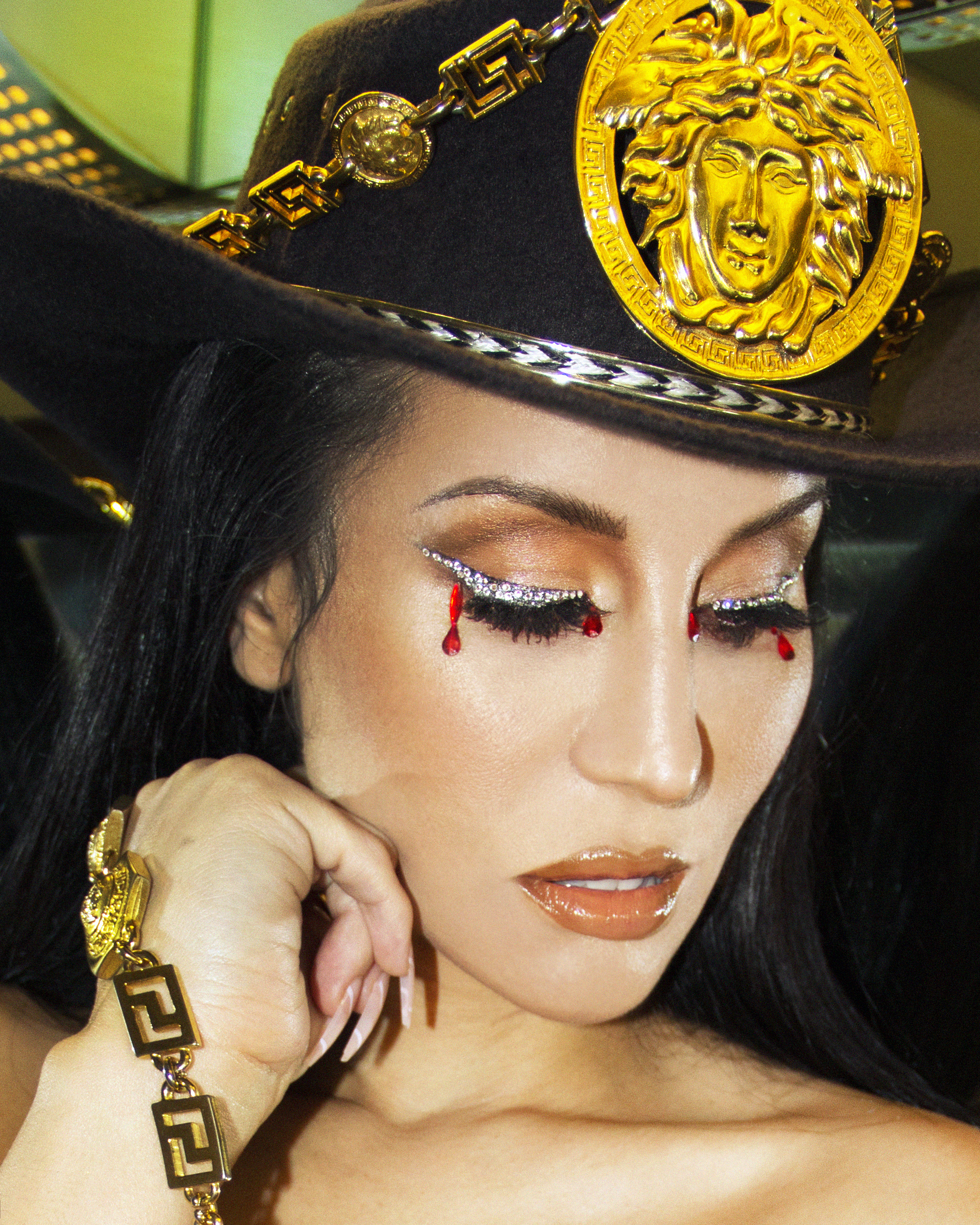 That's precisely why I had the idea of styling you. I always wanted to play dress up with you. The set that Diomadis made, the INRI set with Jesus and red Swarvoskis, was upcycled from an old vintage t-shirt with Jesus Cristo on it and the saying: Que se haga tu voluntad y no la mía [May your will be done and not mine]. I'm very picky every time I buy a piece for Pechuga. I see who can wear it the best so that it flies out of here. My dream for every piece is to see it come to life. So when Diomadis was making this set, I knew it was evocative of your personal style and had your name written all over it. 
I'm reminded of a quote of yours: "Music is a reflection of today's society." Do you think that the same could be said about your fashion or the style that you embody by being Victoria La Mala?
Completely. Throughout history we've seen how during certain moments fashion evolves to reflect society. For me, it totally reflects my mood while also changing it. A glammed-up outfit can pick me up from feeling down.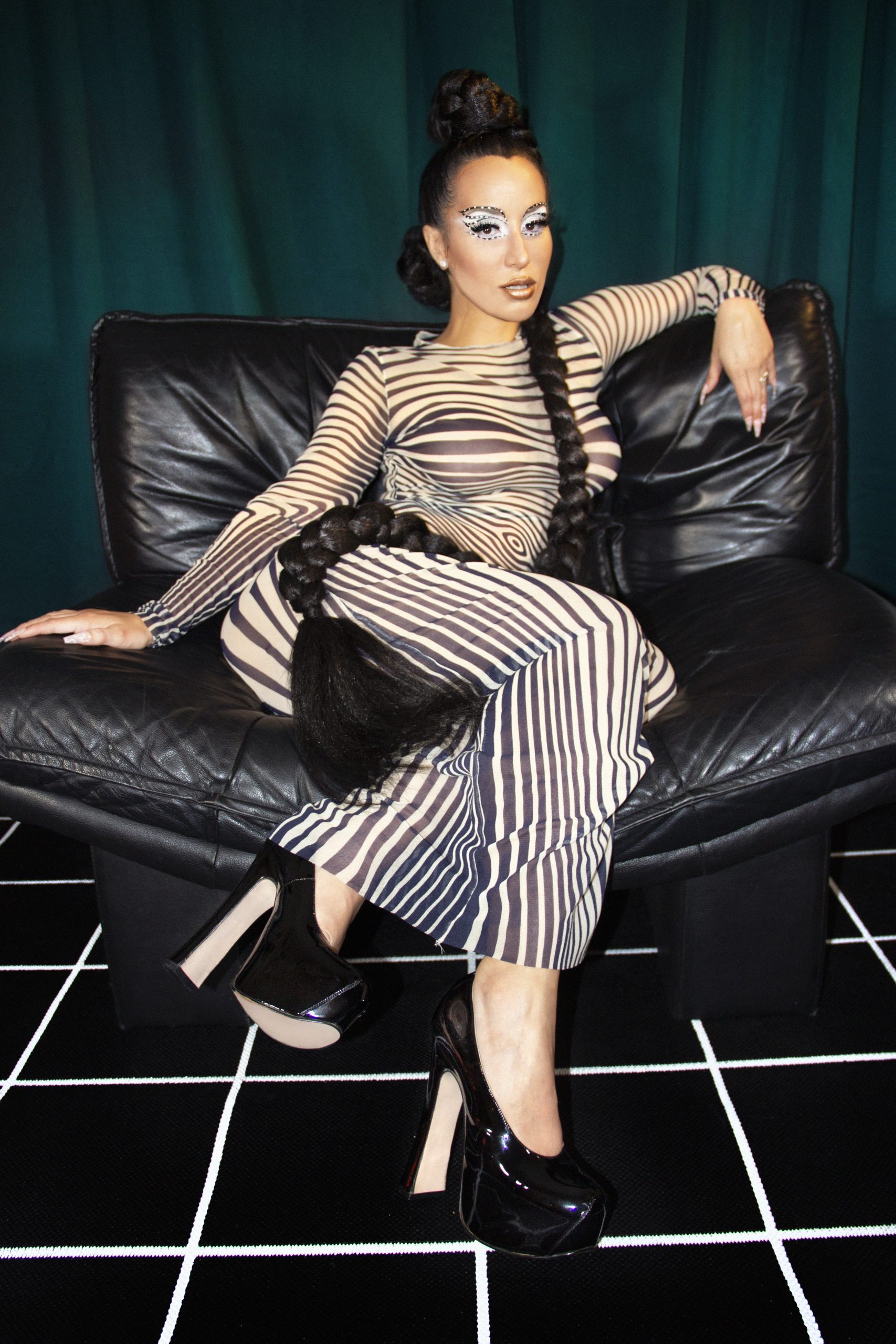 With that being said, what are your go-tos? Is there one piece or style that makes you feel like a bad-ass?
Of course, I love a good corset. For many women, it makes them feel sexy and feminine. It accentuates curves in the right places. Another go-to is a simple, little black dress. They're multifunctional and can be used for many different occasions. I also love a pair of high waisted jeans. 
Corsets are a controversial piece because some see it as something that men have forced women to wear for such a long time. However, there are women that feel empowered by wearing corsets. What are your thoughts on the corset as a trend?
When you feel good, you exude confidence. I think that we are living in times when women are implementing many different avenues to empower themselves. Fashion is a tool that makes you feel stronger and like you can take over the world. It's not about the male gaze. Women can dress for themselves to feel empowered.
Was there something from the shoot that you didn't see yourself personally wearing but that you still appreciated?
I loved every look. However, if I had styled myself, I probably would not have chosen to wear a blazer. But that's why it's really cool to work with incredible stylists like yourself. Sometimes they see things that you don't see and [it can] open your mind. Now I think that I look like a badass in a blazer.
What does the era of the late 90s and early 2000s mean for you style-wise?
That's the era that formed me. During the late 90s and early 2000s I was getting into music and music videos, hoping that one day I could look as cool as that. It's an era that marked me musically, aesthetically, and fashion-wise to be the artist that I am now.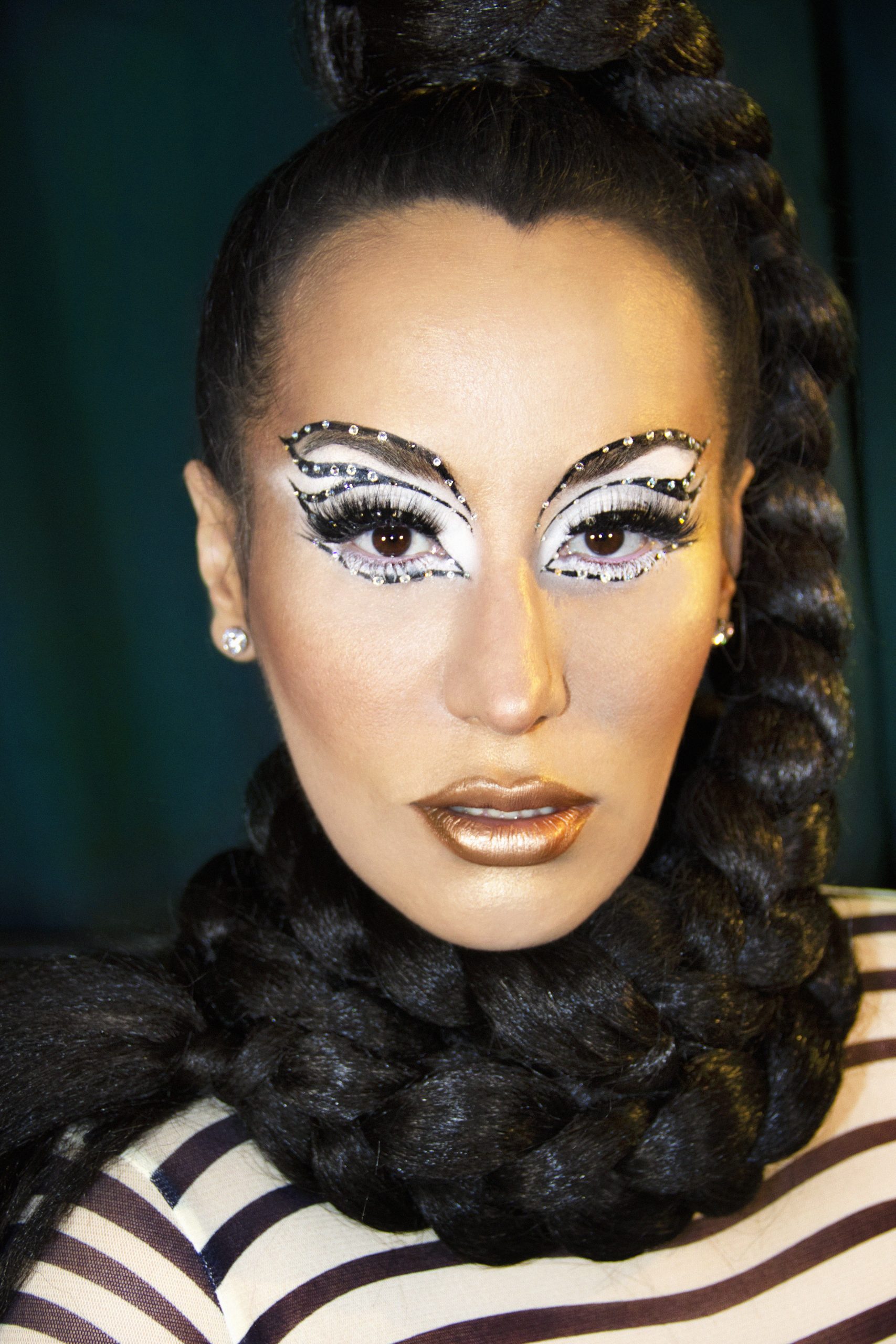 Who did you look up to during that time?
I loved Gwen Stefani. She was so different. She would rock Dickies and baggy pants and make it look cute. It's funny that you ask this. I saw that you recently posted about a vintage Versace collection that had Claudia Schiffer and Cindy Cawford wearing a baby blue suit with a jacket and mini skirt. I had that catalog and would look at it all the time in my room. For [the teenage] me, those outfits were the epitome of cool. I was also inspired by the hip-hop and R&B videos of the time: Brandy Monica and Mariah Carey. 
Let's not forget Selena. She was the first Mexican artist that made me think that it's cool to sing traditional Mexican music. 
Part of Selena's allure was not only being the first but also not realizing that she was the first. She was just doing her. The people that are the most successful are the ones that are just being themselves.
Exactly, it resonates with others.
I actually worked with Chris Perez and Joe for my EP. Joe told me that Selena designed all her clothes and the band's clothing as well.  
Is there a particular collection that changed your life?
It's absolutely the Versace AW 1994 collection. It's funny though, I haven't really thought about it in years until I saw your post.
How do you want to see your style evolve? 
Fashion for me is like music. Whatever I feel like doing or wearing that day is a reflection of my mood and life at the time. I hope that fashion continues being a way for me to express and empower myself. It is a tool to do just that.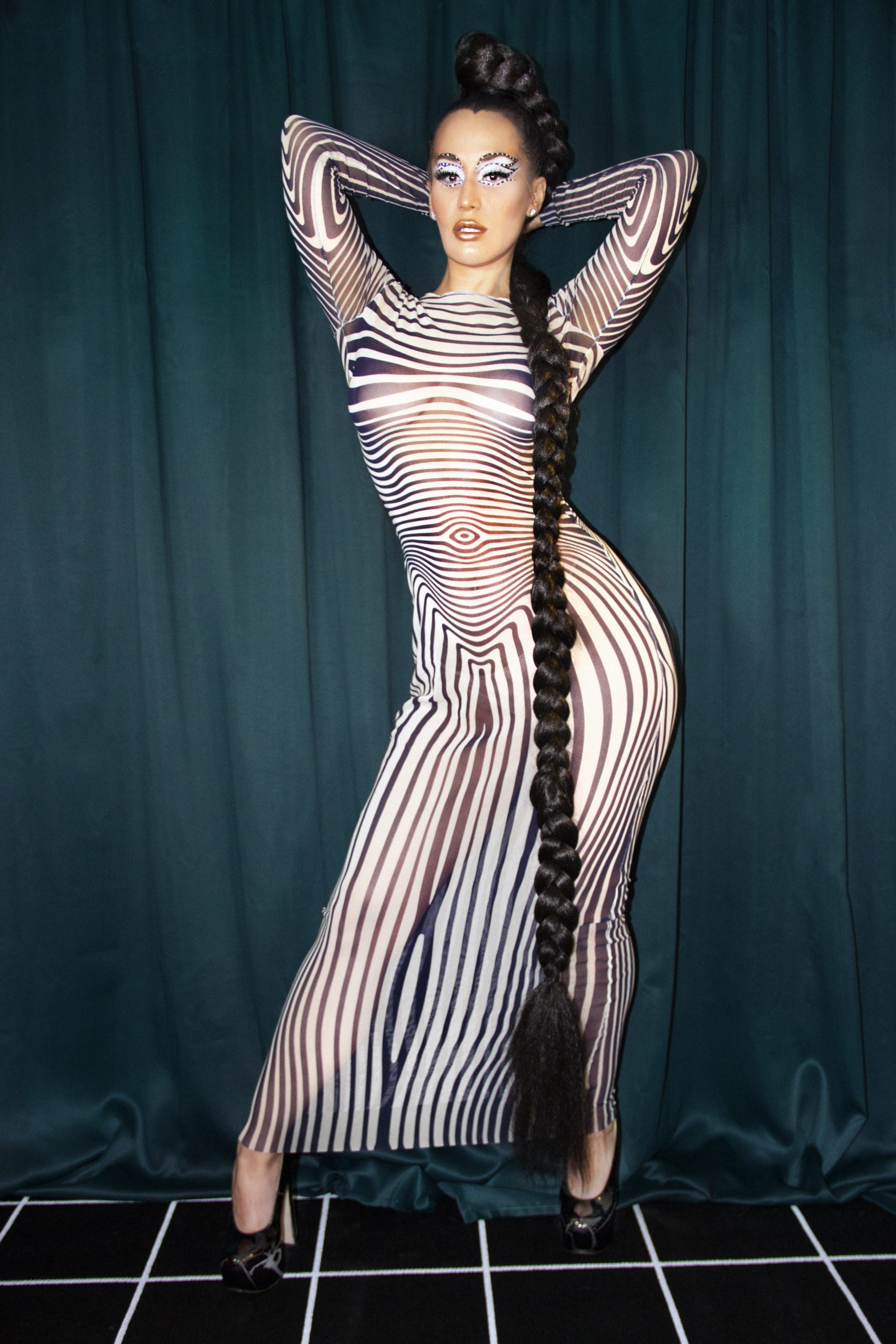 Credits
Talent : Victoria la Mala @victorialamala
Photographer: Josef Jasso @josefjassophoto
Stylist: Johnny Valencia @pechuga_vintage
Hair: Ana Estela @theanaestela
MUA: Nicky Andrea @werkhunty
Fashion asst: Yael Torres @torrescirca