For Fabi Reyna a typical day might consist of songwriting, looping her keyboard and guitar, layering vocals, organizing events, performing at events, and booking bands (including her own), all while tirelessly nurturing her nine-year-old baby, She Shreds Media. Although she admits that she'd like to be the kind of person with a routine, Reyna tells Latina that, at the moment, her creativity "loves to live and form within a little bit of chaos." 
If this is what chaos looks like, we're here for it. Reyna is the founder and CEO of She Shreds Media, a digital magazine dedicated to uplifting women and gender non-conforming (GNC) guitarists and bassists by highlighting their contribution to the industry that often overlooks them. Founded in 2012, Reyna, a Mexican-American queer musician, sought to create a magazine that celebrates women and GNC musicians rather than objectifies and uses them as props. 
View this post on Instagram
There's a history of misrepresentation when it comes to guitarists and bassists, which are typically assumed to be men. In fact women make up 50 percent of new guitar players in the United States and the United Kingdom, according to a 2018 study from guitar manufacturer, Fender. 
Over the years, She Shreds has fostered an online community of musicians and supporters, and now the magazine is also hosting events where this community can engage and meet other women and GNC musicians in real life. "I decided I wanted to make a space. I decided that I wanted it to be a magazine because I wanted representation to be on newsstands," Reyna explains. Aside from building and running a thriving media platform—the first of its kind—the Portland-based CEO and musician manages to also play in three different bands. She is the guitarist for the Cumbia-R&B trio, Sávila, and the frontwoman for the Electro-Tropical duo, Reyna Tropical, and most recently she joined rock band, Sleater-Kinney. Latina sat down with Reyna to discuss her work process, upcoming tours, and how she juggles it all.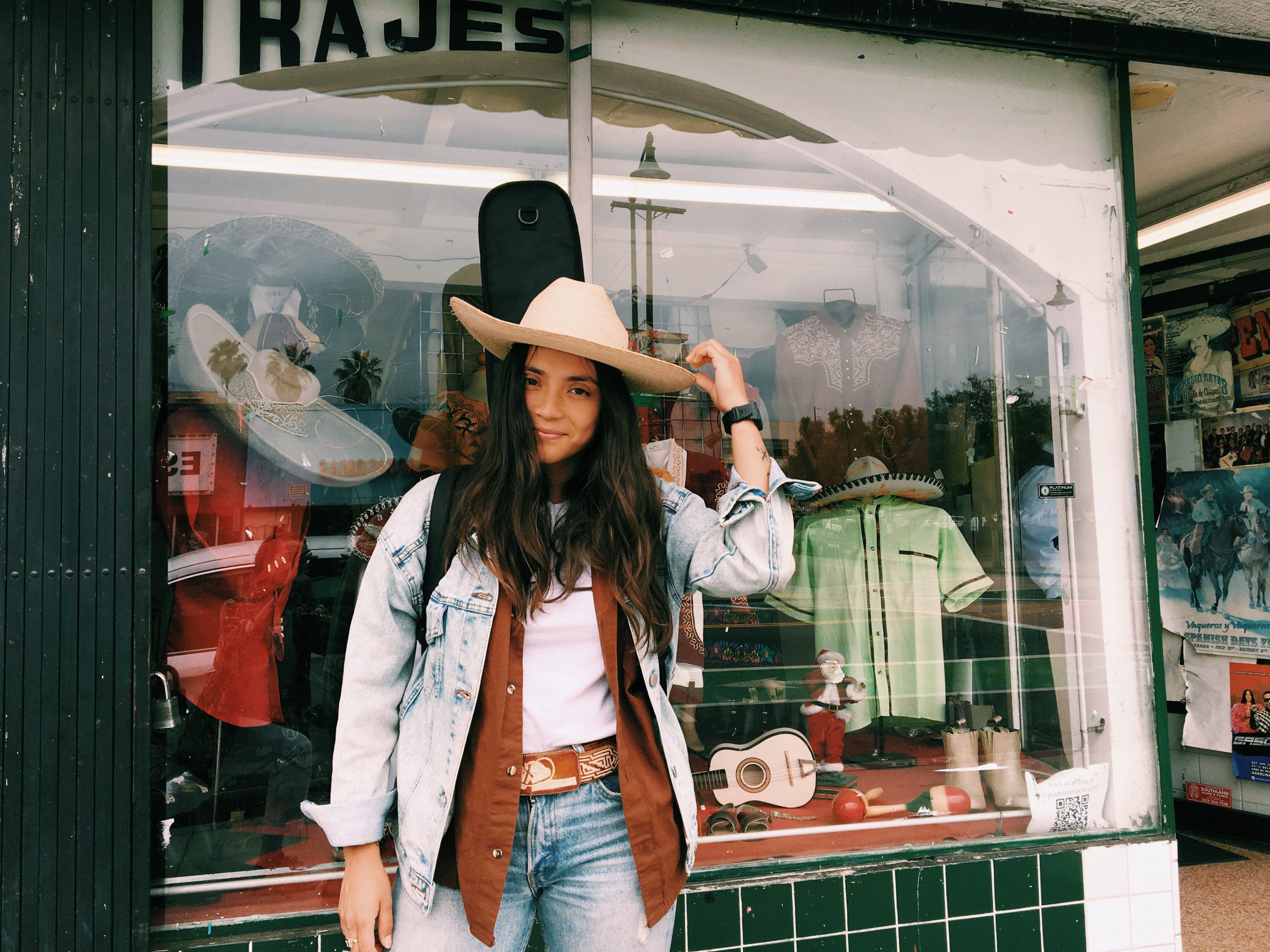 How was your experience being at home during this pandemic, even for an artist that was already used to working remotely? 
I think one thing that I have not been used to is being at home. I'm actually usually traveling; I leave once a month, at least, all year round. So I'm not used to being in Portland for the winters. It was really crazy to just sit and be still and not have the excuse of traveling and being on the run. There's good and bad things to that. I think that was a really huge change for me. It just kind of knocked me back. It really realigned me [but] now we're about to go [touring and traveling again from]  August 1 through November 1. But I'm also really acknowledging how much I'm gonna miss my house. It takes a lot more to get me out [these days]. 
Was there something that you learned? We all went through a lot, but in terms of your working process, did you figure out something different while you were stuck at home?
I'm always learning to trust myself and communicate, not necessarily with hierarchy in mind, but with intuition and intention. I think that's something I've experienced during the pandemic, getting more and more connected to [my intuition], which has also helped me get more connected with writing music, and writing for Reyna Tropical. And so I guess that's the thing: my workflow has changed because I've become more connected to my intuitive side and less so my brain
So She Shreds was founded due to the lack of representation of women in the music industry, particularly guitarists and bassists. I know that you were influenced by Tom Tom Mag. Were you influenced by any older publications or projects?
Connecting with Tom Tom was definitely a pivotal point because I realized that [these women had created a magazine dedicated to women drummers], and that [they] had the drive [to build a magazine like Tom Tom]. So it felt a lot less daunting. But I think the biggest thing too, including with Tom Tom, is the community aspect [that grew around the magazine]. I feel like that [community of women musicians] was everything, that was the biggest influence. That was the biggest drive. That was the reason for all of it, all the time. And so it was less things that existed like magazines [that inspired me] and it was more [about]continuously meeting new communities of women and new communities of women of color around the country. 
You've mentioned in the past that you didn't have a background in journalism when you first started. How did the first launch come about? 
I don't have any experience with journalism but I think maybe my biggest gift in this world is the ability to organize [people and events]. So what happened was I decided I wanted to make a space. I [posted] on Facebook or something and wrote, "I'll be here, if you're a writer, if you're an illustrator, if you're a guitar player, come, let's talk." I think 30 people showed up. And from those 30 people, maybe 15 of us ended up putting together the first issue of She Shreds. I threw a 15 band festival and raised money through that. 
How has the magazine developed since it's first issue? Since it used to be in print and now it's solely a digital platform. 
One thing about starting something that is a movement and then becoming a business is that it does have a tendency to lose that community-oriented heart. When I realized that that was happening, I thought, "we have to make a radical change." Because that's not what this is about. She Shreds has to be a business, it has to sustain itself to serve people. But how do we make sure that the people are the ones making the decisions in a way and communicating with each other, and communicating as a collective? I think the biggest thing that has changed is that it's becoming more and more a reflection of what people want and need.
View this post on Instagram
What do you look for when interviewing or highlighting a musician? 
I really want to bring the essence of why music exists back into the world. We, as indigenous people, Brown people, Black people, music is one of the most ancient forms of communication [for us], it's one of the most ancient forms of connection, and is a part of our development as humans. I feel that in some sense we've really become distant to that connection to music. As women and non binary people, we have such a gift and such a special intuitive connection to those sounds. I want to nurture that. I feel like She Shreds is bringing that essence and connection back to our instrument. So the people that I choose, I feel are dedicated to the instrument, but they're also connected to it in a deep way.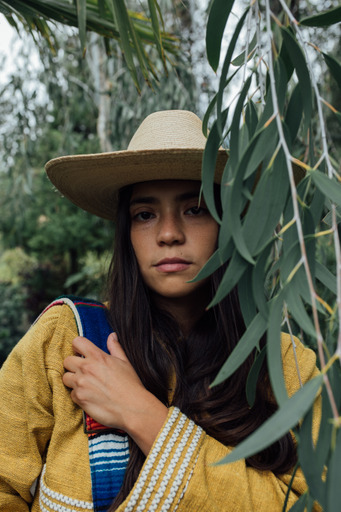 As a musician yourself, how do you balance your own creative work and uplifting others?
The biggest thing is that there's no disconnect between those two worlds. I don't play or sing without the purpose of uplifting the community, uplifting people that are asking to be uplifted. I'm trying to be very aware of what people genuinely need and want. I stay balanced by making sure that everything I do doesn't become disconnected, that they're all feeding off of each other and feeding each other.
With everything you've built and continue to work on, from your magazine to your music projects, what do you want to achieve at the end of the day? 
I want to evolve la cultura Mexicana para la mujeres, para la raza. For my ancestors, that's all. I want nothing else around it. I'm most excited about connecting with people. And I'm in a space where I can really give a lot and I feel like I can receive too. I'm hoping that I can distribute that to others. 
View this post on Instagram