A California girl with deep Mexican roots, Niko Rubio cannot help but pay homage to both elements of her background in everything she creates. Her self-described "pop-indie-rock" music is at once ethereal and buoyant, yet grounded by a thrumming bassline. In other words, the perfect soundtrack for riding in a seafoam-green convertible, top down, along the familiar Pacific Coast Highway, which Rubio feels "fucking spoiled" to call her backyard. 
Her latest single, 'Go With You,' begins with a guitar riff whose steadily-rising tempo sounds like swimming up to the surface. Rubio's crisp vocals are like the breath of fresh air we all need after the past year-and-a-half of pandemic life. With lyrics like, "Take it all, take it all/ 'Till we all fall down/ My heart's in your arms/ And I'll go with you," her staccato chorus is the perfect summer anthem for the love-struck and hopeful — or for those of us who wish we were. 
Although she counts Linkin Park, Incubus, Natalia Lafourcade, Paramore, and Twenty One Pilots (tattooed on her hand) as influences, twenty-year-old Rubio has already carved out a niche in her own right. So much so that she caught the attention of Omar Apollo, who she'll be joining during his upcoming 'Desvelado' tour across North America. We sat down with Rubio to learn more about how her Mexican identity has shaped her trajectory, what her creative process looks like, and what things she can't live without.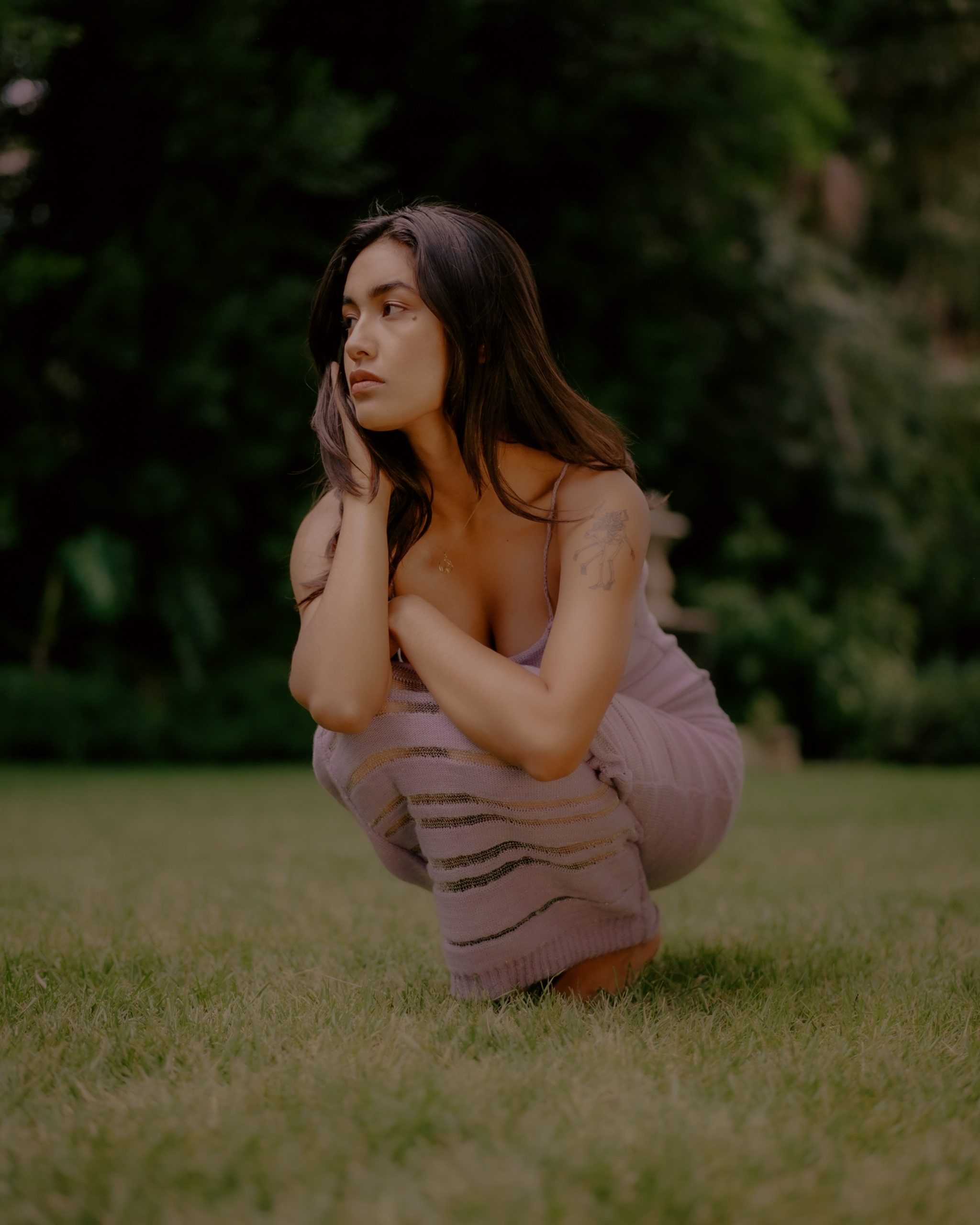 You've mentioned before that your mom had you when she was 19, and that you moved a lot as a result. What helped you adapt to those changes? Was there a place you lived in that you liked in particular?
I moved around a lot as a kid, but what was nice is that I always stayed in the same little circle of California, in the South Bay. So it wasn't too hard [to adapt]. I got these tastes of every tiny little city in my city.
I loved growing up in Gardena, which is just a cute, quaint little town. There are a lot of families, very Asian and Mexican, and that's where my grandma has a business. She runs a maid service company, which is really funny because, being Mexican, that's what I was made fun of for.
Growing up, did you always know you wanted to be a singer-songwriter? 
I always knew I was going to be a singer. I guess technically when I was ten I thought I was going to be a chef. I asked for a food processor for Christmas and when I got it, I started crying. I wanted a real food processor because the Barefoot Contessa had one — she used it for all her, you know, whatever, purees, and I was like, "I'll be a real chef if I get one of these!" And then I realized, you get really hot cooking; I don't think this is right for me. 
So I started writing. Because I just loved school, and I couldn't cook anymore. That probably swayed me into, 'Oh music is amazing. I love writing. Let's just do that — forever.'
Was your family supportive of that dream?
Surprisingly, yes. I'm first-generation Mexican. My grandma wanted to be a singer growing up. So I think, for her, when she found out that her nieta could sing, she was like, "Okay what can we do with this?" You know what I mean? She was schemin' on how to make it work, like Selena's family [who rallied around Selena's dreams]. 
She told me, 'We can't make you a family van, but we can do something." *Laughs* And so she'd come home from work and take me to vocal lessons. That's just kinda how it started. They were super, super, super, super, super receptive. And believing. It's very rare. 
What would you say your connection to your Mexican roots is like right now?
I mean, very strong. My mom didn't really teach me how to speak Spanish because she came from the time of 'We need to acclimate.' And 'We don't teach our kids how to speak Spanish. We need to become American.' And my grandma and grandpa were like, "I don't believe in that. At all. We are proud Mexicans, here in America, and we're gonna do our shit, and you're gonna learn how to speak Spanish."
So it was actually one of the rules of me doing music. Grandpa said, "I'll take you to singing lessons. But you have to sing in Spanish. And you're moving into grandma and grandpa's house. No more this whole, mom, white-washing thing."
Do you think you'll ever write or perform a song of your own in Spanish?
I have a song on the EP [coming out this summer] that's in Spanish. 
So, my [latest] single, 'Go With You,' is the first song I ever did with my producer Andy. I wasn't ready to go into writing in Spanish, but I knew I was going to, and I wasn't trustworthy of a producer yet to do that with me. Because I feel like there's a sense of insecurity, if someone isn't also Mexican; it's very rare to find someone who can produce what you want, who understands your culture and roots. 
And meeting Andy and writing the whole [EP] with him, it was one of the last songs we did. He had probably spent a year listening to all the references I sent him — Natalia [Lafourcade], Alejandra Guzman — and I had told him, "This is what I mean by music in Spanish."
Tell me more about 'Go With You.' What was the inspiration behind that?
Wanting to be in love, and falling in love with someone, and telling them that you're willing to travel the world and do everything with them. That's what it feels like. It's very hopeful. Most of my songs on this EP are very hopeful because we were in a pandemic and I couldn't fathom writing sad songs, because I just couldn't be more depressed in my bedroom. I needed to write music that was gonna make me feel like everything was gonna be okay.
I saw on your Twitter that you've been an outspoken supporter of the Black Lives Matter movement. Given the double crisis of the pandemic and the mass cultural reckoning of that 2020 summer and before, I'm wondering, what was that like for you?
That was a very hard time, I think, for everyone in the world. I think the BLM movement was so important, and is so important currently, but specifically during the pandemic, [as a time] for people's voices to be heard online. For people to shut up. There were a lot of beautiful things that happened — in the midst of the chaos and the horrible, horrible, horrible things — where Black artists' voices were able to be heard. It's one of the reasons why I didn't put out music during that time. I thought, 'This is not my time. This is not for me to speak, to sing my rock music.' I think a lot of people just took a step back and reflected.
You know, coming from a deeply Hispanic family who lived in Inglewood, and Compton, and Hawthorne, I saw all the bullshit that can happen. I took the bus with my mom growing up and I saw Black men getting taken off the bus for absolutely no reason. Just bullshit. And it's like, 'Okay, everyone's kind of noticing this right now.' The racism that's happening in this world. 
You know, it's hard. It's really hard. I remember it just being another thing where you're just like, 'Fuck. Okay. When we get back into this, how do we make this better?' 
I saw that you're going on tour with Omar Apollo, which is amazing. What must-have item do you think you'll take with you on the tour? 
Lotion. You gotta have your Lubriderm. I'm sorry. Any girl comin' out of a Mexican household knows that if their auntie or uncle saw them with ashy-ass elbows they'd be like, "Where's your Lubriderm?"
I [also] have a secret that I can't tell anyone. But it's a culture thing. So when I'm on stage, I'll have a very specific thing on, every now and again, that is very significant to being Mexican. Being Latina. And when someone points it out, it'll be funny. I can't wait for that. *Laughs*
And [maybe] some pearls. I have to be close to the ocean. At all times.
What does success look like to you? Where do you hope Niko Rubio is in five, ten years?
It's the constant question of, what is enough? Because I could say [win] five Grammy's and that's great, but I think, internally, I'm starting to understand and feel where my threshold is gonna be. Is it a McMansion in the Hills? Or is it being able to live? And be happy? 
I think that I imagine myself being able to support my family. And, whether or not it's with a Grammy, I really want to do, in five years, my own solo tour. I really want to have a clothing line. And at least be in Vogue, twice. *Laughs* Those are my goals.