A few weeks ago, Tefi Pessoa was invited to Vice President Kamala Harris' residence to celebrate Earth day. The pop culture commentator is no stranger to meeting notable personalities. Whether it's interviewing record-breaking artist Anitta on the red carpet or celebrating the latest Rare Beauty launch with Selena Gomez, Pessoa lets her more than 1.9 million followers across TikTok, Instagram and Youtube in on her high profile interactions. But this visit marked a new milestone.
"I am the first person in my family to ever meet an elected official, let alone the second highest elected officer of the executive branch of the United States government. I was beaming! It was a confirmation that I am on the right path, but also hopefully it's just the beginning," Pessoa told LATINA.
Estefanía Vanegas Pessoa, better known as "Tefi" and @hellotefi on social media, is known for her deep dives on celebrity gossip as well as her prowess hosting across red carpets, TV shows, podcasts, events and more. After taking a nearly three-year-long hiatus from her studio produced Youtube show due to the pandemic, Pessoa is back with a new project of her own titled "This is My Superbowl." In the weekly show, she invites her content creator friends to pick questions out of a literal shrimp bowl and no topics are off limits. It's the first project she has created and funded entirely on her own, but Pessoa is not stopping there. She's also working on a book of essays about her life and has dreams of getting into acting.
The 32-year-old says her knack for pop culture analysis traces back to her family's own love of music and movies. Her Colombian mother and Brazilian father arrived in the U.S. in the 1980s, but consumed American TV shows, radio and Hollywood films more than anything else. Pessoa also credits her commentary skills to her mother's strong advocacy for therapy during her early adolescence.
"Growing up, my mother gave me the tools to talk about my feelings – I [learned to] put language to them. That changed my life. If it wasn't for that, I wouldn't be doing this," Pessoa says.
Although she didn't understand the widespread stigma toward mental health within Latino communities until she was older, Pessoa recognized how differently the older generations in her family dealt with their emotions compared to her own generation.
"Your parents don't apologize. My grandparents didn't say sorry to their kids," she says. "I think our parents came to this country, [faced stressful moments, and thought] 'it's okay, I can take it,' but we don't have to do that anymore."
This tough love approach might have been her family's love language, Pessoa says, but she and her mom both agreed that Pessoa needed to be more proactive about her wellbeing.
"I was a really sensitive kid and felt things deeply," Pessoa says. "We do a lot of things to take care of our health like go to the gym, see a dentist, get haircuts, get your vision tested. Well, my mom emphasized going to therapy, so it was normal to me."
Navigating being a full-time content creator and social media personality can sometimes take a toll on her mental health, the Miami-native turned Brooklynite says. She admits she could be more disciplined when it comes to grounding herself amid the always evolving trends and pop culture news.
"There's too much to do and too much to accomplish to have the time to sit and work through all the little mental knots I've tied together. I carry a journal around with me everywhere, though. I try to scribble all my grievances for at least 10 minutes a day," Pessoa says. "I wish I knew how to do things for myself, make myself proud first. I don't know how to do that. I want to make sure everyone around me is good before I check on myself. I'm working on it."
In honor of Mental Health Awareness month, LATINA spoke with Pessoa about wellness, her advocacy work on issues such as voting and the environment, and how she stays grounded while navigating a career in the digital age.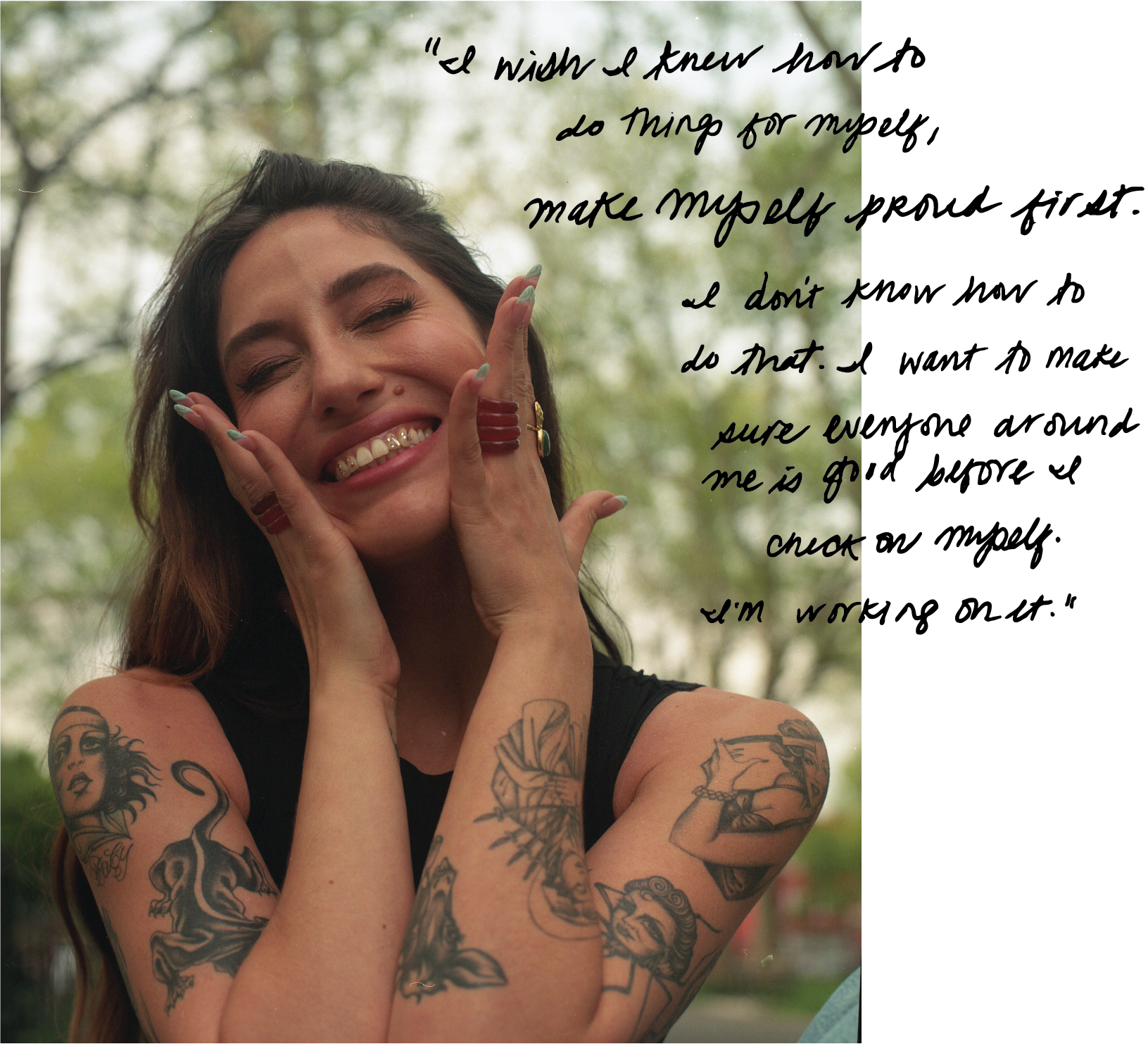 ---
This interview has been edited and condensed for clarity.
Your TikToks feel like you're Facetiming with a best friend. How did you create this relationship between yourself and the internet?
Is it the camera angle? [laughs] If I have something to say, or if I come up with an idea, I'm going to say it right now. I don't care if I have pimple cream on, I don't care about the time and place, I just feel like I have to tell my friends something. Maybe [my audience] feels this way because I [am] someone who has messed up a lot and has made mistakes in my life, and yet I'm okay. Maybe people look at me as someone familiar to them.
You're really open about your own body positivity journey online, what did it take for you to build up that self-esteem and inner-confidence? Why is it important to continue tackling unrealistic beauty standards through transparency?
In my 20s, I liked how I looked, but my self-esteem would get so bad. Once I started posting to social media about these feelings, I learned that a lot of people felt the same way about themselves. The validation that I felt from people encouraged me to have conversations about body image and mental health more openly.
[For a long time] I let the people around me convince me that I was a great supporting act. I realized that for a long time I was a martyr. Seeing people not choose you or not value you, your friendship, your time, your love or your affection starts to mess with you.
When it comes to mental health and Latinos, we have a lot of work to do. There's a lot of pressure on first generation Latinas in the U.S. We're expected to be beautiful and smart and make the sacrifices worth it and make people proud. It's a lot. The sooner you start [to work on your mental health], the sooner we can get shit done.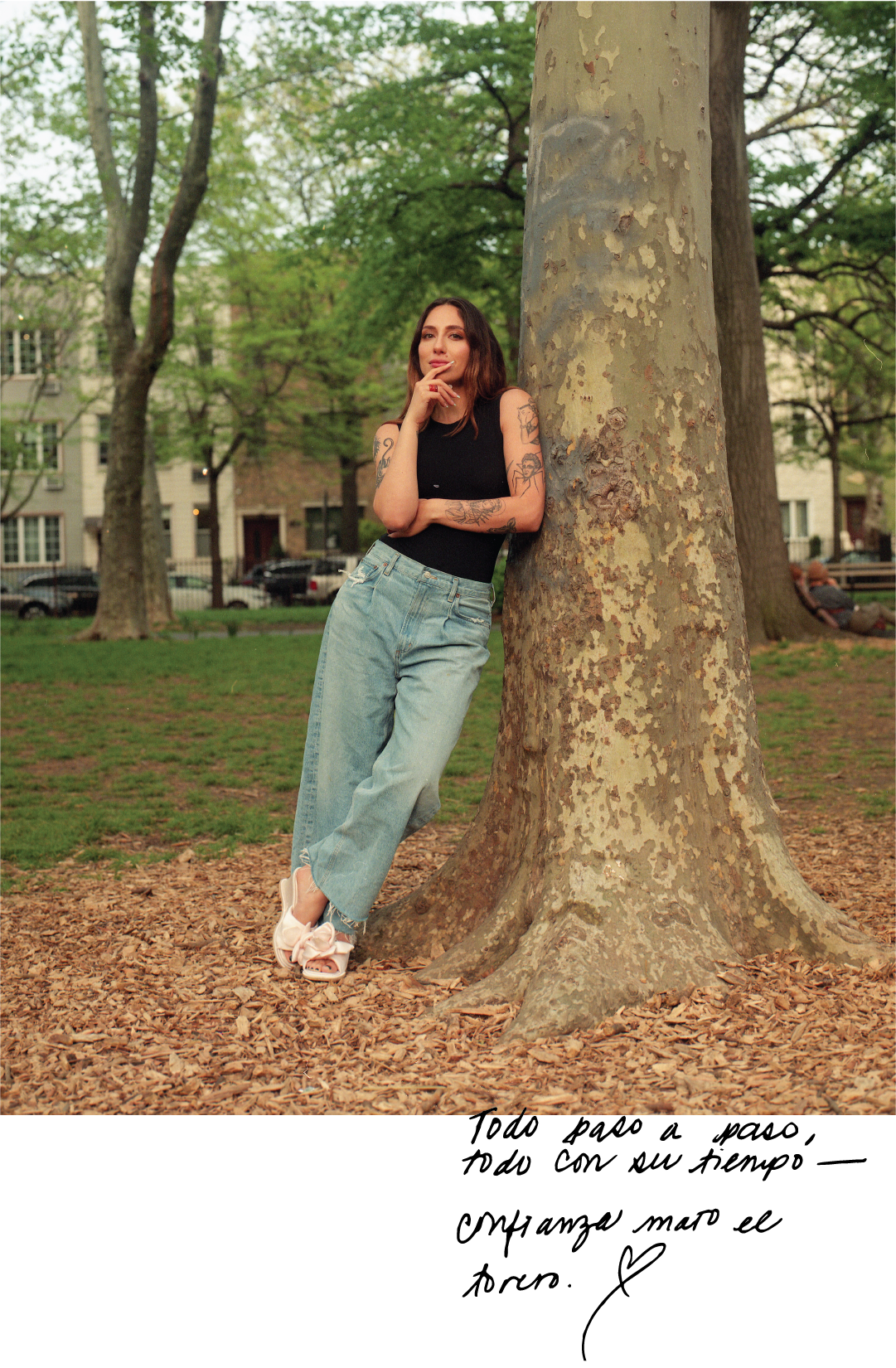 Speaking authentically and candidly about your life and about pop culture news is not for the faint of heart. How have you balanced your mental health while being so open about your opinions?
I prioritize my mental health by being selective about what I comment on. But when I don't know enough about a situation unfolding in the media and I don't comment, people read into what I didn't say and jump to conclusions. Sometimes people just want you to have an opinion to see if they agree with you. My new rule is that if I don't find it interesting, I'm not going to talk out of my ass for views – that's cheap. I want to stick by everything that I say and I want people to feel like they know me. If I'm not doing this to be known for who I am or to represent the way my family raised me or who my friends are, well then what am I doing it for?
For example, there's Bad Bunny and Kendall Jenner. I haven't commented on it because I want people to be happy. I want everybody to find love. Do I understand that choice? No. Is Kendall Jenner hot? Yes, she's hot. If Bad Bunny marries this girl, he's not less Latino to me. Maybe she would find a more sensitive approach to advertising her tequila. That would be really cool to see. I want people to come together and I want people to love one another, I want people to hold each other accountable, and I want us to inform and educate the people around us.
What has been one of the major challenges you've faced as a Latina in the content-creating and entertainment industry? What do you think can be done to create more opportunities for Latinos in these industries?
A major challenge I face is trying to be good enough to represent Latinos in some way. It's definitely a pressure I put on myself. When I get hired to host something I always think, 'I want to be good enough for the job and be Latina, not ok at the job and get picked for being Latina.' I want to be myself, represent, do a good job, and advocate in a way that's meaningful but also doesn't overpower other Latino voices around me.
Who are your role models, mentors or peers who helped you get to where you are today?
Irma Martinez (a Colombian designer who has styled the likes of Juanes, Thalía, Lele Pons, Sofia Reyes and more) was my first real boss and she is the embodiment of wisdom and creativity. She was an incredible example of leading with passion and uplifting the people around her. She believes in everyone. When I tell people I started in fashion, they expect some toxic story but that could not be further from [my experience].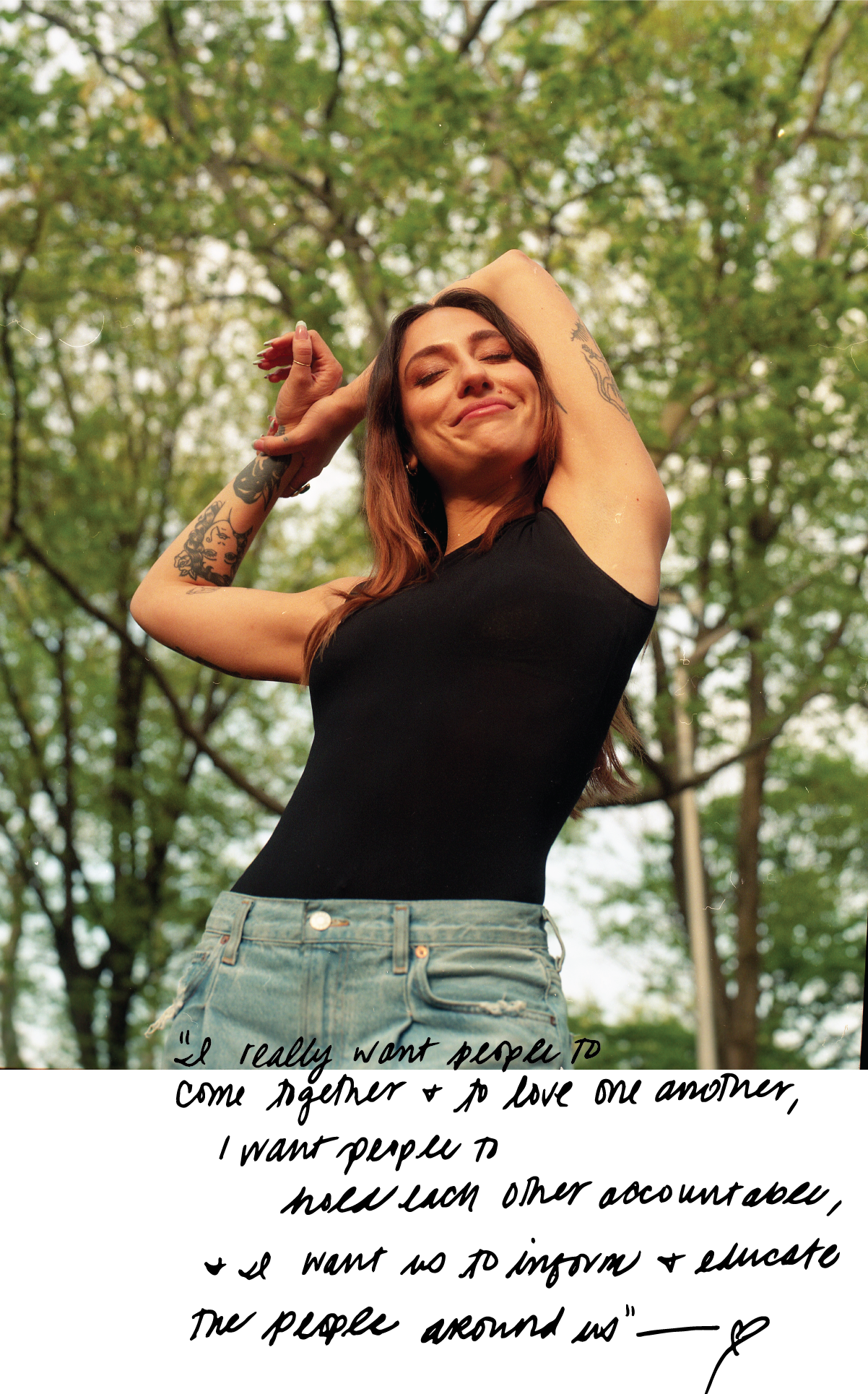 Offline, you've gone door-to-door to engage more Latinos to vote. What motivated you to engage with Latino voters?
Voting is confusing, and sometimes I think it was designed that way. I still get nervous when I go to vote and wonder, 'Am I doing this right? What if I'm at the wrong location? What if I fill it in wrong?' That's stressful, so I can only imagine [how it is] for immigrants. If I can encourage [someone] that their vote matters, that they matter, that they are welcome here, and if I can help [someone] in my community advocate for themselves, I will jump at the chance. I would also like to say: Latinos love this country. We want to be part of this country. This country has given so many of us another chance at success and family and safety.
You've visited several states including California, Arizona, Colorado and Nevada to speak with voters about how climate change disproportionately impacts Latino communities. Along with your visit to the Vice President's residence for Earth Day, how did this reinforce your desire to advocate for climate issues?
I went to [those states], and I went door to door asking Latinos to please come vote because Latino communities are among the hardest hit by climate change. There's a lot that we have to do. I want to [continue] educating myself to be a voice for Latino communities and the Latino organizations (like Vote Like a Madre) that are encouraging other Latinos to vote.
I got a lot of criticism about [the Earth Day] visit and I just want to say: I hear you but you have to let me try. Let me try to get in that room and work hard enough to make sure what I have to say matters. I am not doing this for the photo-op. I would like to be a positive influence and an uplifting voice, you just have to give me a chance and the benefit of the doubt. I understand there's a lot of mistrust with the internet, but all I want to do is ensure our families inherit the same planet I did. I want to ensure we thrive.
---
Zameena Mejia is a New York City-based writer whose work has appeared in Forbes, CNBC, Remezcla, Refinery29 Somos and more.
Images by Flordalis Espinal