Welcome back to THE LIST, our monthly roundup of the products we're loving right now. This month, THE LIST focuses on the home and interiors, with a selection of furniture and contemporary art from Latin American designers, kitchenware from two Egyptian sisters, glassware from Solange Knowles, and much, much more.
ARTIFICIO Ceramics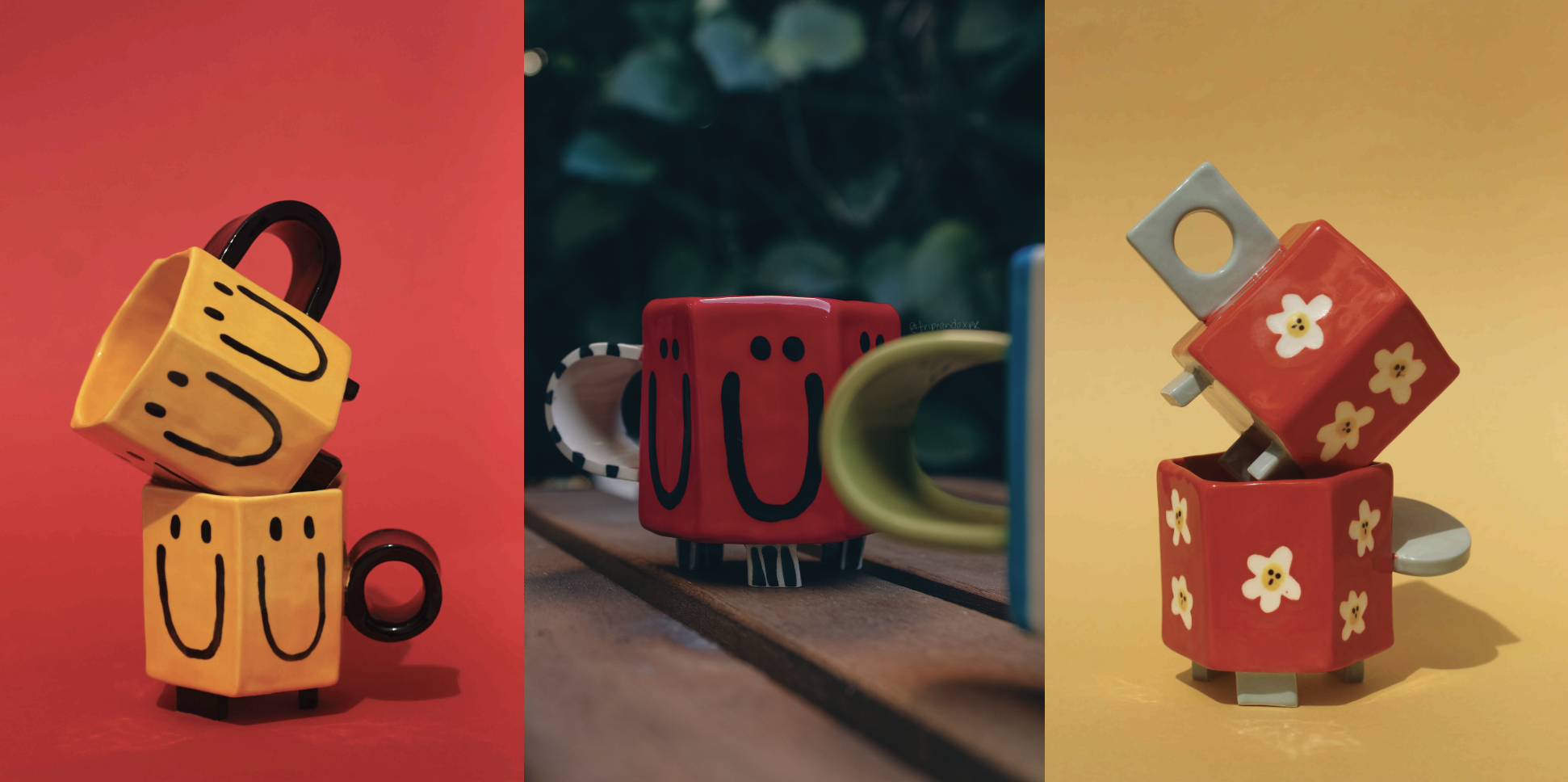 ARTIFICIO by Angelique Rodríguez Vélez is a one stop shop for delightfully clever kitchenware inspired by Bauhaus design. Velez brings a playful energy to her line of hexagonal mugs, designing them with smiley faces, various fruits, flowers, and shapes, in striking color combinations. "In my practice, I [think back on my] fond childhood memories and that's why my current work is so playful. [That] was the key to finding my style," Velez told LATINA.
When hurricane Maria hit Puerto Rico, Velez wasn't sure that ARTIFICIO would survive. Ceramic kilns need power, and the island went dark for months. "We were focused on surviving," Velez shared, but she said that her community was insistent on supporting local artisans after Maria hit. The business has since taken off, and we can't wait to see more from ARTIFICIO.
Where to shop: Santos By Monica (NYC), Café con Cé (PR), and Electroshock (PR).
Gohar World Bean Pot Mitts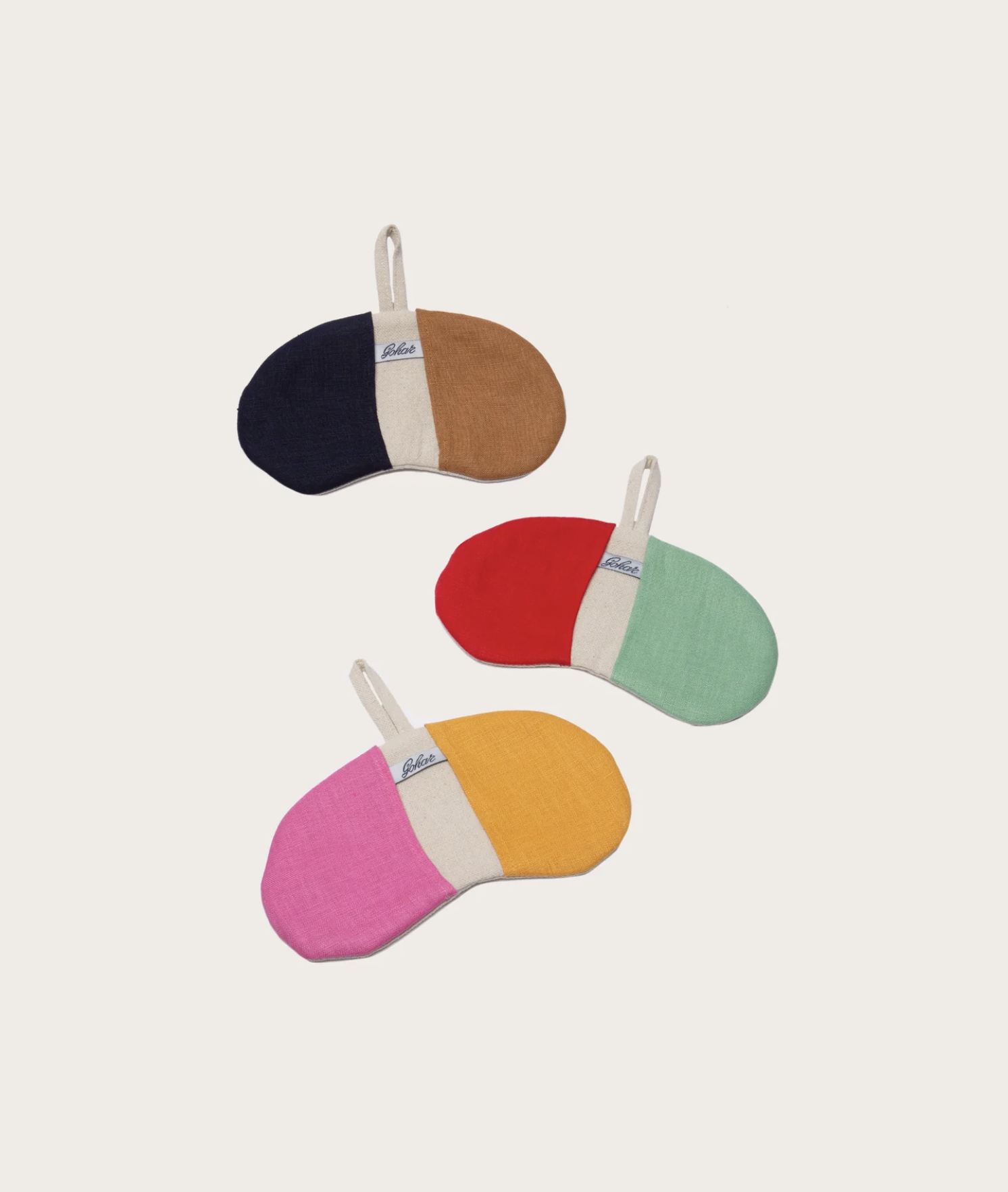 The Gohar sisters are masters of domestic whimsicality. In 2022, they launched their brand Gohar World, offering an assortment of kitchen tools and home accessories reimagined for lovers of food, play, and tradition. In the Gohar World catalog you'll find salami shaped candles, table cloths made of dress shirts, slippers for chicken drumsticks, and tumblers painted with eyeballs — and that's just the start. Gohar World "enliven[s] tradition with humor and surrealism," making each simple act of hospitality, say "laying out a tablecloth, opening a bottle of wine, [or] cutting a cake," a delightful ritual.
Cue the Gohar Bean Pot Mitts, adorable bean-shaped mittens for handling hot pans or even pinching cute butts. We love these because they're cute, they're functional, and if nothing more, they're a conversation starter. Dinner is served.
Where to shop: online at Gohar.world.
Ceramic & Wooden Furniture by ŌMBIA
ŌMBIA is a Los-Angeles based furniture studio by Colombian-American artist Cristina Moreno. Initially, Moreno began working with ceramics as a respite from her day job, and soon found herself attempting large scale ceramic, wood, and mixed-material furniture pieces. The name ŌMBIA is derived from the last five letters of Colombia, where Moreno draws much of her inspiration.
Her tables, including her new collection of wood tables, evoke a profound serenity. Hand-carved dimples in the wood tabletops catch light like a rolling sea. Raw edges and hand-molded ceramic legs ensure no one table is identical to another. After years of developing her ideas and expanding both the scale and breadth of her body of work, Moreno offers a carefully crafted collection of minimalist yet statement-making furniture pieces for the home.
Where to shop: For custom orders, please contact info@ombiastudio.com.
MADRE Linens & Textiles
MADRE is the project of Shay Carrillo and Jeanie Kirk, two friends and mothers who built their brand around the mantra of "We all eat, we all rest." Their love of linen extends beyond its textile form. They're committed to reviving the American linen industry, linen being one of the most sustainable and durable fabrics, and flax one of the most versatile and low-water plants.
The brand offers a selection of tablecloths, pillowcases, picnic blankets, plant-dyed tea towels, and duvet covers, all in various colorways and many in their signature linen gingham pattern.
MADRE partners with several organizations working to revive domestic linen production. They also support organizations such as The Garment Worker Center, The Los Angeles Guild for Reproductive Health, and the Clean Air Task Force. We love their designs and their commitment to leaving the world better than how they found it.
Where to shop: madrelinen.com.
'Latin American Artists From 1785 to Now'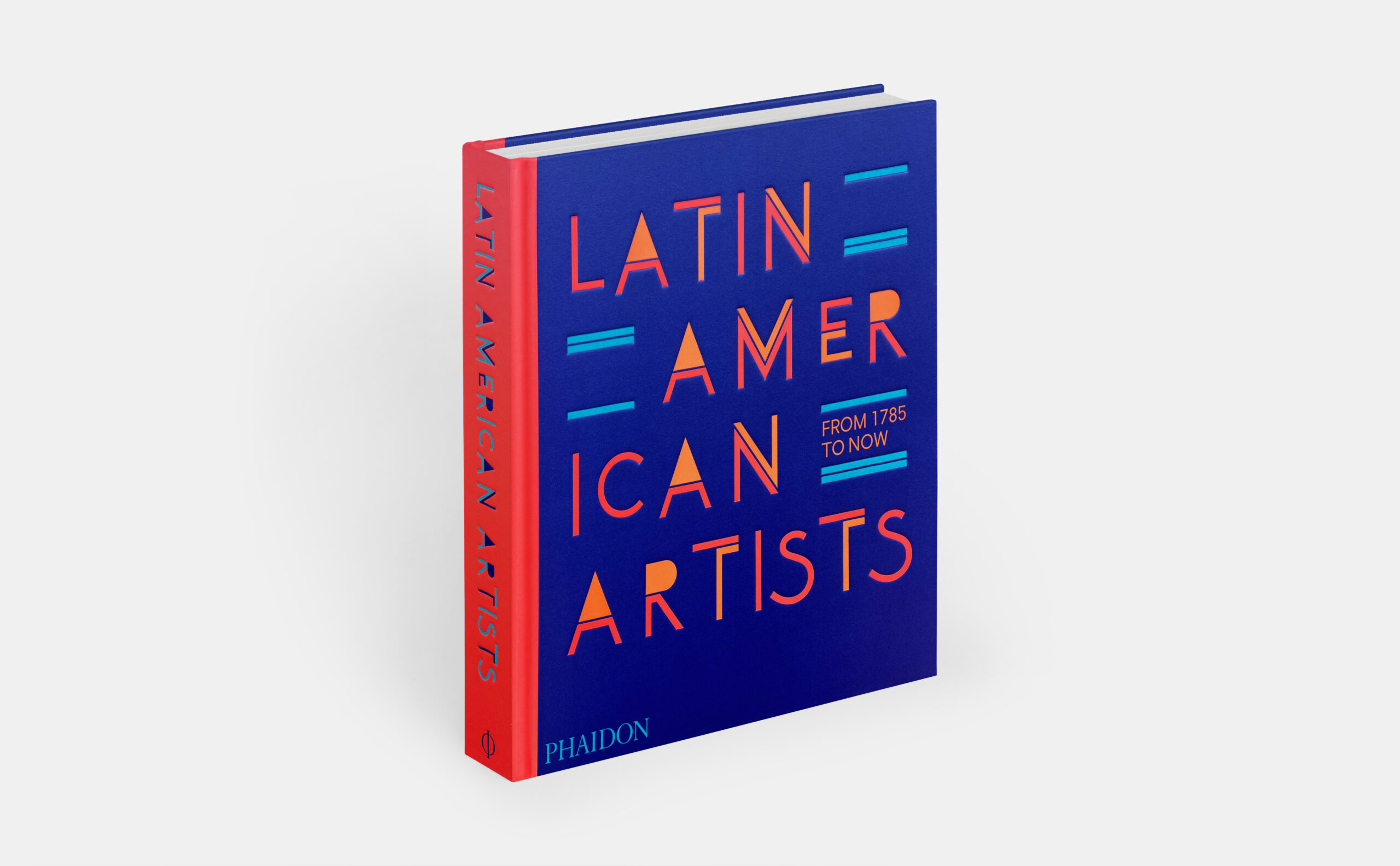 A well-curated home library can really tie together a home. "Latin American Artists From 1785 to Now," an upcoming release by Phaidon Press, is a "dynamic survey of more than 300 artists who were born or who have lived in the 20 Spanish or Portuguese-speaking parts of Latin America… The featured artwork ranges across all styles and media, demonstrating the region's rich creative output just as Latin American artists, past and present, are gaining wider international attention and recognition than ever before."
Prominent global artists like Fernando Botero, Frida Kahlo, Remedios Varo, and more, grace the pages of this beautifully designed book. It features an introduction by Brazilian curator and writer Raphael Fonseca, who explores the term Latin America as "a concept that is as complex as the varied histories it seeks to encompass."
Where to shop: "Latin American Artists" is available to preorder via Phaidon ahead of its release on October 4th.
Lamparas by Chamusquina
Chamusquina is the project of friends Catalina Alós and Ana Casas, who center their practice around "responsible consumption, positive impact on society, and the environment." The Empordà, Girona-based studio creates minimalist pendant lamps made of linen and cotton, demonstrating a raw simplicity inspired by natural elements and minimalist design.
We love the Lampara Flor and Lampara Nubo for their naturalistic design. Flor's red cord and linen socket cover add a pleasing flair to the traditional pendant cord. Nubo's spiral pleats add dimensionality to the lamp's luminance as it provides warm, blooming light.
Where to shop: Avanluce (BCN), LLOP (Madrid), or online at chamusquina.info. International shipping is available to the US, the EU, and Canada.
CHUCH Estudio Silla D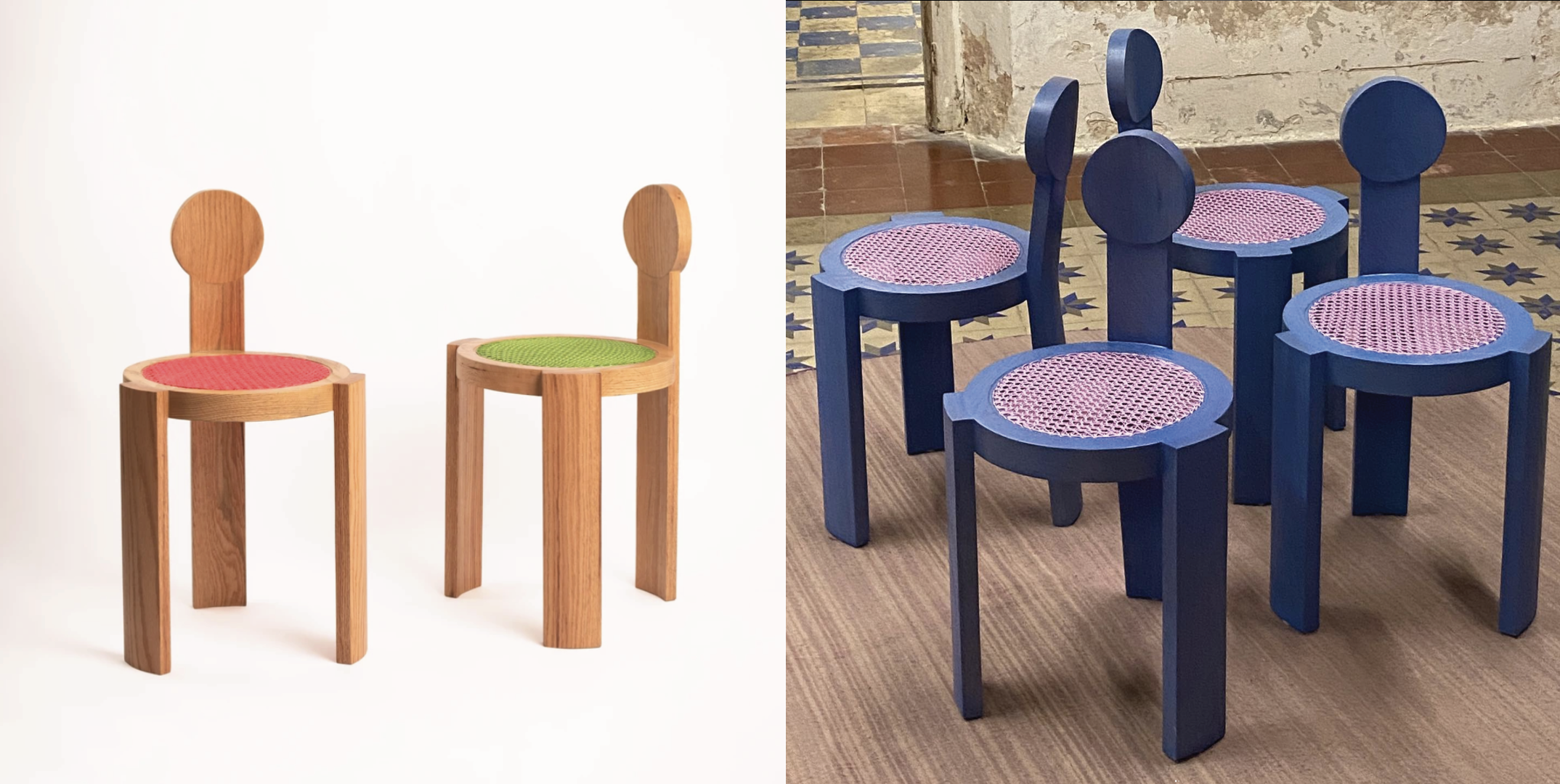 CHUCH Estudio is a design studio founded by Aranza Garcia, Lorena Madahuar, and Natalia Ramirez. Chuch (Mayan for "cute") designs woven chairs, butt-shaped stools, towering ceramic lamps, and more out of their Merida, Yucatan studio. Embracing traditional craftsmanship by working with local artisans, CHUCH's designs transmit the "warmth, charisma and joy that is Mexico."
Although it's hard to pick from CHUCH's beautiful catalog, we especially love the Silla D woven stools which are inspired by the Yucatan art of weaving Petatillo fabric. The string and wood finishes are customizable, and the stools add a fun, unique, and artisanal touch to any living space.
Where to shop: Silla D and other items are available to order at chuchestudio.mx
Ya Thamani Candles
For Ashley-Gianna Hallett, founder of Ya Thamani, a scent is what makes the home. Drawing from her Caribbean and British roots, Hallett has developed two candles that blend tropical floral essences with grounded woody notes. SE6, named after the London postcode where she grew up, is a perfect balance of musk and brightness, with top notes of rose, bergamot, and olive wood. It's the type of fragrance that can't be overdone, and begins to transform your space even before being lit.
SE23, in the emerald glass jar, is a more woodsy scent, with grounding notes of tobacco, sandalwood, and oak elm. It doesn't scream holiday but it does encourage coziness, say, cuddling by a fire while looking out a frosty window. Too soon?
Where to shop: YaThamani.com, Thirteen Lune (LA), and at the AMP Beauty LA pop-up at Showfields Westfield Century City, opening October 2nd in Los Angeles.
Saint Heron Form Glassware 001
The boundless creativity of Solange Knowles extends well beyond music-making. The Grammy-winning artist's creative agency, Saint Heron, now includes a design studio, which creates objects "for the purpose of effectuating home's atmosphere in communion with objects' own narratives." Enter Small Matter: Form Glassware 001, a collection of hand-blown glassware designed by Knowles and produced in Philadelphia by glassblower Jason McDonald.
The glasses are made from durable Pyrex, and are "made to support the leisure of routine, [and] day-to-day use," and to reflect "the spirit of community, fellowship and gatherings through spirited design" while emphasizing Blackness and Black creation.
Where to shop: SaintHeron.com
Contemporary Art From Mooni
Mooni is an exhibition space and contemporary art shop in Mexico City that supports emerging artists and aims to encourage emerging collectors. They have two gallery spaces, one in Roma and another in Condesa, both of which are covered floor-to-ceiling with paintings and prints from international artists. During business hours, their Roma storefront is a gaping (it literally has no door) vortex of color, which demonstrates their mission to remove all barriers to entering the art world.
Co-founders and curators Lolo Moya and Andre Monroy wanted to create an approachable art space that would abandon the traditional, pretentious reputation of buying and selling art, instead making it accessible for all. At LATINA, we're loving the work of featured artists Gibrán Turón, Ileana Magoda, Stefano Di Cristofaro, and Anri Okada.
Where to shop: In-person at Mooni Condesa or Mooni Roma, or online at moonigallery.com (international shipping available!).
---
Gabriella Aguirre is a writer, filmmaker, ceramicist, and the Editor of LATINA.