Personal style is all about creative self-expression. It might be piecing together your favorite shirt with your comfiest pair of Converse Chucks and a scarf your mom finally let you take from her closet. Or styling hand-me-downs that your grandmother has saved since the 1970s, instinctively knowing that trends always come back. 
Latina spoke with three high schoolers from different Los Angeles barrios — Hollywood Dell, Boyle Heights, and Covina Hills —  who are each developing their own distinctive sense of self and style. After almost two full years of learning over zoom and missing milestone birthdays and events, today, these girls are getting all dressed up with somewhere to go. The occasion: Women's History Month.
Paloma, a high school senior ready to start college, experiments with her newfound sense of laid-back style and fashions a lived-in Prom look. Erika, a junior in high school, finally has an occasion to wear the quinceañera dress that has been hanging in her closet since 2020. Naima, a sophomore in high school, evokes her love of anime with a Harajuku style dress and petticoat. Each of these self-styled outfits portray the idiosyncrasies of these three teenage girls, coming of age in moments of celebration.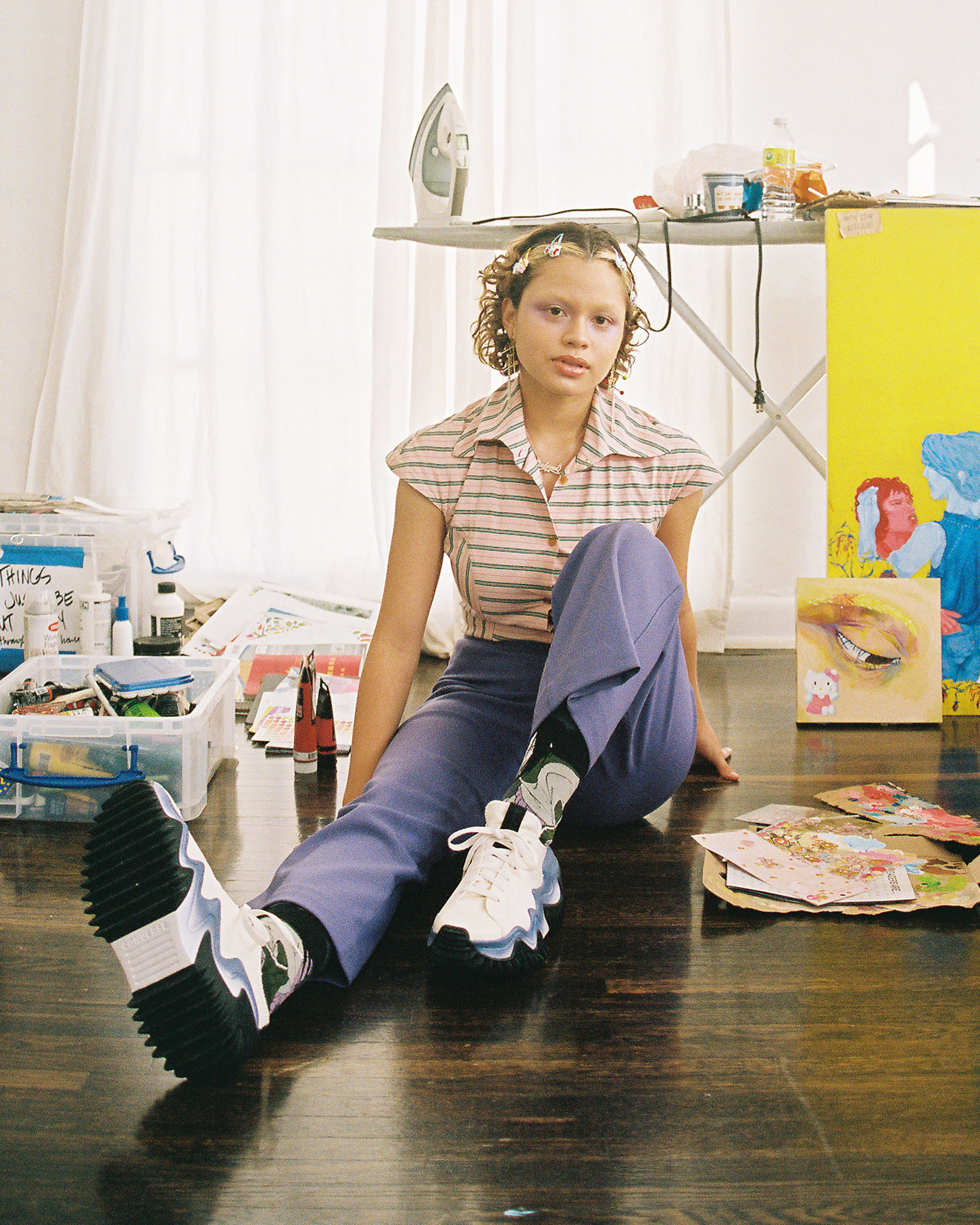 PALOMA
Paloma and her mom share most of their clothes. And undeniably, Paloma's mom is one of her fashion icons. Being able to borrow her clothes and style them with idiosyncratic accessories has defined Paloma's sense of style. A single mother who independently raised her daughter, Paloma's mother is the eighteen year old's ultimate inspiration. Paloma sees her mother's perseverance and ability to push forward as her best qualities. 
Paloma, who is Peruvian-American and Puerto Rican, admits that her style used to be much more formal. However, today, she spends her time scouring Depop, looking for comfortable yet trendy outfits. Like many of us, she says she falls victim to fashion trends that come and go, but tries to reinvent what is already in her closet into something new. She especially loves getting dressed up for her birthday, when all her friends and family come together to celebrate.   
As a high school senior, Paloma has a ton on her plate but between classes, working on her independent art zine, and honing her artistic skills, she prefers spending time at home and hanging out with her best friend, Guine. While all her friends struggle with the infamous senioritis syndrome, Paloma is "straight chillin" in her last semester of high school. She loves her Ghetto Film School course, in which her instructor teaches them the ins and outs of creating films — something she hopes to do after she graduates. 
Paloma says she often still feels like a kid, despite recently turning eighteen. She longs for older people to take her seriously and to get the independence that post-adolescence can bring. With graduation just a few months away, Paloma is looking forward to attending college, moving into her own apartment, and finally getting to feel like a real adult.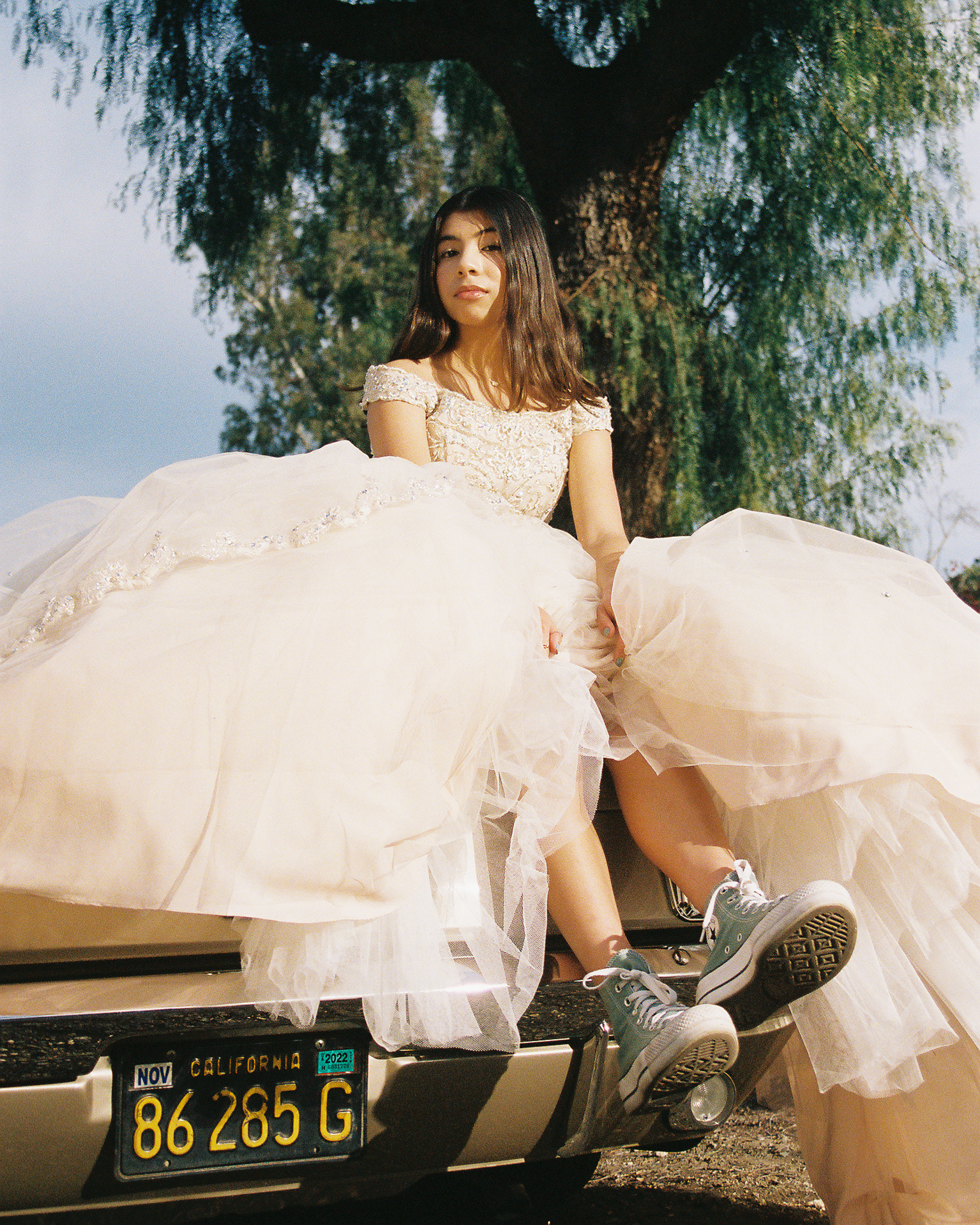 ERIKA
Erika grew up among many women. While she has one brother, her four female cousins play major roles in her life. With so many girls around, she came to understand that femininity can take many forms and manifest in different ways through personal style. 
She enrolled in a high school with a uniform dress code, so she started to look forward to quintessential teen moments that would allow her to dress up and express herself. Yet, she has spent a majority of her high school experience learning remotely from home. Today, she is grateful to have an occasion to wear a dress that has been hanging in her closet since 2020, untouched and unworn, but patiently waiting to have its moment. 
Growing up attending her cousins' and friends' quinceañeras, Erika has been waiting for her own time to come. When her 14th birthday passed, her parents asked her to decide between an international trip or a quinceañeara party. Her answer? Emphatically the latter. Her birthday has always been her favorite day to celebrate with people she loves.
When her school promptly shut down in-person classes back in March of 2020, Erika realized that the quince she had always dreamt of would likely be canceled. And so, her dream dress remained in her closet for nearly two years as she took Zoom classes and practiced for her school's soccer team online, kicking a ball against the wall as her soccer coach watched through the screen. 
The student athlete's parents are both Mexican — her father is from Mexico City and her mother is from Guadalajara. Erika, a child of immigrants, says that culture is all about family and togetherness. Disappointed that her quince was postponed indefinitely, Erika was comforted that hers was not the only one. Many of her friends also had to cancel their parties. And while the extravagant party she had always pictured, with hundreds of guests, and her family flying in from Mexico, never happened, she recently celebrated her Sweet 16, wearing a comfortable dress she picked out for the occasion.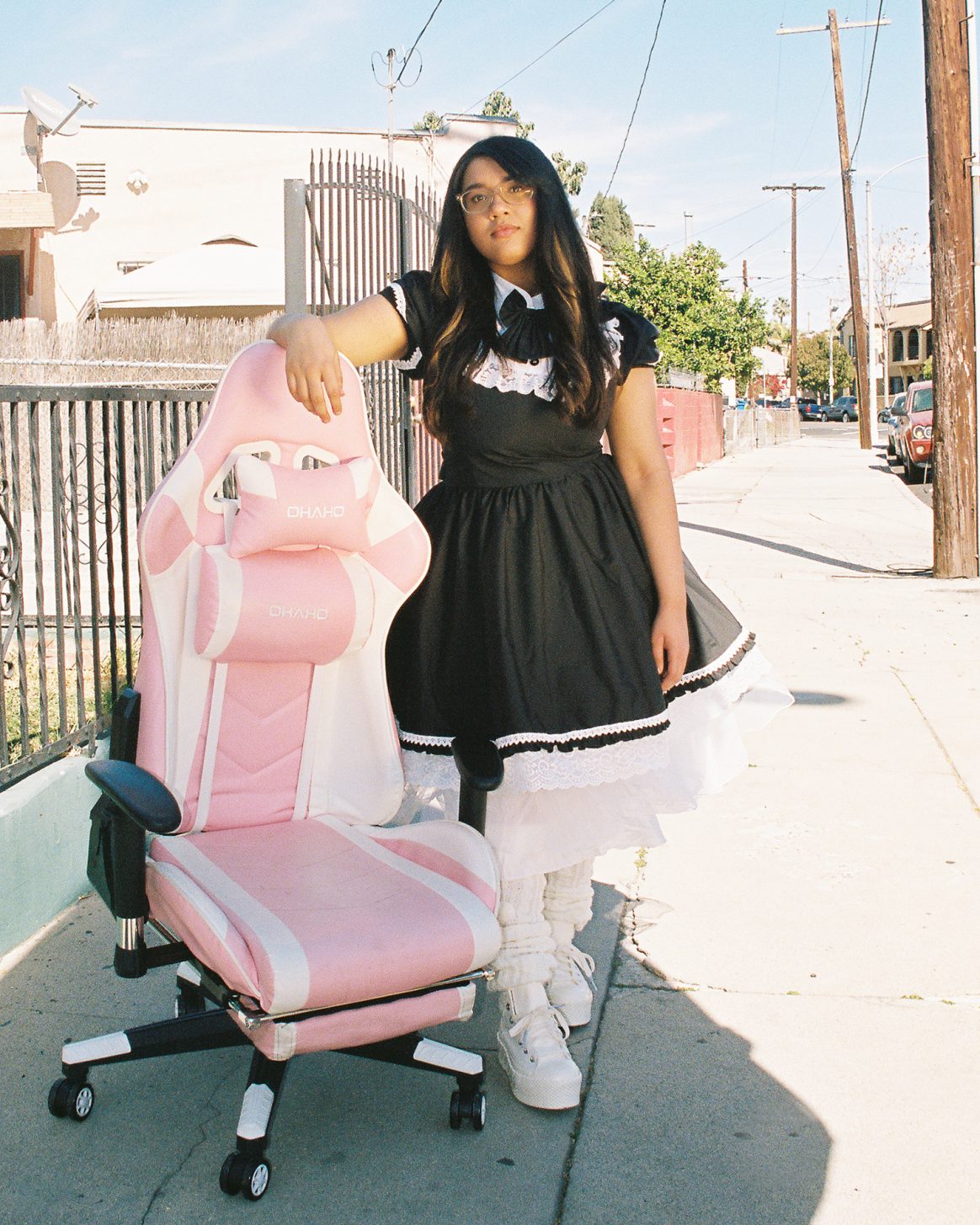 NAIMA
Naima enjoys complexity. In school, she welcomes subjects she is admittedly not the best at, excited by the possibility of getting better at them. She credits her ability to do this to her mom and grandmothers. They have instilled the values of bravery, strength, and perseverance. 
When Naima was ten years old, her mom and her moved from New York City to Los Angeles. They settled in Boyle Heights because the neighborhood reminded Naima's mom of the Bronx, their hometown. On Christmas, Naima and her family go back to New York City, where she can see her best friend and the rest of her Dominican family. Naima's favorite thing about her Latinx culture is that there is no expected way that she is supposed to look. She loves trying different foods, and meeting people with different backgrounds and personalities who share the same cultural identity. 
When Naima needs an outlet to express herself, she turns to writing. She finds comfort in creating stories that reflect her emotions, while also allowing her to explore them more deeply. She loves to draw, noting that she can create anything and everything through art. And, more than anything, she loves that there are no right or wrong answers — or limits — in writing and art. 
Naima is a big anime fan: her room features a carefully curated collection of anime figurines and decorations. Every day she carefully arranges her stuffed animals, which she calls her plushies, on her bed. While she doesn't have a list of her favorite animes, she favors mystery and psychological horrors. She appreciates that there is usually symbolism behind the stories, which means she can spend time deeply analyzing them.
The outfit she chose for this shoot is one that she bought over a year ago but hadn't found the right time to wear. It's inspired by Japanese fashion and her interest in anime. In general, Naima would describe her style as free. She chooses to feel comfortable in her own skin above all else.
##
Our Women's History Month campaign is done in collaboration with Converse, who has partnered with Latina photographer Thalia Gochez and Las Fotos Project to photograph their latest collection, We Are Stronger Together. The collection is concepted and designed by women to inspire creativity, growth and strength in unity. 
Las Fotos Project is a community-based nonprofit organization that inspires teenage girls & gender-expansive youth through photography, mentorship, and self-expression. Their mission is to elevate the voices of teenage girls & gender-expansive youth from communities of color through photography and mentoring, empowering them to channel their creativity for the benefit of themselves, their community, and future careers. For more information on the program and its history, head to their website.