One of the brilliant and striking outfits that Jessica Wild packed to compete a second time on RuPaul's Drag Race was inspired by the Spanish transgender singer and television personality Cristina Ortiz Rodríguez, also known as "La Veneno." During her now revered lip sync performance, Wild wore a sequined red gown with high slits that exposed her long legs and a round collar silicone breast plate draped in golden jewels. To complete the ravishing look she slipped on La Veneno's iconic red wig and golden high heels. Wild initially planned to impersonate the songstress in the quintessential challenge, Snatch Game, a playful measure of a contestant's improv skills, but Kim Petra's luscious "Coconuts" anthem called for Wild's early portrayal of La Veneno, making it one of the most memorable moments (so far) in the latest All Stars season.
"When I knew that the lip sync song was 'Coconuts,' [I thought to myself], this song is just talking about breasts," Wild bantered before continuing, "on Drag Race you don't know how long you're going to stay in the competition so any opportunity you have, [you have] to grab it." Wild snatched her chance at wowing the judges, and pieced together her ruby red ensemble after winning the Supermarket Ball challenge, where she showcased three different runway designs, one of which she created using raw materials.
José David Sierra, the person behind Wild's persona, was born in the 80s in San Juan, but grew up in Caguas, Puerto Rico. He began dancing in his room at the age of 5, and over the years developed his artistry as a means of survival. "It was hard for me to discover that I was gay. Everybody attacked me as a kid," Sierra confessed with a sobering timbre in his speech. "[Como consecuencia] empecé a crear cosas en mí mismo, a dibujar y hacer cosas que me entretenían" (As a result, I began to create within myself, draw and do things that amused me).
Sierra, with his mother's support, enrolled in dance lessons at 16, and shortly after, joined the dance company Bailos, and Puerto Rican producer Héctor Marcano's television show El Super Show as a main dancer. By the time Sierra began his drag career at 18 (first as a backup dancer in drag shows), people knew him as "el nene que baila[ba] en televisión" (the boy who danced on tv). Sierra attended his first drag show at the gay venue Krash, formerly known as Eros, and remembers watching Nina Flowers, the first Puerto Rican to compete on Drag Race, take the stage, "the music stopped [playing] at 2 am, and I was like 'why are people not dancing anymore?' I looked up at the second floor and I saw Nina performing. I thought she was amazing." Inspired by Flowers, and other artists like Madonna and Paula Abdul, Sierra, through Jessica Wild, was determined to dance her way into people's hearts.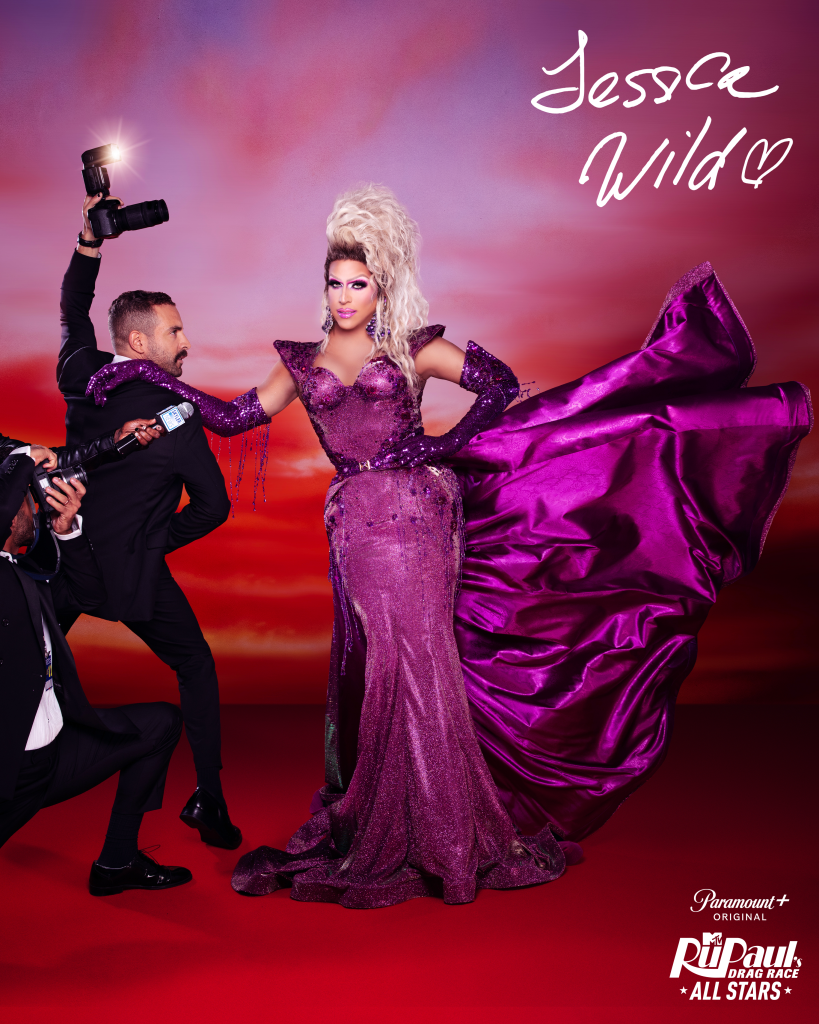 Wild wears her Puerto Rican heritage with pride. She speaks Spanish on Drag Race and references Latine culture; take, for instance, her hysterical "taco tuesday" unscripted monologue in the latest improv challenge, Forensic Queens. Wild, who participated in the first Snatch Game ever and impersonated show host RuPaul, spotlighted Puerto Rican legend Iris Chacón this second go-round. More accurately, she imitated comedian Johnny Ray's parody of Iris Chacón in the 90s' spoof, En Ya Ustedes Saben Quien. Wild admitted that she doesn't have the same pressure of bearing the island on her shoulders like she did in Season 2: "Just to be on the show I am representing Puerto Rico, and I hope [Puerto Ricans] are proud of me."
With more international franchises like Drag Race España and Drag Race México, which premiered last week, Wild reckons Puerto Rico deserves its own spin-off. "We have enough talent! Puerto Rico can have its own show," Wild proclaimed before naming a stellar lineup of queens that she would love to see compete in it: Sapphire Bee, Angelina Bee, and Amalara Sofía, among others. Her advice to any Puerto Rican drag queen interested in entering Drag Race is to be their authentic self and not be afraid of not having perfect English. "But of course, learn something because otherwise you're going to be lost," she laughed.
Since her lip sync performance, which aired last month, it is not uncommon for Wild to see her fans remaking her "Coconuts" recital. In fact, she shared that a few days before the interview, she had received a video of a group of muscled guys jumping and dancing to the song. It's impossible to listen to the melody and not think about Wild, who is convinced that song streams have skyrocketed since her lip sync battle, joking that Kim Petras should call her and thank her for it.
This viral moment is significant for several reasons. It highlights transness during a time when anti-trans legislation is at an all time high. In 2023 alone, 79 bills aimed at preventing trans people from publicly existing and receiving basic healthcare, education, and other forms of legal recognition, have been signed into law, and a shocking 31% of transgender youth now live in states that have enacted bans on gender-affirming care. Kim Petras, who is openly trans, along with the now globally acclaimed Veneno, are big pop culture influences. For Wild to have performed Petra's stirring number in La Veneno's character on the biggest drag platform is a huge visibility marker.
Additionally, just this spring, a federal judge blocked a Tennessee law restricting drag performances in public on the merit that the law infringed on drag artists' freedom of speech. Wild commented, "We've been under attack [for a long time] and it feels like it's getting worse. However, I think [that] through my art I'm teaching people, even my family, that drag is beautiful, that it's my job, and that I'm making [other] people happy." Despite efforts, Wild believes that some people will continue to find drag menacing, and that only through education will people understand the power and beauty of it. She claimed that many families are now watching Drag Race and subsequently, are starting to form better rapport with their children. "I never thought 'Oh when I grow up I'm going to be a drag queen,' but now, there are new generations of young people who feel inspired by us," Wild ended.
So, what's next for Wild? For starters, new music. Wild dropped her new single, Puterra, earlier this month. The dance banger lives up to the Jessica Wild fantasy and is sure to keep everyone dancing post-pride celebrations. Between her multi-city stint and her recent casting in A Drag Queen Christmas tour, Wild is busy traveling cross-country and working on a few other surprises. She is determined to take the crown home this time. "I'm rooting for myself," she cheered. And we are, too.
---
Francisco Gutierrez is a freelance artist and writer based in San Juan, Puerto Rico covering music and culture.