Visual artist Yvette Mayorga tells Latina stories through the aesthetics of confection, using pastry piping bags filled with acrylic to create her richly textured paintings, sculptures and installations. This process is inspired by the confection and pastry work of her Mexican mother, who labored to support her family in a new and unfamiliar country; an imagined legacy continued on that didn't get passed down because her mother became a stay at home mom when she was born.
Mayorga's work draws from Mexican-American lifeways and European art history to comment on colonialism and the contemporary politics of immigration and belonging in the United States. In her first solo museum exhibition What A Time To Be, now on view through May 2023 at The Momentary in Bentonville, Arkansas, she explores pandemic life and contemporary politics in her reflection on girlhood. The work celebrates family by incorporating photos they exchanged with each other during lockdown. The exhibition invites us to think about how we stay connected and maintain a sense of purpose in a world of economic and environmental precarity, where the rights of women, people of color and LGBTQ+ folks are increasingly at risk.
What a Time to Be pushes Mayorga's practice to a new level through a large-scale recreation of her childhood bedroom. For Latina girls who navigate erasure in mainstream culture and family surveillance of their bodies and sexualities, the bedroom is a loaded space. It is at once a site of respite and retreat, and, on the other hand, it can be a place where Latina girls internalize the messages of unworthiness that they receive from the outside world. With the piece Bedroom After the 15th, the artist expands upon an earlier series of work called Really Safe in My Room in America (2017), where she displayed images documenting her weight loss as a teenager alongside images of Mexican migrant arrests by Border Patrol, U.S. patriotism and consumer culture. By juxtaposing these vastly different pictures, Mayorga explored the interconnections between the gendered harms of beauty ideals, capitalism and the broader political violence that Mexican immigrants face.
In Bedroom After the 15th at The Momentary, Mayorga shifts the conversation from a reflection on internalized violence into an homage to Latina girl survival, political empowerment and creative vision. The life-size installation includes acrylic-pastry-piped furniture such as a bed and night stand, and objects like lamps, laptops and television sets. Hundreds of hours of careful piping by the artist result in a dreamy, pastel pink-saturated setting with references to Y2K aesthetics like butterflies and bedazzled stickers that say "Angel," to Hello Kitty figures, bags of Takis chips and Rococo figurines commonly found in Latinx households.
Appearing to be pure decor at first glance, a closer look reveals the layers of meaning embedded in the work. Ornamental wallpaper features images of manicured hands with fingernails that read "F-ICE" and images of heart-shaped cellphones with Spanish language memes conveying messages of care that circulated in the early pandemic: "Cuidate … Quedate en case, Quiero volverte a ver … DIOS TE AMA" [Take care of yourself … stay home, I want to be able to see you again, GOD LOVES YOU]. Placed in a setting where a paint-frosted Disney princess TV set plays footage from one of her childhood birthday celebrations, Mayorga's work attests to the loving and creative ways that Latina girls and their families face the most challenging circumstances. Below, take a look at the exhibition and some of the installations included.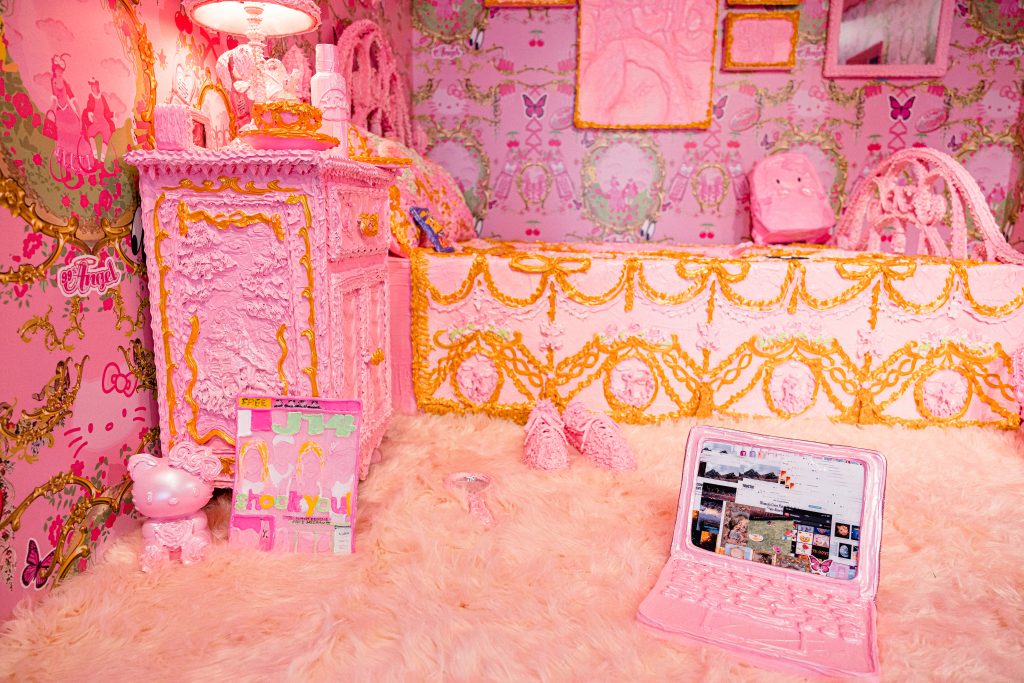 ---
You can follow Mayorga's work via her website and Instagram page.