It was a hot but breezy morning in San Juan, Puerto Rico when singer-songwriter Matt Louis and I met at his favorite coffee shop, Gustos, where he writes and works on music. Looking dapper and relaxed, Louis wore dark shades and a red Chicago Bulls jersey that he paired with black lightweight cargo shorts and black leather boots. His cafécito of choice: a hot latte with several ice cubes that would melt during the course of our interview and only slightly cool his drink. Louis was excited to talk about new music, but before we launched into his cosmic world, we spoke about coming of age on the enchanted island, and finding his own voice.
Originally from Ponce, a southern coast city in Puerto Rico, a young Louis would faithfully survey his hometown paper La Perla del Sur in search of casting calls. He joked that MySpace was the only existing social network at the time, but that people weren't exchanging resources, let alone casting opportunities through the network. His first audition, at 15, was at the Instituto de Música Juan Morel Campos, a well-known musical arts institution in Ponce, where Louis tried out for a musical.
It was then, while part of the youth choir, that Louis discovered his voice in spite of his growing insecurities about his body. He said in Spanish, "aunque yo sentía que había una voz bien fuerte y poderosa en mi, todavía el cuerpo se interponía para expresar esa voz" (although I felt a mighty voice inside of me, my body got in the way of expressing that voice). Louis openly discussed his body dysmorphia at a young age, and what it meant to finally overcome the fears surrounding his physique to project the confidence he now possesses.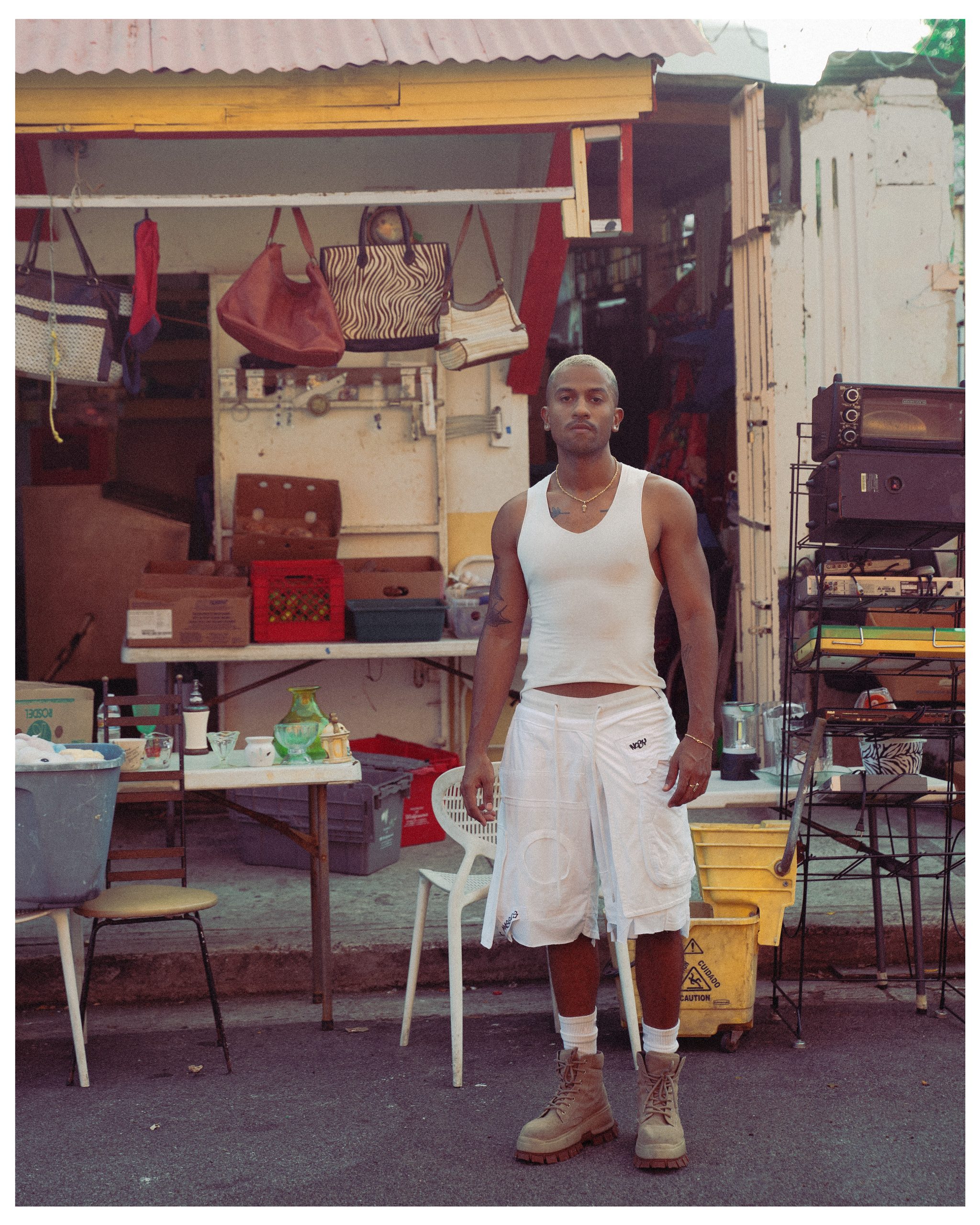 "La vanidad y esta conexión con el cuerpo viene de los hombres más importante de mi vida," (the vanity and the connection to my body come from the most important men in my life) Louis shared, referring to his father and his brother Webster, who are both personal fitness trainers. They helped Louis grow secure in his own body. When I asked Louis if he considered himself a vain person now, he laughingly responded, "I do, and I love it." He then added that being vain isn't bad unless you look down on others and their way of expressing their confidence and beauty. "For me, vanity is a form of self-love and a way to praise [my] body," he explained. Louis referenced Nigerian musician and Afrobeat pioneer, Fela Kuti, who was known for his outlandish and wild concerts in the 70s and would often perform shirtless and coated in paint, as a great inspiration for embracing his own body on and off stage.
Between touring locally in Ponce with a high school pop band led by his cello instructor to auditioning for Ricky Martin's hit TV show La Banda, which birthed CNCO in 2015, Louis took to the streets to perform and build his musical prowess. As part of his training, Louis studied classical Italian music and the famous Alexander technique, which teaches improved posture and movement. Some of Louis' other euphonic teachers included Sam Smith, Amy Winehouse, Bruno Mars, Michael Jackson, Adele, and more recently, Jorja Smith, Frank Ocean and Gallant, all of whom expanded and continue to shape Louis' musical palate.
Louis describes himself as a multidisciplinary artist with a kind and welcoming afro-caribeño energy. He defines his music as avant-garde with more recent influences from 1950s boleros, arabic flamenco, brazilian funk and alternative R&B. When I asked Louis what he was currently listening to, he blushed and shared, "I'm currently listening to Tems. I actually listened to one of her live concerts this morning to jump start my day." Louis has ambitions of playing at Coachella, Lollapalooza Argentina and Coca-Cola Flow Fest in Mexico, among other shows, and wishes to travel to Europe to blend his music with fashion and eye-catching visuals.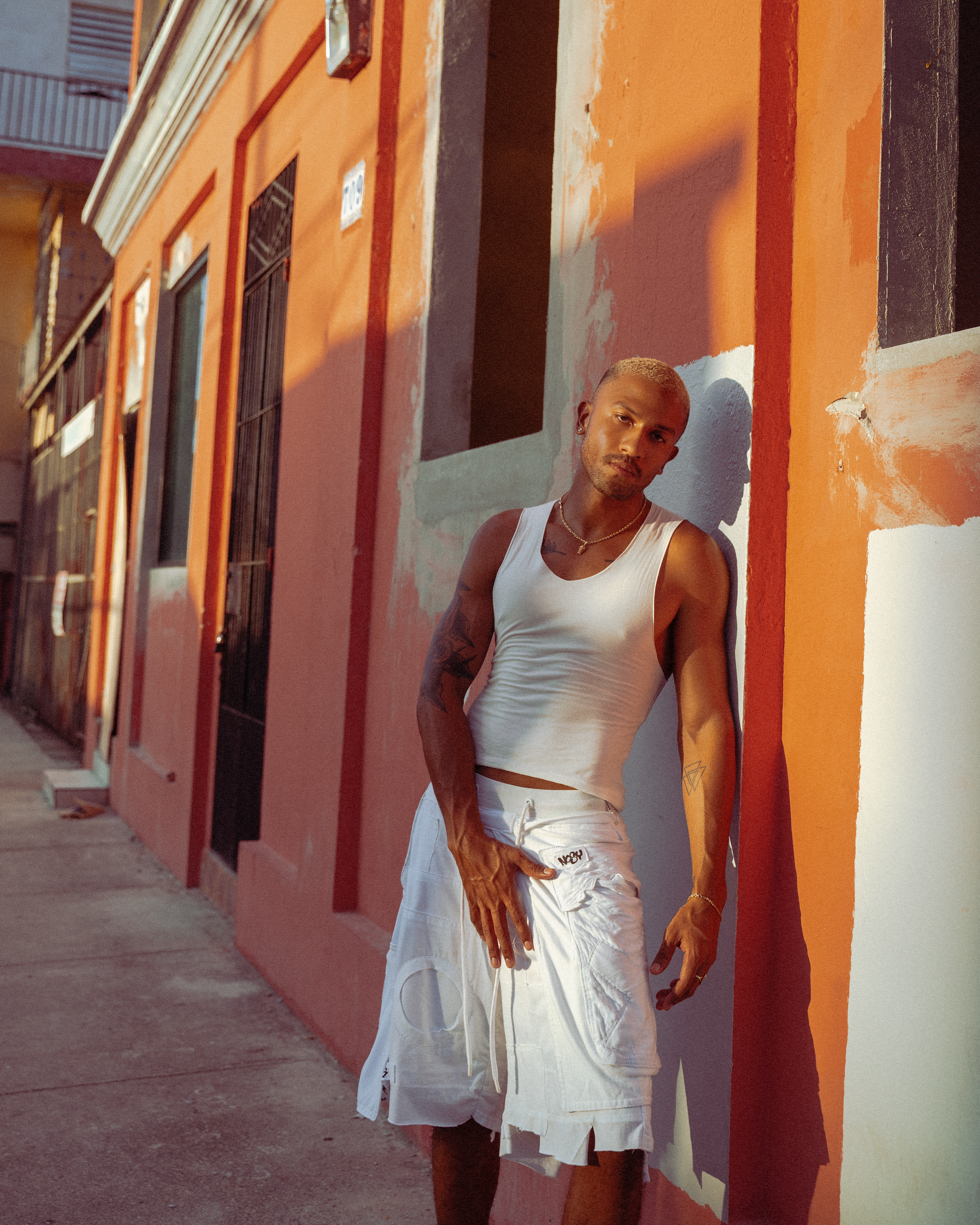 Louis' artistic name is an abbreviation of his full name —- Matthews Louis Charlotten Galarza — which was too long to use, so he shortened it to Matt Louis, giving an air of a fashion brand. Louis loves to express himself through his clothes and edgy sense of style. "I've always used fashion to express how I feel but I've never rallied around any luxury brands. Instead I love what I can show by wearing, for example, a simple and inexpensive garment. It's what the body highlights about the garment, not the other way around," Louis continued. Louis works at the concept store SIXNE in Santurce, where he recently launched his ASTRO BOY merch.
For Louis, sharing his music has become an act of vulnerability, but he says that music is only his current obsession and that he hopes his fans will relate to his other projects including his photography. What began as a hobby in high school, photography became Louis' joseo, or side hustle, years later. Louis has worked with streetwear brands like FRSH Company and a plethora of artists like Álvaro Díaz, Venezuelan producers Lara Project, who engineered Louis' first songs, and Grammy-winning producer and songwriter, Tainy. Most recently in 2021, Louis photographed Jhay Cortez during his "Timelezz World Tour" as Cortez's leading photographer.
In addition to taking photos, Louis loves to study astrology. His fascination with the astronomical world comes from his interest in psychoanalysis. When I probed, Louis shared that astrology has taught him a lot about duality. He claimed that, "everything has an opposing side, and the differing side isn't always black or white. We are not just one sign (Louis is a Taurus sun), but rather an integration of multiple expressions that manifest in different areas of our lives." Though Louis steers away from making blanket statements about people's zodiac signs, he definitely leans into the cheeky and fun small talk that most people enjoy. At his latest show this past January at the Puerto Rican venue, Vivo Beach Club, Louis gave a shout out to all Capricorns.
After a short hiatus from releasing new music, Louis dropped his latest single "SYYON", which is a delicious and spiritual concoction of EDM, Afro House, Techno, Yoruba/Afrocubana and Dembow. He gushed over the song and explained that "SYYON" has a lot of strength and darkness, and celebrates movement and the corporal catharsis that we experience when we practice letting go. In it, he sings, "no te he solta'o" (I haven't let you go), acknowledging a former version of himself. The music video, which Louis released the same day as the upbeat song, was inspired by the massive rave scene in the Matrix Reloaded film — unsurprisingly in the underground human city of Zion. Matt Louis is ready to take us to a new universe.
---
Francisco Gutierrez is a freelance artist and writer based in San Juan, Puerto Rico covering music and culture.