Seriously? No Bueno! The New York Times calls TV legend, Rita Moreno an unnamed guest accompanying TV Producer, Norman Lear at the 75th Golden Globes. 
MORE: 13 Latinos Who Have Won Golden Globe Awards
Looks like the historic media outlet forget who the One Day At A Time actress was while covering the red carpet arrivals. Not to mention, that the Puerto Rican icon has won several awards throughout her artistic career.
In 1962, the 86-year-old star on a Golden Globe in 1962 for the musical, West Side Story for best performance by an actress in a supporting role. But that was just the beginning, as Moreno has won an Emmy, Grammy, Oscar, Tony award and more.
In 2014, the award-winning actress was honored and give the SAG Career Achievement Award, where she made history as the first Latina to be honored.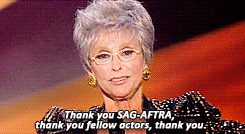 PLUS: WATCH: 'The New York Times' Airs #MeToo-Inspired Ad During The Golden Globes
Thankfully, the power of Twitter did not let this mistake go unseen as followers tweeted and called out the publication for their mistake. And like a true gentleman, the male director tweeted to the newspaper about changing the caption as well. 
Here's what others had to say around the "guest" caption.
New York Times does not use Rita Moreno's name, instead calls her "a guest." Rita Moreno is one of 12 EGOTs in history - she has won an Emmy, Grammy, Oscar, and Tony. pic.twitter.com/gXGPsppZUt

— Yashar Ali (@yashar) January 8, 2018
Rita Is the first to EGOT for heaven's sake!

— J. E. M. Davis (@JEMD59) January 8, 2018
@nytimes y'all have GOT to do better!#RitaMoreno pic.twitter.com/xNwAS76Bxc

— Tanya (@MommaTNYC) January 8, 2018
After the uproar, the Times fixed the caption the correct information and acknowledged the Puerto Rican legend.