Lauren Ridloff has three major obsessions in life, running, reading books, and art. That she is a deaf, Black Latina who cherishes culture and frequent runs was all Oscar winning director Chloé Zhao needed to know. Zhao, director and co-writer of "Eternals", and Nate Moore, a producer on the movie, tailored the role of Makkari to Ridloff. Running is Ridloff's personal sanctuary, where she can map out parts of her life. She runs several days a week — through wind, rain, and sunshine — because it's meditative and ritualistic. At Cal State Northridge she studied English and creative writing, and later earned a graduate degree in education from Hunter College with the ambition to write children's books. In 2000, when she became the first Black Latina Miss Deaf America, she made her platform family literacy. 
Ridloff, 43, has been immersed in the arts since birth. She's a born and bred Chicagoan, raised by her Mexican-American musician dad and her Black American artist mother. Her sister is a choreographer. Now, she stars in "Eternals" as Makkari, a superpowered-speedster who can zip through continents in sheer moments, and the first deaf superhero in the Marvel Cinematic Universe. 
In "Eternals", Makkari is a rebel, who loves antiquities and history, and who has been stealing artifacts across millenia. In Ridloff's first meeting with Zhao and Moore, still unaware she was up for Makkari, they pitched the film's premise broadly and asked about what stimulates her. Ridloff's Makkari is nothing like her comic book predecessor, a bulky, blonde, hearing white man. When we spoke over Zoom, Ridloff was in London, soldiering through an extensive press junket, wearing a chic black shirt and clear aviator frames. She doesn't feel pressure to step into a role that's been rewritten for her, because being the first deaf superhero means freedom, "I have a lot of room to create and also to discover," she shared confidently with me during our call. 
In rehearsals, Zhao asked her to ignore hyper-masculine superhero speedster stereotypes and to "run like a girl" instead. Ridloff chuckled admitting this; she was caught off guard by the director's unexpected request. She's a self-described "lazy, slow long distance runner," who started running in high school when she joined the track team. When she began training for the role, she was told to stop running altogether. She molded her body into a sprinter's physique — more mass and less leanness — and took on weight training and pilates. She watched videos of speed skaters and researched Olympic sprinters, particularly for their fierce attitude shown on the track. As Makkari, her velocity and feminine badassery go hand in hand. She creates cyclones and sonic booms, races across water, and does it all while looking slick in her red and silver costume and fabulous long braids.   
Ridloff isn't just the first deaf superhero, she's the first deaf, Black Latine superhero. In "Eternals", Ridloff and her co-stars — including Gemma Chan, Kumail Nanjiani, and Brian Tyree Henry — are a cosmic immortal species created by the Celestials, ancient beings that create life, universes, and solar systems. The immortal beings known as the Eternals regroup to save humanity from their gruesome rivals, the Deviants, a group of mammothian creatures that were put on Earth to dwindle its resources. Chan is the first Asian woman lead, Henry is the first Black queer superhero, and Nanjiani became the first South Asian superhero, all major coups in the MCU. Ridloff has made peace with being a deaf, Black Mexican-American superheroine and isn't burdened to be the sole voice for all of her intersections. "I really don't get up in the morning and think, okay, I'm deaf or I'm Black, or I'm Latina. I just get up and say, I have to get my boys ready for school. I have to talk with my manager today. So that's really who I am. I'm a mother, a wife, and a former teacher." 
On navigating Hollywood as a disabled, Black Latina, she realized telling her story is where her superpower lies. During a fulfilling run one day, she had an epiphany: "I don't have to always use the word 'we.' I think the first and most powerful step is to start using the word 'I'. Start talking about my experience, and how 'I' walk through this world." She's learned to show up for herself by shedding any timidness in requesting specific American Sign Language accommodations, such as working with four ASL interpreters on "The Walking Dead." For every project she's in, her ASL needs are bespoke. As an emerging actor she has a savvy understanding of what exact ASL support will enhance her performances.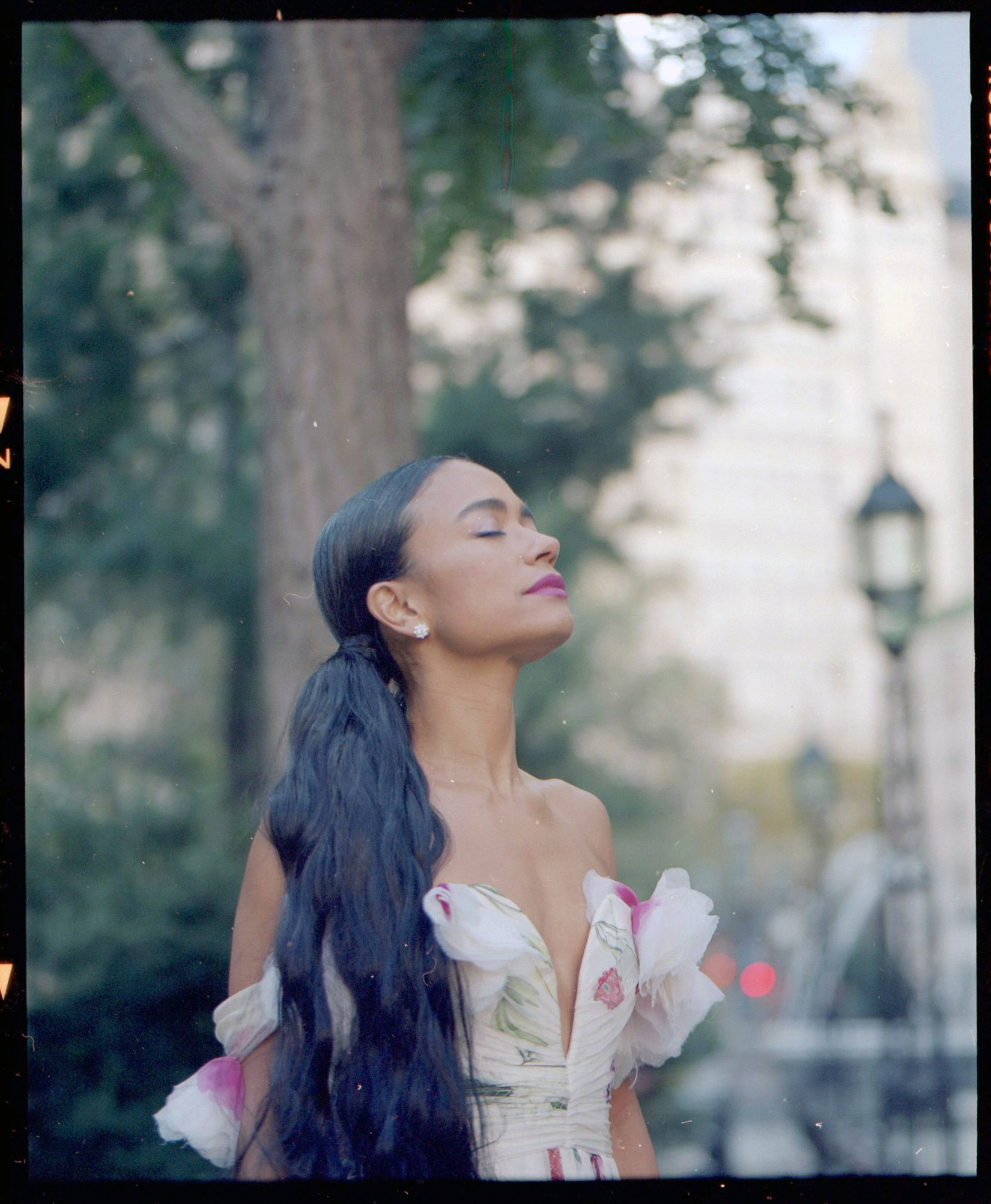 Ridloff is married to Douglas Ridloff, a deaf poet and ASL consultant for Marvel and Hulu. They reside in Brooklyn with their two deaf sons. Ridloff's foray into Hollywood is non-linear, a New York story. She's a former grade school teacher who taught for almost a decade in Gramercy Park, and left to become a stay at home mom. Her breakout role came in 2018 in her Tony-nominated performance in the Kenny Leon-directed revival of "Children of a Lesser God," opposite Joshua Jackson. Ridloff had been Leon's ASL instructor for a year — she took the gig to teach him to sign and immerse him in deaf culture — as he prepared for "Children of a Lesser God." A year later, Leon lacked a lead actress, and their weekly ASL lessons had built a unique bond between them, so he utimately asked Ridloff to do an early read-through as a placeholder. She got the part on the spot and secured a Tony nomination for Best Actress in a Play, with no professional theatre acting credits. She joined "TWD"'s ninth season as Connie, one of two deaf sisters in the acclaimed zombie drama. In the Oscar-winning "Sound of Metal", she revisited her educator roots as Diane, a teacher for deaf students who eased Riz Ahmed's Ruben into ASL.
Ridloff was raised in Chicago's Hyde Park, in a Black Latine household to hearing parents. Growing up, English and Spanish were fluid and constant. Her bilingual father organically picked up ASL when her parents realized their two-year-old daughter was deaf, "and it was just one more person to include at the dinner table, basically, just interpreting, and sign language was happening around the table." Learning ASL became a family effort for all — aunts, uncles, and cousins — everyone pitched in and embraced Ridloff's deafness with care. Her younger years were full of cheerleading, ceramics, and high school theatre. Her family life was close-knit and bountiful, meals in the park together and group outings for tacos in the vibrant Mexican-influenced Pilsen area. She's a lifelong voracious reader and hopes to become an author one day. 
Ridloff had no deaf role models or peers until her parents sent her to a high school for the deaf in Washington D.C. It was the first time she witnessed deaf adults who were professors, doctors and scientists, and it was impactful. D.C. was also where she first encountered the Black American deaf community, as deaf spaces are primarily white due to systemic segregation that existed in these environments in the U.S. from the 17th century through the mid-20th century. In high school, Ridloff began to understand she had an intersectional identity. When she completed a driver's license form, and had to check a box under race/ethnicity, she chose 'other.' She didn't have the language yet, but knew selecting 'other' was the start of unpacking her Afro-Latina identity. As a young girl, Ridloff felt confused and almost hypocritical, because with her Mexican family she was Mexican, and with her Black family she was Black: "I always felt a little uneasy about that, that shifting that I had to do. But now looking back, I was just considering myself culturally fluid, I incorporated both my Black and my Mexican side."
As the "Eternals" press run concludes, Ridloff's focus will shift back to "TWD" for its three-part final season. The first chapter premiered on August 22, 2021 and the second chapter is slated for release on February 20, 2022. She's adamant that the deaf community has more control of deaf narratives in Hollywood, particularly when productions add ASL consultants to work with writers, directors, and ensure authentic deaf representation. She applauds fellow deaf actors of color, like Alaqua Cox, an indigenous deaf actress who uses a prosthetic leg and recently joined MCU's Hawkeye and its spin-off, Echo. For Ridloff, there's a possible children's book or YA novel inside of her. She's excelling so far on the stage and screen, and writing can be another storytelling tool: "I don't know if I want to write about being deaf per se, but I do know that it'll color my story as a deaf Black Mexican person. That's how I see the world."
Credits:
Photographer: Ariella McCall
Hair: Cynthia Alvarez – Agent: Jay Lopez  & Talyr Hill 
Makeup: Nick Barose – Agent: Claire Frajnd 
Stylist: Jason Rembert – Agent: Nicole Lewis