Every February since 1973, Brazil hosts several of the largest carnaval celebrations in the world. In Rio de Janeiro, the festival — which marks the date when Brazil became a Portuguese colony — has evolved into one of the most famous festivals in the world. Now signaling the beginning of Lent, Rio's extravagant galas and famed celebratory parades have become synonymous with the city's identity.
In 2023, over 45 million people descended on the streets of Brazil to experience carnaval, which had been cancelled due to Covid surges in 2021 and 2022. This year, eager to return to the festivities, over 5 million people traveled to Rio to admire the performances of local samba schools who participated in Brazil's week-long series of parades. During this time, Rio's urban jungle gets packed with roaring crowds, clouds of confetti, and dancers in show-stopping costumes.
LATINA traveled to Rio to document the world-renowned marathon of street parties and music performances during this year's carnaval.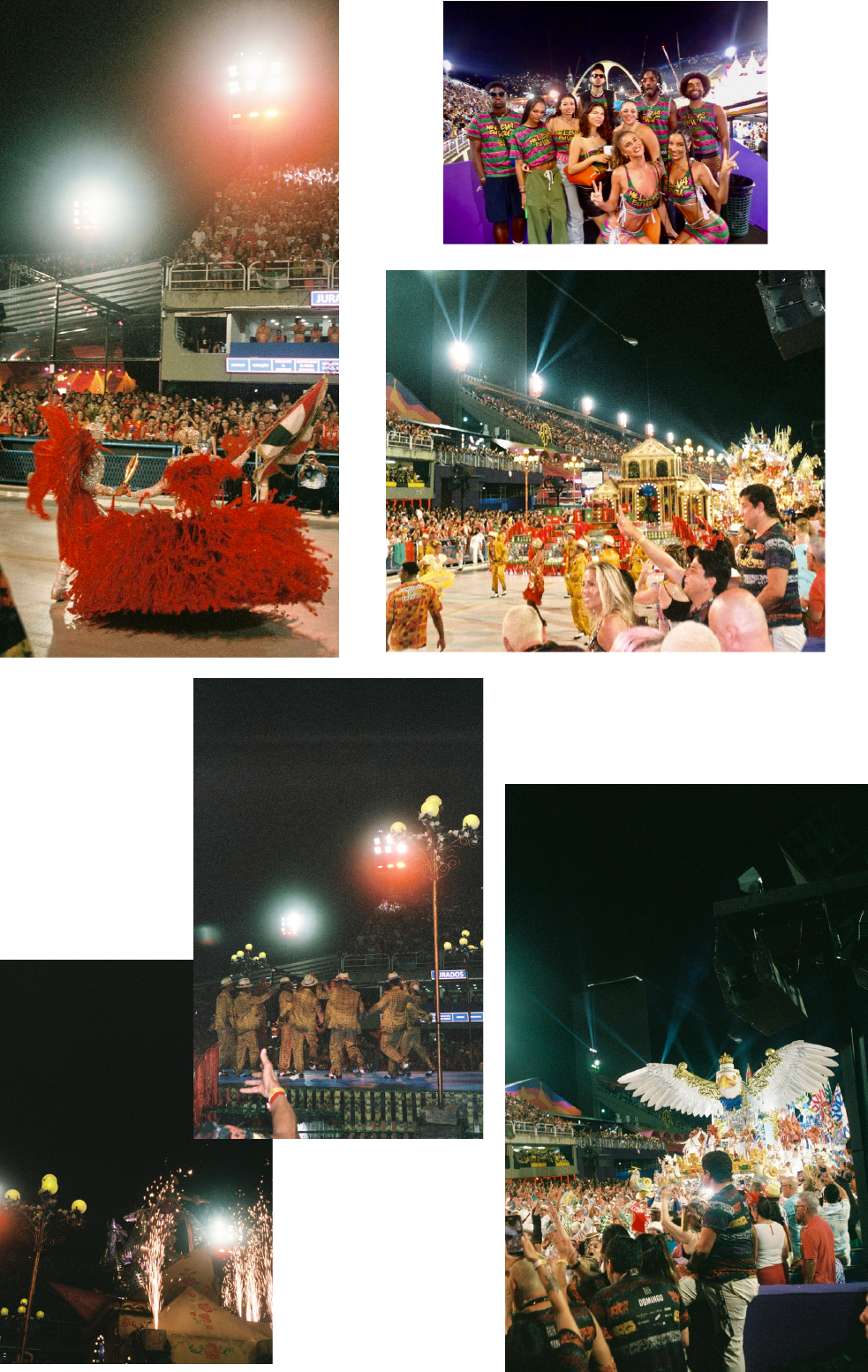 Shake Down the Sambadrome
Brazilian samba dancers endure rigorous training all year long to perform on the country's biggest stage of the year. Each carnaval parade selects 12 samba schools from various neighborhoods in Brazil, and each school's one-hour performance includes extravagantly costumed dancers, singers, and acrobats, who portray historical and cultural allegories about their homeland. After the judges vote who the winner is, the Champion parade takes place where each school does a final performance according to who wins. The samba school that takes first place is awarded national prestige and is honored for their victorious portrayal of Brazilian culture.
As tradition, on the days you attend the official carnaval parade, everyone in the camarotes (party boxes) of the Sambadrome represents a samba school. They do so by wearing t-shirts that are created for each performing samba school. We customized our jerseys into sequined tops — the flashier the better because carnaval is all about color — and grabbed our entry tickets. The dress code also applies to those spectating in Sambadrome Marquês de Sapucaí, a designated carnaval venue originally constructed for Rio's carnaval celebration in 1984.
The 2023 parade featured tales of conquest and love. Dancers of multiple generations rejoiced and sang to honor their Brazilian heritage. There were myriads of dance numbers and choreographed scenes that referenced stories of colonization, community, matrimony, history, and equality. The rhinestone-decorated bustiers, feathers, masquerades, chanting in unison, and pelvis-swinging music all contribute to the ecstasy that permeates through the air.
A Moment for History
In 2023, there was a major focus on the Afro-Brazilian diaspora, reflecting the diverse demographics of Brazil's largely black population. Brazil is the second-largest Black nation outside of Africa. The samba school Beija-Flor posed intergenerational Afro-Brazilian performers on their floats holding hands. The image of togetherness was powerful. Beija-Flor's floats displayed African farms being taken over by European colonizers who first sailed to South America centuries ago, a pivotal moment in Brazil's colonial history that should not to be forgotten.
Then, the parade transformed into a modern scene about the country's current toils with police brutality and Brazil's major inequality crisis, with projected imagery of protests on top of a parked police vehicle. Nevertheless, hope prevailed through these darker scenes, and the group's finale was marked by a guest appearance from Brazilian pagode superstar Ludmilla. Dancers sprinted down the runway holding rainbow pride flags, leaving love and togetherness as the final sentiments of their performance.
When the main parade wasn't on, the bloccos (block parties) took over. Some tourists make the choice not to attend the parade so that they can visit multiple bloccos a day. Most block parties are in Leblon, Ipanema Beach, Centro, Pedra do Sal, and Lapa, the epicenter of Rio's nightlife.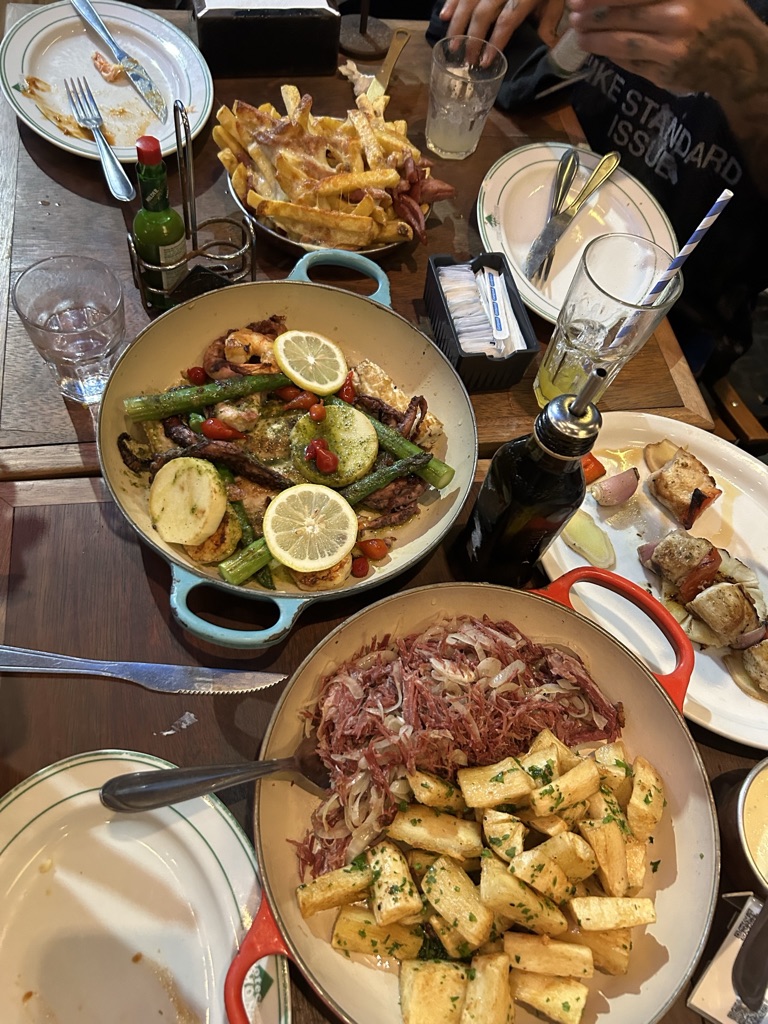 Go For the Party, Stay For the Feijoada
One of our first stops after touching down is at Boteco Belmonte, a famous Brazilian restaurant chain. They serve typical Brazilian staples like the beany, meaty stew Feijoada, Bacalhau (salted cod), farofa (pulverized cassava flour), pao de queijo (cheese bread), and more. A caipirinha is Brazil's version of a margarita. Caipirinhas, or caips for short, are made with a sugar-cane fermented alcohol called cachaça and mixed with lime and sugar. Caips are often seen prepared at mobile bar stalls accompanying classic street foods like pão de queijo, kibe (meat patties), and mandioca frito (cassava chips).
A Cabana in the Shade
Ideal places to stay range from the shaded, jam-packed shore of Ipanema beach, where Two Brother Mountain protrudes in the background, or away from the noise in the posh, tropical rainforest neighborhoods of Praia da Joatinga, where climbing tamarin monkeys live. We opted for the tucked away homes of Joá (Joatinga hills) to have moments of peace outside from the main parts of Rio. If you are choosing to buy tickets to the official carnaval parade, staying closer to Central Rio may be the wisest choice so that you don't have to rely on public transportation.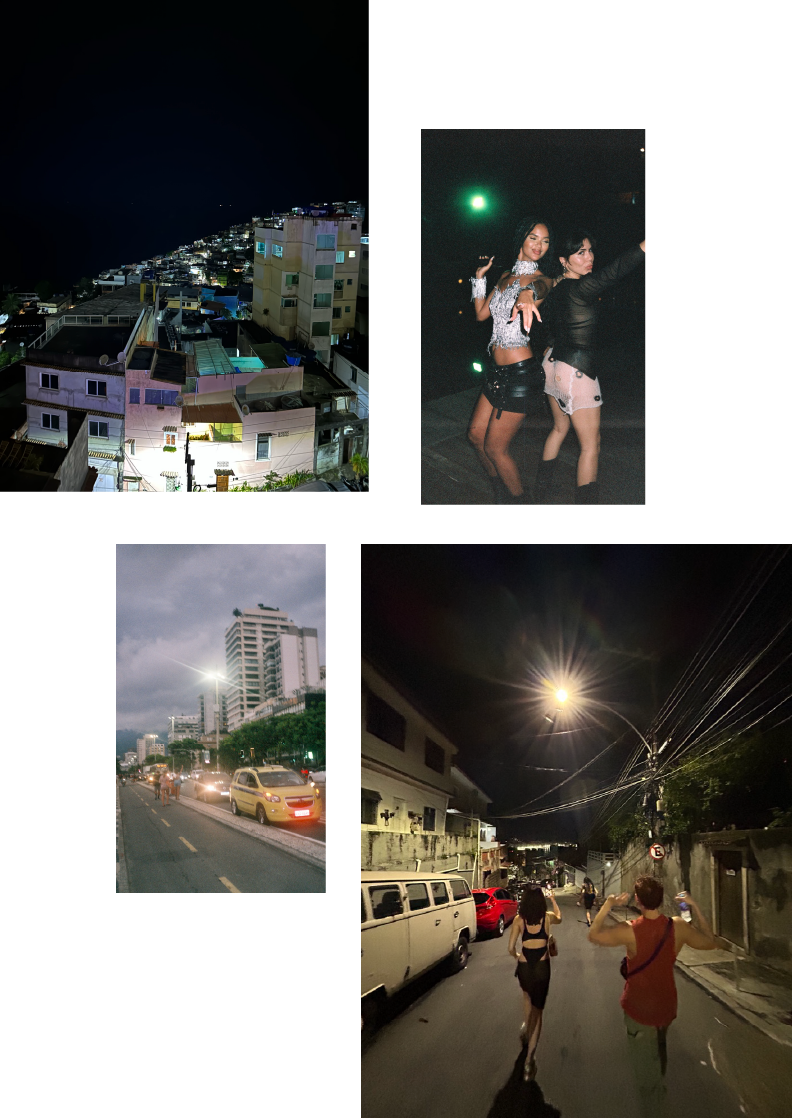 Venture Outside of Rio
If you are yearning for more restorative days on your trip, outside the crowded spaces of carnaval, there are several other Brazilian cities (Recife, São Paulo, Brasília, Porto Alegre) that feature beaches and tropic canopies and give the feel of urban rainforests. We went to the symbolic Christ the Redeemer statue, an often lightning-struck landmark in Rio's Tijuca National Park that is worth visiting up close.
The religious sculpture stands high in the surrounding Tijuca forest. There are plenty of waterfalls, trails, reptiles, and mammals to hike among. We decided not to but many even took a helicopter ride above the Sugarloaf mountain cable cars to catch a full glance of what the city has to offer inside its 463 miles and over 80 beaches. The fearless, daredevil travelers tend to partake in paragliding and hanggliding that is met with airborne heights where only high-flying frigatebirds and black vultures frequent.
Outside of the tourist areas, many Rio natives live in stacked low-income housing communities (favelas), mostly in the mountains, except for favela Vidigal. This beach-adjacent neighborhood is usually only reachable by motor-bike, however, during carnaval, a van takes tourists to the top, under police protection. (The favelas are unfortunately known to be violent and controlled by drug lords.) These blocks are increasingly patrolled by police as the new president Luiz Inácio Lula da Silva enforces safety measures in vicinities that suffer from fatal gun violence and theft. A closer look into the favelas gives tourists a special sight into the streets where Brazilian culture lives and breathes.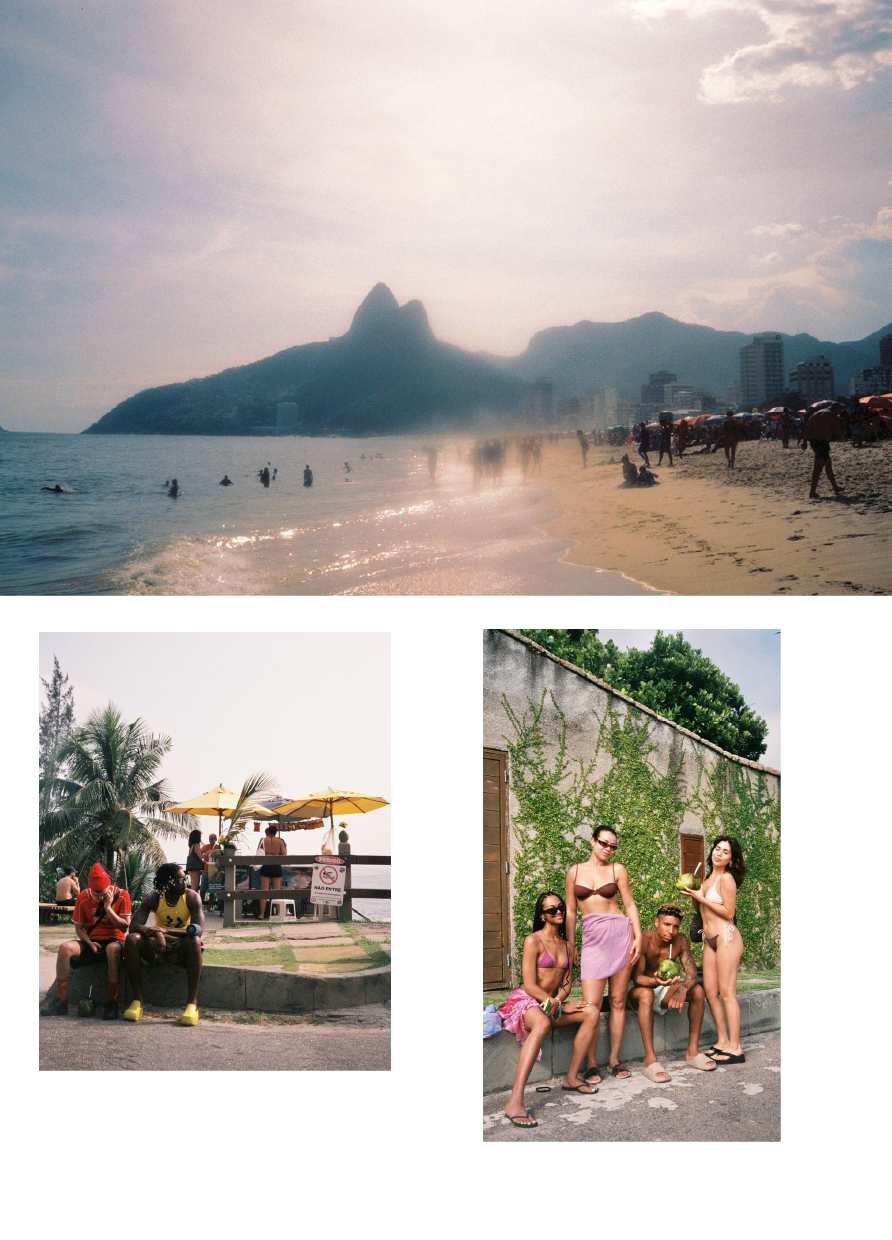 Hit the Praia
The beach culture of Brazil is like no other. The beach is a lively and round-the-clock affair, with many outdoor bars, food vendors, sun bathers, and pick up futebal games. Set up camp by renting a beach chair and umbrella, take out your speaker and watch the day pass by. Escaping to praias or further south to the forest terrains of Barra can help assuage the chaos of carnaval's weeklong, nearly 24 hour festivities. A caipirinha on the praia is the customary way to quench your thirst in Rio's humid summer.
Saudade
The portuguese word saudade describes an unequivocal, special longing that is nearly indescribable in English. Saudade is constantly used in samba music, the word lends itself to a feeling that expresses a deep love for a memory, person or place. Rio de Janeiro's carnaval is a revelry of saudade for Brazil, with its diverse population, abundant culture, and colorful history.
---
Images courtesy of the writer.
Malik Peay is a music, travel, film, and fashion journalist. @MalikPeay