And she's doing the work to make it happen.
When Zoë Saldaña appears on Zoom, she doesn't look like someone who just spent hours at a photo shoot. Wearing an oversized button-down with her slicked-back hair parted down the middle, she looks relaxed, radiant, and content, as though she's been vacationing for weeks.
Saldaña has collaborated with LATINA for cover stories and interviews since the magazine was in print, and she is evidently at ease. "LATINA has always been nice to me and super supportive, so it's always nice to come back to something that's familiar," she says with a smile on her face. "And for it to be mi cultura — it feels really good."
Outside of her award-winning acting career, the "Adam Project" star has been a longtime advocate for Latinx culture. In 2017, when she founded the media company BESE, her mission was to amplify Latinx stories that were told by Latinx voices. Five years later, she's still determined to broaden and reshape popular Latinx narratives through the platform's video content and articles.

While Latinx people make up 18.7 percent of the population in the United States, our community is comparatively underrepresented on screen. According to UCLA's 2021 Hollywood Diversity Report, Latinx talent accounts for just 7.1 percent of leads, 7.7 percent of overall casts, 5.6 percent of writers, and 7.1 percent of directors. "I thought, 'we're not even enough [in the media industry] to write our own stories and represent ourselves,'" Saldaña says of her decision to launch BESE.   
Her new venture was further inspired by the desire to create content that her kids — Cy, Bowie, and Zen — can be proud of. Over Zoom, her expression becomes more serious as she talks about the meaning of accurate representation and why she's fueled to provide that for her children. Growing up, Saldaña leaned into any groups that offered opportunities for cultural self-identification, including both Afro-American and Anglo-American communities. Now that her own children are finding their place in the world, she hopes to combat a source of persistent frustration: the pattern of misrepresentation and oversimplification of these groups in the media. "I want my boys to know that within their culture, we're not just civil rights activists and martyrs, or criminals," she says. 
BESE's website showcases a mix of content across various media. Recent features include a piece that highlights the first LGBTQIA+ mariachi band, a video about Native Like Water (a program for Native American and indigenous youth to re-establish their connection with surfing and the ocean), a feature on the founders of Puerto Rico's only local makeup line, and a deep dive into Julia de Burgos' poetry. 
Saldaña's dream for BESE is to apply these philosophies to more ambitious projects, such as feature films and documentaries. She shares an example of Mexican-American boxer Siniesa Estrada, who has won so many of her tournaments by knockout. "I thought that was amazing. Her story can be a series, it can be a movie — somebody can tell her story! My wish for the company is to do that."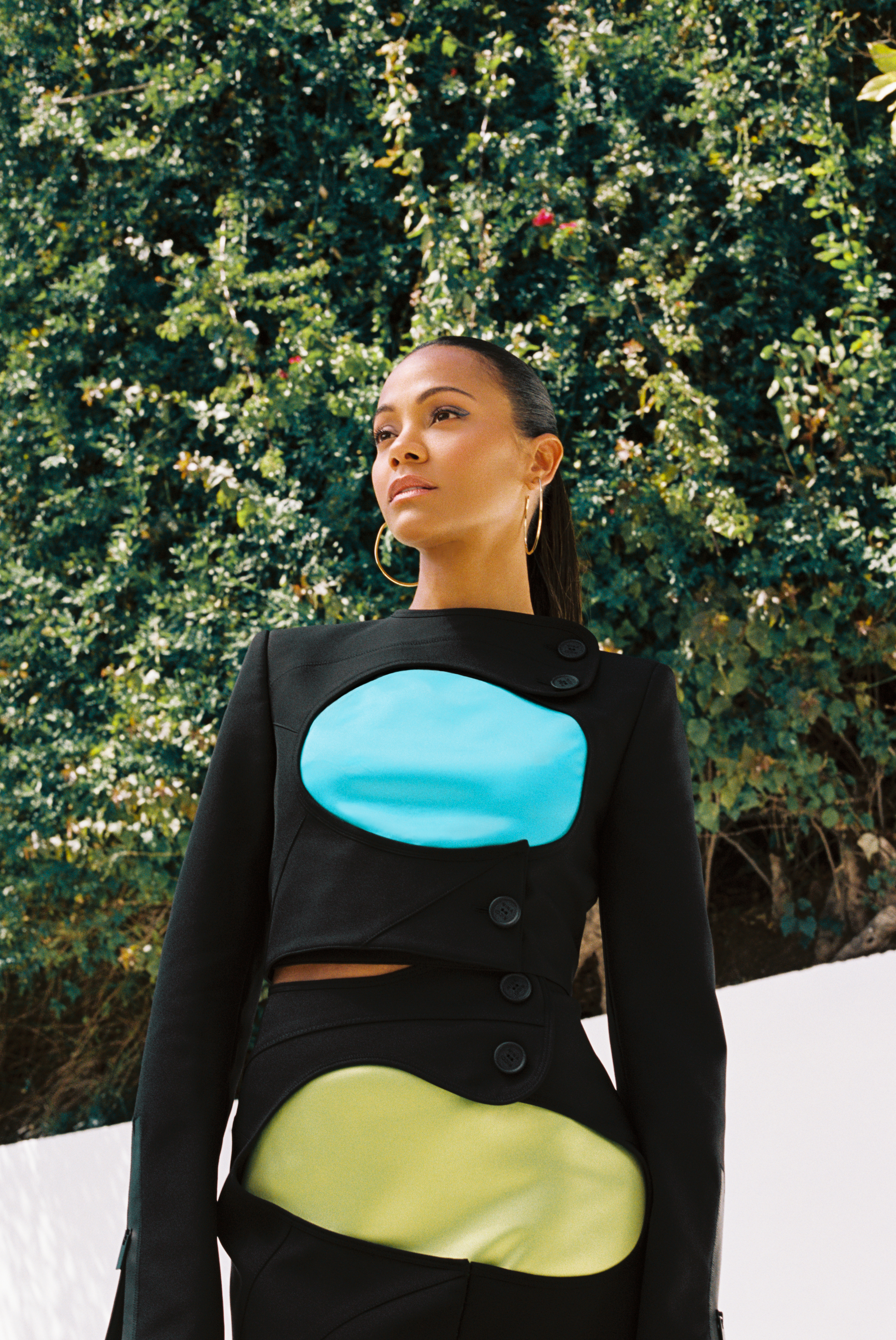 Saldaña understands the impact that storytelling can have — it's part of the reason she's an actor — and this informs how she and her husband, Marco Perego, are raising children and incorporating Latinx culture in their lives. Since they're both creatives, Saldaña says they make all the storytelling "passionate," through both the music they listen to, like merengue and the folklore they pass along, like La Ciguapa. 
She adds that Junot Díaz's "Islandborn" had a big impact on her children. "[Díaz] found a very picturesque way to describe to children what Trujillo's dictadura was like and how it affected and changed us as a community," she says. "They were transfixed when I read it to them. They couldn't believe such a monster would exist, but also that we come from people who fought for the independence of the Dominican Republic — and we're proud of that."
Saldaña's love for her Dominican and Puerto Rican heritage comes through as she talks about her family, their cultures, what it was like living in the DR from age 10 to 17, and how she feels when she sees her boys dancing merengue with their primas and primos. She describes with pride the Dominican women that influenced her and explains how their carácter helped her become the person she is today. "We don't like to just survive, we like to thrive," she says.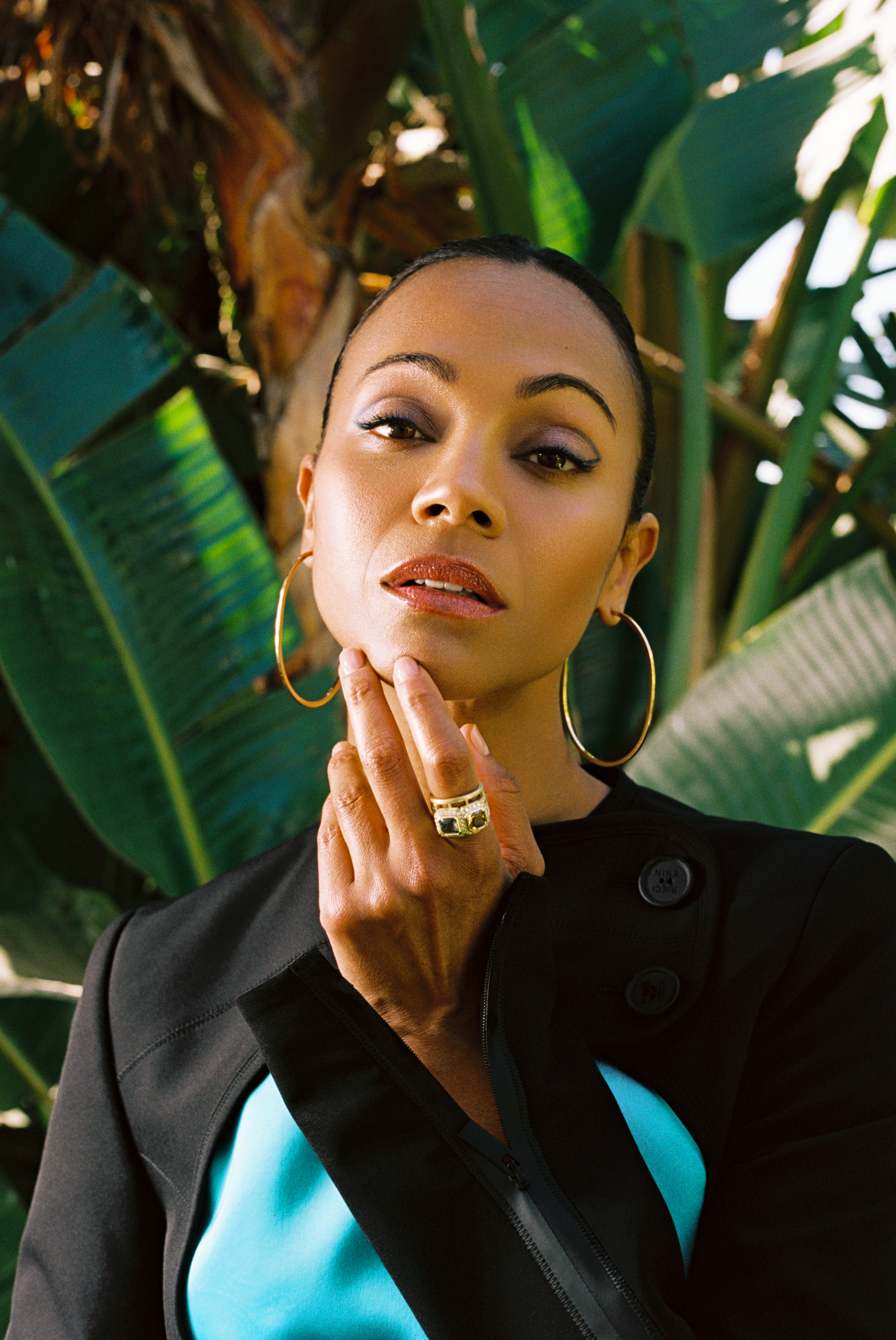 It was a strong and patient mindset that helped Saldaña navigate Hollywood in her early career, and she thanks her mom for that. When someone else got the role she was auditioning for, she says her mother would never put that woman down for Saldaña's sake. "She always told me, 'amor, lo que está para tí vendrá. Ahora está para ella, y que bueno que lo consiguió y deseale suerte a ella, pero lo que está para ti vendrá."
The actor shares that she faced discrimination early on in her career because she didn't look "traditional," however, by the time she got to Hollywood, she had already been desensitized by years of similar experiences dating back to her childhood. She describes how the lighter-skinned, straight-haired children in her school would bully her for her being negrita, and admits how painful this treatment could be when it came from kids she thought were her friends. However, those experiences gave her the thick skin she needed to endure discrimination and rejection during her early acting days, and she adds that it didn't hurt as much when it was done by strangers.
Of course, Saldaña's career would eventually skyrocket and she'd land iconic roles in massive franchises, such as "Star Trek," "Guardians of the Galaxy," and "Avatar." Now, she's excited about her participation in the newly released "The Adam Project," in which she co-stars with Ryan Reynolds."I feel like it's considered a four-quadrant kind of project because it has a little bit of everything: the heart, the action, the comedy, and the romance," she says. "And it keeps you hooked from beginning to end."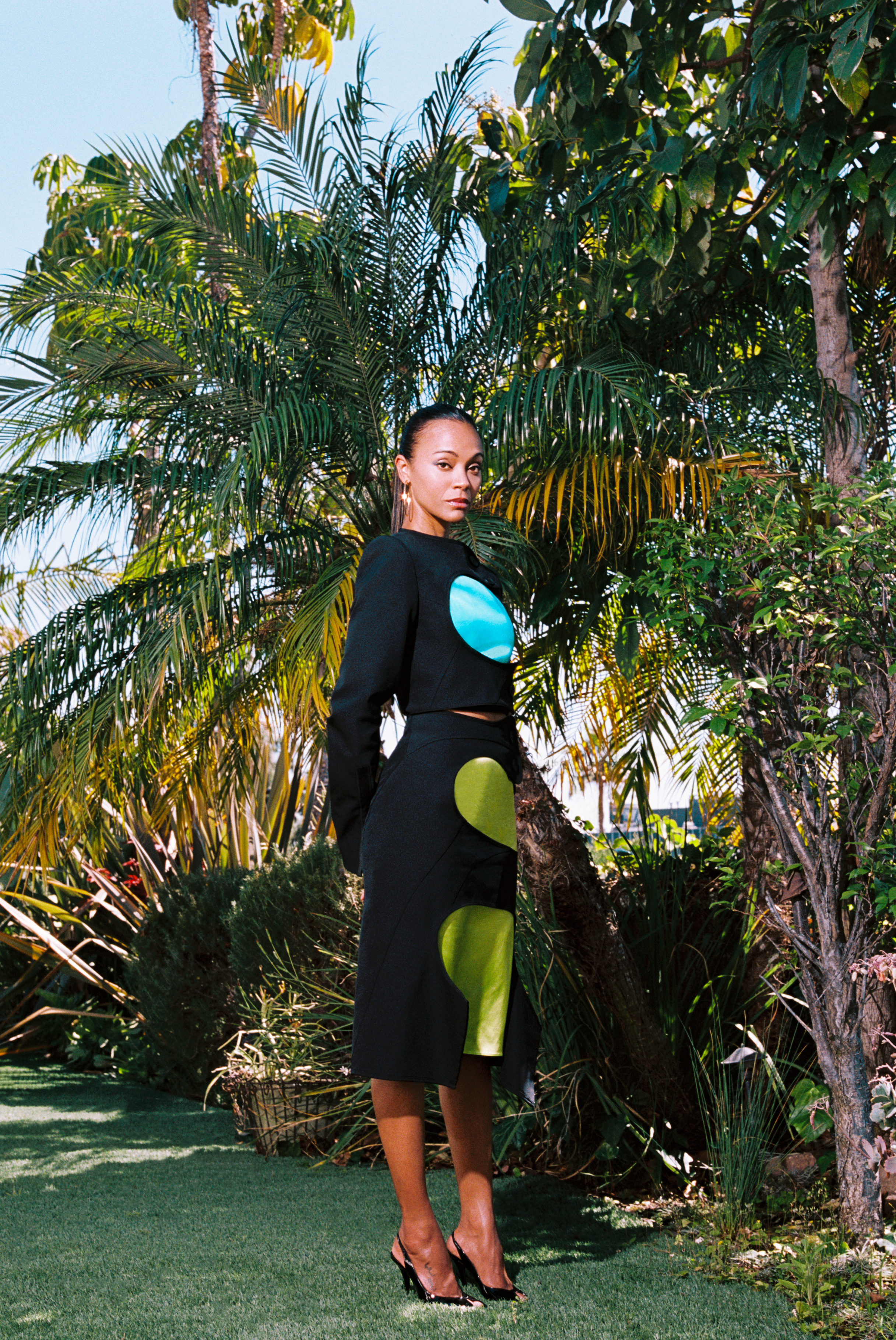 Saldaña commends the magnificent cast she worked with, which includes Mark Ruffalo and Jennifer Garner, and praises the work of director Shawn Levy — "he's an amazing man who, as captain, runs a beautiful ship" — but she admits to having almost turned down the project entirely. Shooting started at the end of 2020, at the height of the pandemic, and Saldaña says she was hesitant to leave her house for health reasons. However, Levy promised a safe environment wherein the cast and crew would take all necessary precautions. She decided to go for it and has no regrets.  
Because the film is about a time-traveling fighter pilot who teams up with his 12-year-old self to save the future, LATINA asked Saldaña what she hopes for the future. Her answer: to see more women in power. "I think the planet needs it," she adds.
There is so much to admire about Zoe Saldaña, but what stands out in conversation with her is that she is a woman who possesses not only vision and conviction but also a plan of action. She is poised to change the world.